News
Patrick Reed returns to the BMW PGA Championship in pursuit of maintaining his lead in the Race to Dubai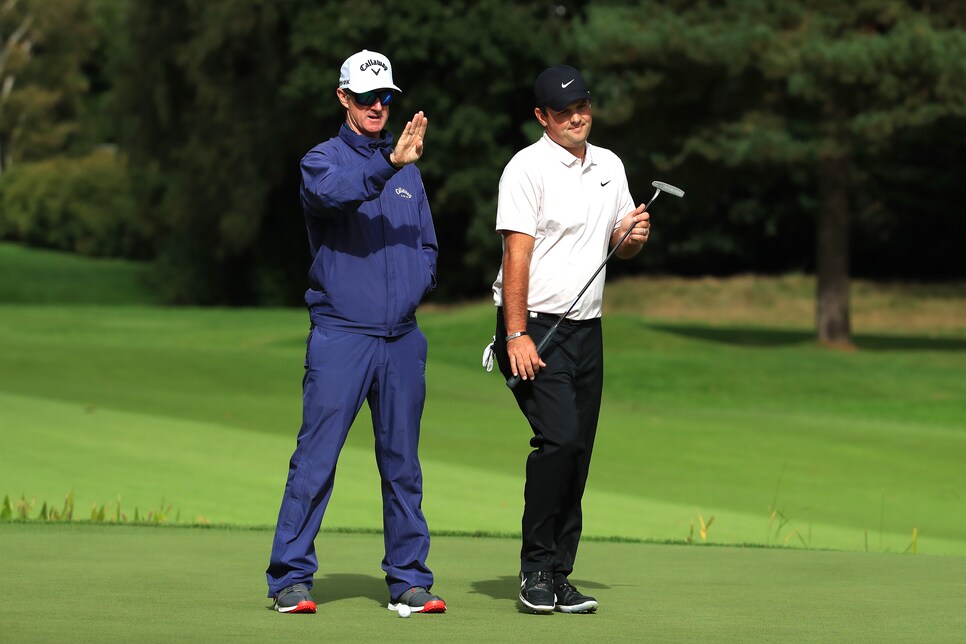 At No. 9 in the world he's the highest-ranked player in the field. But his elite status on another list is currently providing the biggest motivation for Patrick Reed. At Wentworth just outside London for the European Tour's so-called flagship event, the $7 million BMW PGA Championship, the former Masters champion has crossed the Atlantic to maintain and hopefully extend his advantage atop the season-long Race to Dubai.
So far and with seven events still to play (including the upcoming Masters), Reed is a mere 28 points ahead of PGA champion Collin Morikawa and—more relevantly given Tommy Fleetwood's presence this week—102.7 points clear of the hirsute Englishman. No one else is within 250 points of the leader, although rapid change is possible. This week's champion will receive 1,147 points.
"When you're in the lead, being able to come over is always nice to try to stay on top," said Reed, an honorary member of the European Tour because of his victory at Augusta National two years ago.
Reed's decision to make the trip to an event in which he has played only once before was a late one. Almost too late. The 30-year-old Texas resident missed the entry deadline and had to rely on a sponsor's invitation to take his place in the 120-man starting lineup.
"It was a tough decision," he said. "It was a long decision. My team and I were trying to make sure, with everything that's going on in the world, that we were not putting people at risk when we come over. And, at the same time, not putting my family at risk when I get back to the States."
In the end, loyalty played a part too.
"I've always supported the European Tour," Reed said. "I've always wanted to be a worldwide player. I've always wanted to travel and take my game all around the world. So I've always enjoyed coming over. And being a lifetime member of the tour, being here is something I wanted to do. Not coming over wouldn't have felt right. Besides, all I can control is what I do. I feel like I'm being responsible, being safe and social distancing and taking care of myself when I'm traveling. And knowing the protocols that the European Tour has and how locked in their bubble is, I knew I was going to be safe once I got here."
He should be; if history is anything to go by, Reed will be afforded a warm welcome. A regular participant in regular European Tour events over the years—he has teed-up in 21 since the start of the 2014 season—Reed has always enjoyed a good relationship with the players on the Old World circuit and, despite his propensity for controversy, with the galleries across the pond.
"I give Patrick a lot of credit for traveling and for playing over here as much as he does," said former world No. 1 Justin Rose. "Last year he was full of praise for Wentworth. He came here, enjoyed the whole scene, the whole vibe, the whole tournament. There are easy excuses for people not to travel at the moment. We are all using it as an excuse not to get on the plane and do things we don't have to. So every credit to Patrick for showing up."
There might just have been one last bit of motivation for Reed. Just over 12 months ago he played well over Wentworth's West course, also known as the Burma Road. Shooting a 15-under-par 273, he broke par in every round and finished T-4 alongside fellow American Billy Horschel, five shots behind the winner, former Masters champion Danny Willett, and picked up $345,000.