The Loop
Pat Perez is healthy, playing great golf and repping Bill Murray clothing line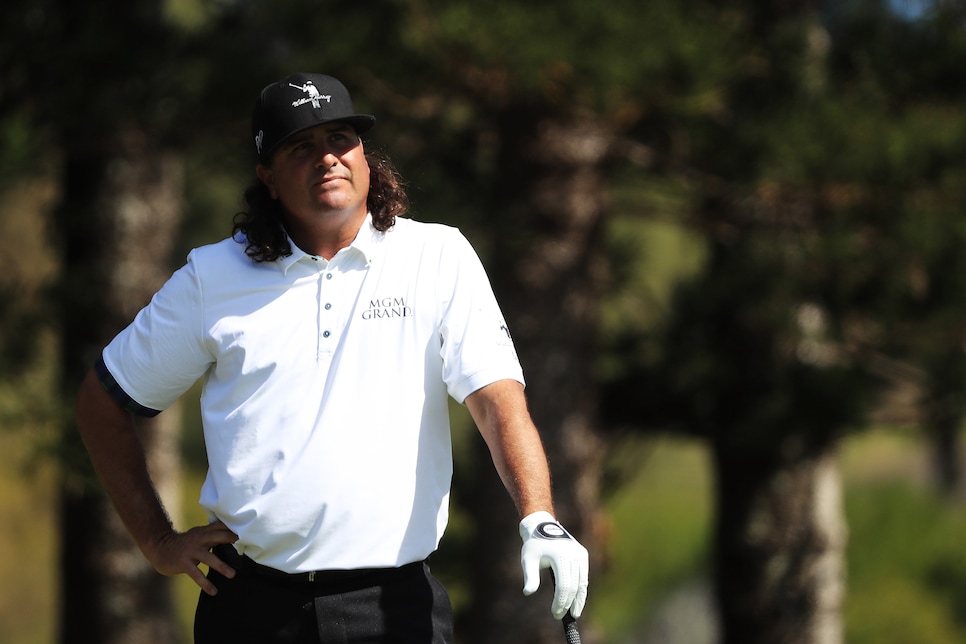 KAPALUA, Hawaii – Comeback stories in golf are as common as blisters. Injury. Illness. Personal travails. Swing changes. Shattered confidence. The game's comeback trail is more congested than the I-5 in Los Angeles. In fact, a former No. 1 player in the world has just embarked on his latest one, in case you hadn't heard.
Pat Perez will be watching with interest to see what Tiger Woods can do in the coming weeks. Can he win in his third start after such a long layoff? It can be done. It has been done. Recently.
After seven months on the shelf following surgery for a torn labrum in his left shoulder, Perez returned to competitive golf in October at the CIMB Classic. Two events later, he shot 21 under par, including a third-round 62, to capture the OHL Classic at Mayakoba. The victory in Mexico was his first in nearly eight years – but just his second in 379 career starts.
This wasn't so much a return as a reincarnation. The fiery, fast-talking Phoenix native is a paradox with his friendliness off the course and fast-twitch temper on it. He is an honest and effusive interview subject when he's not muttering to himself, which has been often in his 15 years on the PGA Tour. He called himself "sort of a punk" and a "late maturer." The tour once advised him to seek anger management therapy.
But at El Camaleon GC, Perez played with intelligent aggressiveness as well as a measure of patience. He was calm and collected. And, finally, a winner again.
"I learned a lot about myself in the time away," Perez said, his long jet black hair pouring out from under his cap. "I needed the break. I used this as a mid-career break. It gave me time to think about what I wanted to do when I came back. What do I want to work on? How do I want to play? How do I want to attack?
"You have nothing to do but sit around all day and think."
And worry. And fill the unforgiving hours with caloric intake.
"Booze. A lot of booze. A lot of food. A lot of everything," Perez said with a thin smile when asked how he coped while away from the tour. "Not from depression, just nothing else to do."
Perez, who turns 41 in March, has plenty to do now, thanks to his breakthrough in Mexico. This week he is among the 32 players in the SBS Tournament of Champions at Kapalua Resort, and he has an appetite for more wins. He might not get one this week – he stands T-14 after two rounds on the Plantation Course at six-under 140, six behind Ryan Moore and Justin Thomas – but at least he has job security through the 2018-19 season. A return to the Masters is included in this year's itinerary.
Obviously, a 40-something player with a surgically repaired shoulder has a fast-approaching expiration date. Yet Perez, who changed his swing once he got out of his sling, is hitting it farther.
"I feel I'm playing the best I ever have now," said Perez, who grew up in Southern California and often crossed paths with Woods. "If I was playing the way I am now when I was 24, who knows.
"Everyone says do you wish you'd won more. Who doesn't? There's also guys who haven't kept their job as long as me. When I get done with my status, if I don't win again, I'm going to have 19 years straight. There aren't a lot of guys that can say that. When you manage to keep your job 16 times in a row, that's pretty good. It speaks for consistency."
Speaking of consistency, Perez has played in front of sparse crowds the first two days here. Doesn't matter. "I'm used to it," he cracked. To say that he is happy to be in Maui is an understatement. "I don't care if I five-putt. I'm still going to smile."
Yes, his attitude is different. He underwent surgery March 8 and didn't hit a ball until July 15. And it was just one ball, a pitch about 20 yards. No pain. He took another few swings a week later. In October, his fortunes took the most wild, wonderful swing.
The timing was fortuitous, because competitive golf is no longer his lone endeavor. Perez has been involved from the start with William Murray Golf, the new clothing line involving actor Bill Murray and his brothers. Perez helped John Resig, whose company owns the popular social media site, TheChive.com, put the deal together.
"I got involved through TheChive. They love golf and they thought I would be the perfect guy for them," said Perez, who wears the company's golf shirt with its unusual logo featuring the irreverent Murray. "It took us a couple of years to do it, but we got it. It's going to be bleeping massive. We have Bill's likeness wrapped up for 21 years. We can use his name for anything we want for 21 years. We did golf shirts first. Now we're doing T-shirts. And then we'll get into movie T-shirts, with all the movies that he has been in. It's exciting."
The logo on the clothing line is a representation of Murray tossing his putter in feign disgust, as he once did at the AT&T Pebble Beach National Pro-Am, where his antics have been entertaining but controversial. Speaking of which, Perez indeed represented the perfect guy for the project, having first made a bit of a name for himself with a turf-gouging meltdown at Pebble Beach in 2002, his rookie season.
His first win came seven years later, at the 2009 Bob Hope Classic. It took another seven years to scratch the itch again. Not exactly a blazing pace. But he's seen the light. Give a man time to think, and eventually he'll make choices he never knew he had.
"The fact I'm here is like a miracle. It really is," Perez said in wonderment. "This week I don't care if I finish last. I'm not going to let it ruin how I'm here. I mean, 2016 was unbelievable. I wouldn't be able to draw up that type of year. The misery, the miserableness and down all the way [up] to the ultimate which was the winner's circle. I don't even know if it's happened. Has it happened?"
Oh, it happened. Pat Perez is on the comeback trail. Sure, it's a road well-traveled, but it's bumpy and winding and filled with doubt. And that makes all the difference.