News
Pat Perez is antithesis of young successful tour players, but still hanging with them on leader board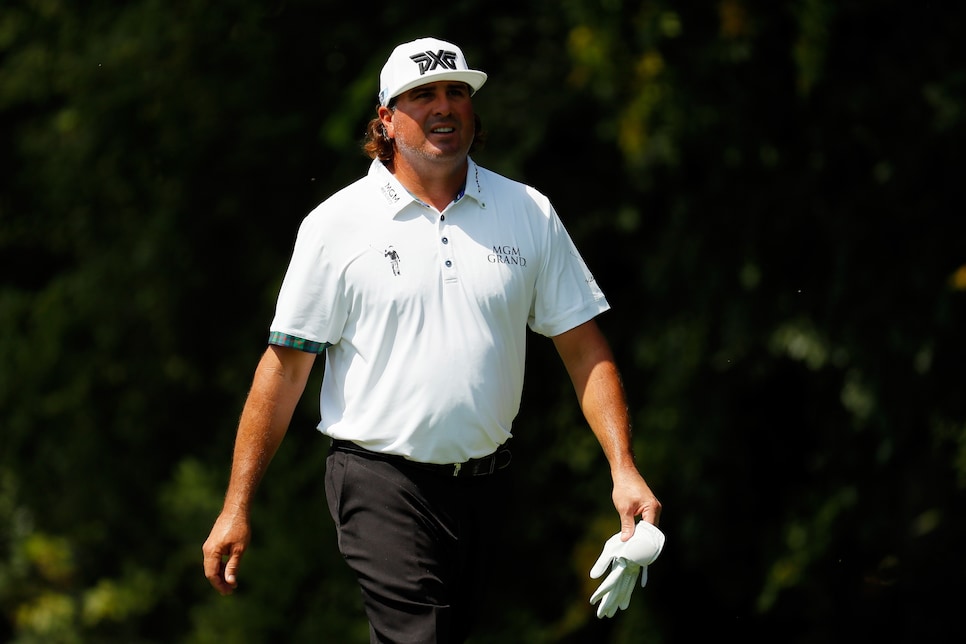 ATLANTA — It was late in the day Thursday, and Rickie Fowler was grinding away on the range under the watchful eye of coach Butch Harmon in the fading light of East Lake following a disappointing three-over 73 in the opening round of the Tour Championship. In every way, Fowler is the image of the modern-day PGA Tour player—young, polite, fit, long off the tee and pure with his irons.
Then there was Pat Perez. Practicing a few feet away, he was rocking a pair of black-and-white Jordan golf shoes and attired in a William Murray getup of the same color scheme. His shoulder-length hair flowed out from under his flat-brimmed PXG hat, and his waistline looked like that of a man whose life and its rough edges has been well lived.
"I don't like the way my swing looks on film … I think it looks terrible," Perez said the day before. "There are so many positions I don't like. I hate the follow-through, I get left, lean, my knees are in. There's so many things I just don't like about my game.
"It's frustrating because I see these guys, perfect builds, they're tall and they're skinny and they've got all this strength. Then there's me, who kind of waddles around. I don't like working out. I like to sit, kind of do nothing."
Of 46 tournaments played this year, 18 players aged 29 or younger have accounted for 27 wins on tour. At 41, Perez is the oldest player in the field at the tour's season finale. The only other current player-caddie tenure longer than the one between Perez and looper Mike Hartford—who played on the same high-school team as Perez in San Diego, first caddied for him in the U.S. Public Links when the two were teenagers and used to drive him around town when Perez didn't have a car—is that of Jim Furyk and Fluff Cowan.
None of this has stopped Perez from finding a rebirth in his game following season-ending surgery to repair a torn labrum in his left shoulder in the spring of 2016. If anything, it has only inspired him.
"That's where all this motivation and stuff came from," said Perez, who, despite 16 years on tour without ever losing his card, qualified for his first Tour Championship this year, then shot a 68 Thursday to sit four strokes off the lead of Kyle Stanley. "It just gave me a whole different look on life and golf in general. It's easy to say yeah [it's] because I've played well, but I've played well because of the fact that it was taken away from me."
After sitting out eight months and wondering whether he'd even be able to play golf again following the surgery, Perez tied for 33rd in his first start back in Malaysia last fall. Two weeks later in Las Vegas, he tied for seventh. A week later, he shot a third-round 62 in Mexico and on the morning of the final round told his wife Ashley to "wear something nice" because he was going to win. He birdied the first hole, went out in 31 and won by two.
Save for a stretch in the middle of 2017 after the U.S. Open—when he more or less "took a month off" from practicing in part because he was burned out amid a stretch of three missed cuts in four starts (plus a DQ at the Porsche European Open for signing an incorrect scorecard)—Perez hasn't slowed down since the victory. On the season, he has four top-10s, which included a third-place finish at the winners-only event in Maui and a runner-up at the Wells Fargo Championship. In the last two FedEx Cup Playoff events, he tied for sixth at TPC Boston and last week finished 12th outside Chicago. He is also up to 33rd in the world.
Not only has Perez's outlook changed, so has his game.
Following the surgery, coach Drew Steckel had to shorten Perez's swing by about two feet because the previously long, languid move he put on the ball put too much pressure on the surgically-repaired shoulder. The downside is a loss of distance, putting him in the range of, say, Matt Kuchar, or not particularly long. Perez also started leaning on the experience of two decades in professional golf and has gotten better about missing in the right spots, according to Steckel. Always gifted with good hands, that made the short game even easier -- Perez ranks sixth in strokes gained around the green and is sixth in scrambling from the rough.
Though Perez had already won in Mexico, he also got a confidence boost from a shot he hit during the third round of this year's Masters, where he smoked a 5-iron from 220 yards over water to 10 feet on the par-5 15th. He missed the eagle putt but tied for 18th for his best result in three trips to Augusta National.
"That built a foundation," Steckel said. "It was a big confidence booster because he had never played well there."
Thursday at East Lake, Perez made four birdies over his first 10 holes to briefly tie for the lead. A bogey on 11, where he failed to get up and down from right of the par 3, and another on 14, where a wayward tee shot forced him to punch out, dropped him down the lederboard but far from out of it. In Perez's eyes, he's just getting going, and he's enjoying every step of the walk.
"I just appreciate to be out here again," he said. "Even though I have some bad days, I realize that I wasn't here last year, I wasn't playing and I didn't know what was going to happen when I tried to hit my first shot again ever. I could have been out of the game forever. So it's carried over to let's enjoy it, let's try hard but let's remember what's going on.
"I never thought it would take me this long to get here but it did somehow. But it's all worked out. Try to beat these young punks. This [Brooks] Koepka, 70 yards by me in the middle of the fairway. That's the thing that's amazing about these guys, they're long but they're always in the fairway. Good luck."