The Loop
Pat Perez clarifies comments about Tiger Woods, says the two have exchanged texts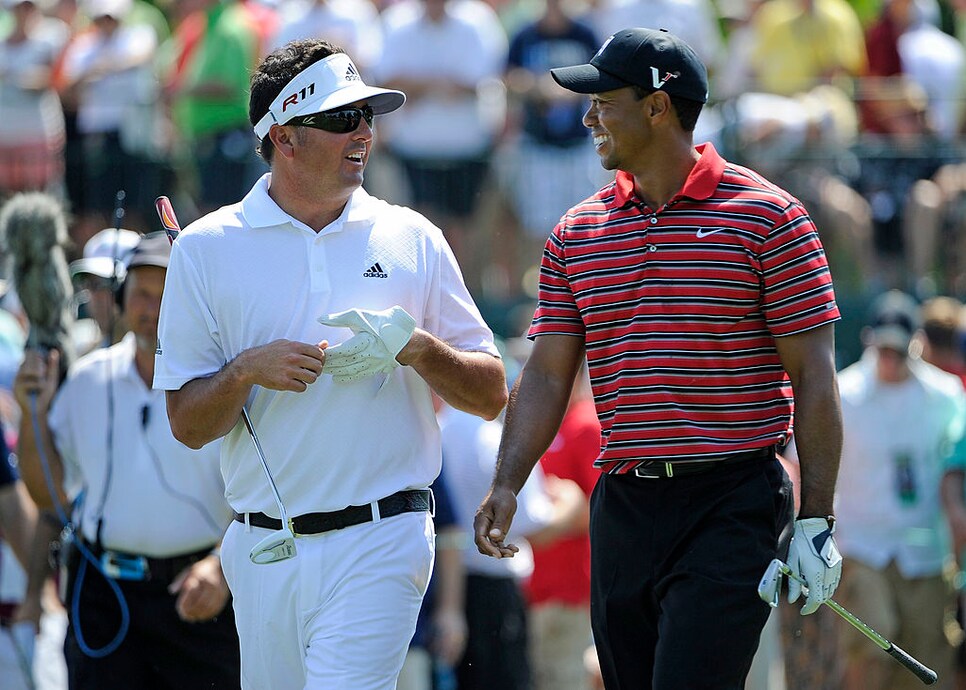 PALM BEACH GARDENS, Fla. -- A day after Pat Perez made headlines for saying on his SiriusXM radio show earlier this week that Tiger Woods "knows he can't beat anybody," the 40-year-old, two-time PGA Tour winner stood by his opinion, but clarified his comments to GolfDigest.com.
"My whole point that he can't beat anyone is that he only shows up to tournaments when he thinks he can win," Perez said when reached by phone. "So he must be hurt still if he's playing poorly and pulling out of tournaments. It probably sounded harsh the way it came out but what I meant by that is he is probably still hurt.
"I wasn't talking about his career, I was talking about this point in time and we don't know what we're going to get from him. I'm not the only one thinking this. It's common sense. Everybody wants to talk about Tiger. It's like 'Where's Waldo?'"
Perez sent a text message to Woods on Thursday expressing that same sentiment to the 14-time major winner, and the two exchanged multiple texts about the comments.
Woods was not pleased, according to Perez, but in essence told him he understood and that Perez is entitled to his opinion.
"I'm not Tiger bashing, I'm not saying he's not the greatest," Perez said. "That was me and my co-host [Michael Collins] talking about the current what-ifs of Tiger's situation. I have done nothing but praise him my entire career."
Perez and the 41-year-old Woods have known each other for three decades, having competed against one another as juniors in Southern California. In 1993, Perez beat Woods at the Junior World Amateur, calling it on Thursday one of the highlights of his career.
Woods went on to win 79 PGA Tour titles and become arguably the greatest golfer in history. Perez has won two titles, including one earlier this season in Mexico, but in 15 years has never lost his card and earned nearly $20 million.
Perez added that he was frustrated by the coverage of his comments, particularly on social media. He has also deleted his Twitter account, but that took place days before the show was taped earlier in the week.
"I'm tired of the trolls and people not having the facts," Perez said. "I'm worn out.
"It's not like [Tiger and I] talk all the time. He texted me when I won. We talk [a few times] a year. People always ask me what's going on with Tiger. I was talking about today, not 2005. He's got 79 wins, 14 majors. He's the greatest ever and we will not see what he has done again in our generation. I have nothing but the utmost respect for what he has done. I've done nothing but praise him my entire career."