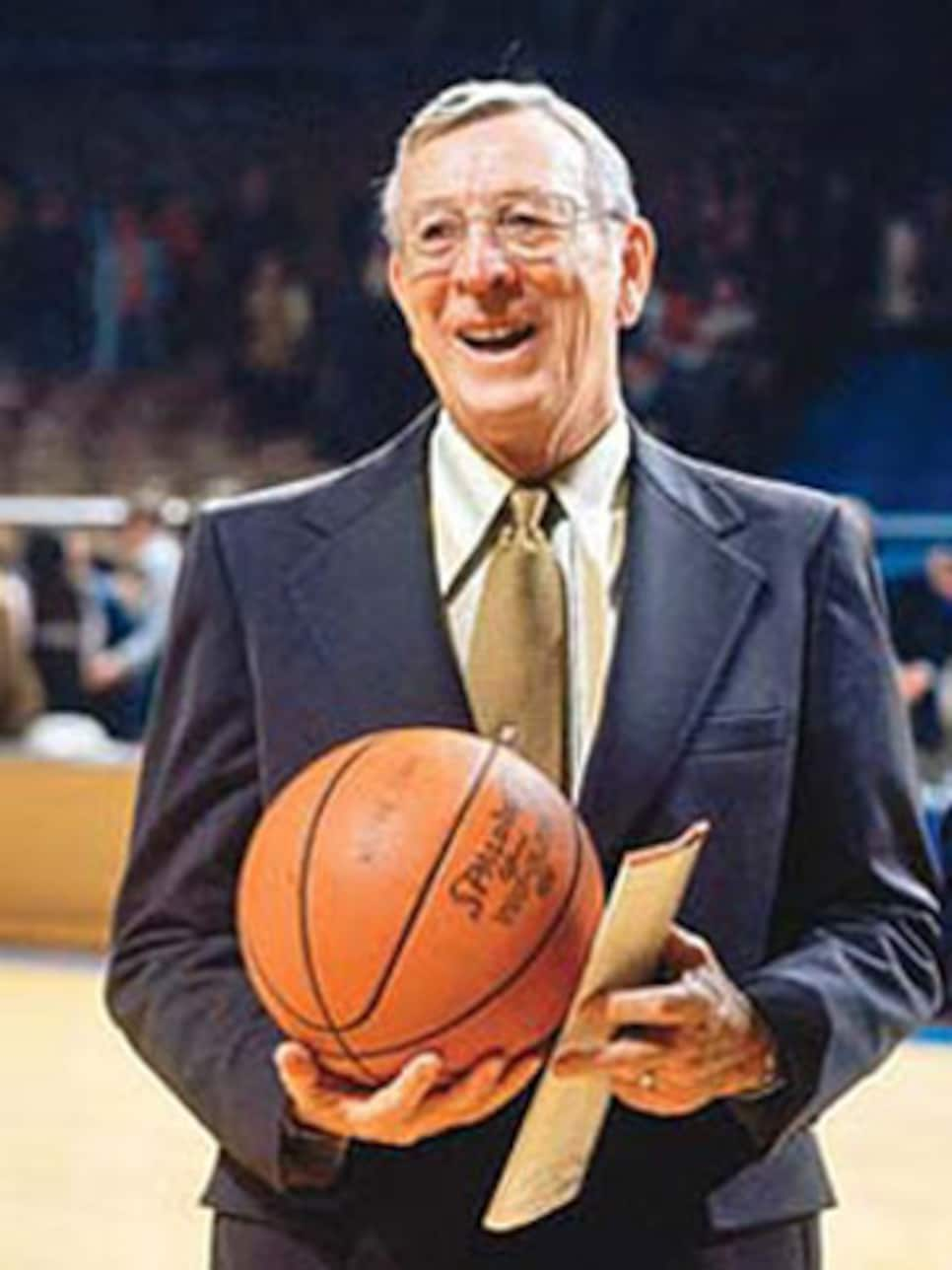 Wooden once made an ace and a double eagle in the same round.
the leisure golfer wasn't nearly as well known as that of John Wooden, the UCLA
basketball coaching legend. Known for his integrity, honesty and sportsmanship, you might say Wooden was made for playing golf.
Wooden enjoyed most of the people he met on the course, abhorred time-consuming rounds, was praised for his calm on-course demeanor, and couldn't stand playing with golfers who thought they were better than they were. But it's for what he once did and not his opinions that he earns a mention in our look back at the deaths of notable golf personalities in 2010.
The man voted the greatest coach in American sports history after winning 10 NCAA
championships pulled off one of the rarest feats in our records-and-rarities archive: During a round of golf in 1939 while still a high school teacher in Indiana, Wooden made an ace and a double eagle in the same round. By our record-keeping, only 11 people have accomplished that.
When Wooden died on June 4, four months shy of 100, he hadn't played golf in roughly 35 years, stopped by back troubles around the time he retired from UCLA. The immensity of his feat wasn't too impressive to a man who didn't like flash and flair. He said it was pure luck and that he never came close to either type of hole-out again.
It says a lot about Wooden that Golf Digest did something it doesn't normally do when it comes to record-keeping: We trusted a golfer's account without getting the full evidence. When I asked the coach in 2009 if he still had the scorecard and hole-in-one gift, he said, "Yes, they're here somewhere in my apartment." That was good enough for us. We weren't about to question the legendary integrity of a man who himself held Abraham Lincoln and Byron Nelson
in high esteem. When the family unearthed the scorecard after Wooden's death, it just reinforced belief in his reputation.
In reflecting back on the notable golf personalities who died in 2010, there were many like Wooden who were part of the golf landscape but not major figures, beginning with Jackson Bradley, Karl Tucker, Buzz Taylor, Jack Jensen, Mike Bentley and Alex Alexander.
If you didn't learn from Jackson Bradley (Feb. 26, 88), you weren't paying attention. The life member of the PGA and a Texas Golf Hall of Famer, Bradley held many club pro jobs and played the tour in the 1940s to 1960s. He loved to teach the game and did so for 60 years. He also wrote instruction articles for Golf Digest from 1951 to 1961. Bradley was a pioneer in TV golf with a show in the 1950s, was one of the first to use visual recordings for teaching, developed a patent for metal woods in the 1960s and helped design nine courses in the Houston area. He counted Hogan, Snead, Nelson and Demaret among his friends.
Karl Tucker (Jan. 8, 83), a Brigham Young University graduate, found his calling at his alma mater. The golf coach there from 1961 to 1992, Tucker's Cougar teams won 170 tournaments, 19 Western Athletic Conference titles, and the 1981 NCAA Championship. Among his players were Johnny Miller, Mike Reid, John Fought, Bobby Clampett, Pat McGowan, Keith Clearwater, Rick Fehr and Mike Brannan.
Jack Jensen (March 28, 71) was another highly respected college coach, leading the Guilford College men's team for 33 years and winning national titles in 1989, 2002 and 2005. Like Tucker and Jensen, Mike Bentley(April 8, 59) was a major influence on young people. As a sportswriter in the Atlanta area, he started a series of junior tournaments there in 1974. The series blossomed into the Atlanta Junior Golf Association, and in the fall of 1977, he decided to go national, creating the American Junior Golf Association. The AJGA's first event was in Florida in 1978, and it has now grown to be the premier junior golf tour in the world, holding 85 events in 2010. Bentley served as AJGA president from 1978 to 1983.
F. Morgan (Buzz) Taylor (Oct. 29, 79) was the chairman of a pool-cleaning equipment company by trade, but as USGA president in 1998-'99 he focused on a different technology as he took firm stands on equipment standards. He was also a member of the Masters Rules Committee and the Captain's Club of the Memorial Tournament.
At the other end of the administration spectrum was Alex Alexander (April 28, 88), the type of guy you wanted in a David-versus-Goliath battle. As the Broome County (N.Y.) Community Charities Executive Director, he got the PGA Tour to put the B.C. Open on the 1971 schedule. Held at En-Joie Golf Club in Endicott, N.Y., the tournament landed Johnny Hart's B.C. comic strip as a marketing tool. The small-market, hometown-style event raised more than $9 million for charity until it ceased in 2006, coming to an end when the tour applied pressure for events to up the ante for big-money purses.
Among the player ranks, deaths included: Texas Golf Hall of Famer Charles (Shelley) Mayfield (March 22, 85), whose long career as club pro at Brook Hollow Golf Club in Dallas followed success on the PGA Tour in the 1950s as a four-time winner and three top-10 finishes in major championships; he also loved to teach, and wrote an instruction piece for Golf Digest in 1955; Ted Richards Jr. (March 14, 87), the 1953 U.S. Public Links champion who won 18 Bel-Air Country Club club championships, two Southern California Golf Association Amateurs, and four SCGA Senior Amateurs; Cecile (Ceil) Maclaurin (Jan. 25, 84), the 1976 U.S. Senior Women's Amateur winner who won 11 Georgia state titles and who donated the Georgia Senior Women's Championship trophy named after her; Ethel Funches (Jan. 6, 96), an African-American amateur star whose heyday on the United Golfers Association preceded the growth of the LPGA Tour; Minnesota senior amateur standout __Richard (Richie) Anderson __(May 7, 70), and Cleveland-area amateur star Sally Bergman Robb (Dec. 26, 2009, 71), who won a club championship at age 13, played for Ohio State and was Golf Digest's Most Beautiful Golfer for 1958 at age 20.
The scribes who cover the players and news of the game lost members from their ranks, including Reid Hanley (Oct. 14, 64), who wrote for the Chicago Tribune; Ron Fimrite (April 30, 79), a longtime Sports Illustrated writer who wrote a book on the Olympic Club, "Winged O: The Olympic Club of San Francisco 1860-2009;" Knoxville-born Jim Warters (May 23, 82) had a country charm as editor for 12 years of PGA Magazine and as PGA news director and media relations director; Guido Cribari(Oct. 8, 95), a Westchester County (N.Y.) writing legend; John Paul Veracka (Feb. 4, 79), a golf writer in New England; and the legal counsel for the Golf Writers Association of America, __Oliver (Bud) Thompson __(May 4, 86), succumbed after 50 years with the GWAA and a lifetime of having played 2,500 courses around the world. He had also represented pro golfers, PGA sections, the Golf Collectors Society and the Golf Course Superintendents Association of America.
From the television medium, Chet Simmons (March 25, 81), who had been with ABC and NBC before helping start ESPN and serving as its first president, died, as did Robert Wussler(June 5, 73), who oversaw CBS' sports coverage in the mid-1970s.
Another death from the golf-entertainment side was actor Leslie Nielsen(Nov. 28, 84), who became a comedy master well into his career and used that skill to make a trio of golf videos in the 1990s that lampooned -- somewhat successfully -- golf instruction.
Flair, timing and controversy can make -- or break -- a golf personality. Golf course designer Robert von Hagge (Oct. 16, 83) had the flair, with Hollywood looks, an acting resume and marriages to the Bauer sisters, Alice and Marlene. After von Hagge joined with tour player Bruce Devlin in the 1960s to create a design firm, they stayed together for 20 years. Von Hagge was the primary designer or re-designer of 250-plus courses around the world, including Les Bordes in France, said to be his greatest creation.
Golf course superintendent Ted Woehrle (Sept. 8, 78) had the timing -- and green thumb -- that helped him prepare Oakland Hills for five major championships.
Caddie Greg Rita(Feb. 27, 54) had the good timing to be hooked up with Curtis Strange when the latter won back-to-back U.S. Opens in 1988 and 1989, and to be on John Daly's bag when he won the Open Championship in 1995. The positive-thinking Rita already was skillful as a looper before then, having started his career in 1976 and also carrying for David Duval, Mark O'Meara, David Graham, Gil Morgan and John Cook.
Running a heavy equipment sales-and-service company put Hall Thompson(Oct. 27, 87) in solid shape in the business world. But controversy put the Shoal Creek Country Club founder front and center of the golf world when he said prior to the 1990 PGA that his Alabama club didn't discriminate against any group except African-Americans. The resulting uproar was subdued when the club admitted Louis Willie Jr. as an honorary member, but it didn't totally calm down until the PGA Tour, PGA of America and U.S. Golf Association enacted policies that their events wouldn't be held at discriminatory clubs.
There was no controversy about Thompson's love for Shoal Creek, a type of affection shared by these two individuals who advanced their love of the game into golf course creations. Chris Haney(May 31, 59) used profits from creating the board game Trivial Pursuit into building a pair of Toronto courses, Devil's Pulpit and Devil's Paintbrush. The former was named Best New Canadian Golf Course by Golf Digest in 1991. And Chattanooga, Tenn., businessman Jack Lupton (May 16, 83) was the force behind getting Pete Dye to design The Honors Course in Ooltewah, which was the site for the 2010 NCAA Division I Men's Championship.
Running a course, association or tournament, is often thankless work, and is usually on the shoulders of people who don't seek the limelight. Richard (Moose) Wammock (March 25, 70) was the first tournament manager when the Players Championship moved to Ponte Vedra Beach, Fla. He also helped the tour start its electronic-scoreboard system. He later launched Big Sports, the professional sports-management company.
Nicknamed "Daddy" by the PGA Tour field staff for his people skills, Arvin Ginn (Feb. 4, 75) was a tournament director and tour rules official who had also spent many years as a club pro in Mississippi. Richard Haskell (July 11, 84) ran the Massachusetts Golf Association from 1969 to 1997 as just its fourth executive director; he also served on a few USGA committees, including the Bob Jones Award Committee. Another USGA connection was Elbert S. Jemison Jr. (Nov. 22, 90), an insurance agent who helped start the USGA's Associates program (now Members) in 1975 and which now has more than 800,000 members. Al Love (March 9, 81) was a past president of Industry Hills Golf Course and in 1999 became the first African-American Southern California Golf Association (SCGA) president and board member from a public course. Lee Corwin (Oct. 2, 91), the 1972 SCGA president, was the main force behind the origin of the SCGA's FORE magazine. The much-honored Lyle Wehrman (Sept. 24, 94) was Northern California PGA Section president from 1962-'64 and PGA Professional of the Year in 1964. Gordon Leishman (July 3, 83) was a member of the Kentucky Golf Hall of Fame, having served as Kentucky PGA president in 1962-'63 and PGA of America vice president in 1973-'74. He spent 32 years as head pro at Idle Hour Country Club in Lexington, and as a player won the 1963 Kentucky Open, and the Kentucky PGA in 1959, 1966 and 1972. Paul Backman (April 13, 41) was a former executive director of the Western Washington Golf Course Superintendents Association. And J. Kimball Whitney (Nov. 8, 83) was on the USGA executive committee from 1980-1986 and also served on 11 other USGA committees.
Bradley, Wehrman and Leishman were members of the PGA of America for 50 or more years, as were these club pros: Gil Cavanaugh (Oct. 20, 84), Dick Cline (Oct. 23, 85), Ross T. Collins Sr. (June 10, 88), Art Diette (April 11, 84), Joseph R. Dodich (March 19, 79), Samuel Bailey Glenn (Jan. 26, 80), James C. Hall(June 16, 92), Richard W. Hammel (May 27, 71), Eddie Johnson(May 18, 77), Armand Lannutti (Aug. 27, 93), Grant Leavitt (May 19, 85), William H. Lewis (Aug. 2, 95), Gene C. Mason (June 20, 82), Gervis McGraw (Sept. 5, 80), Hugh C. Moore (Feb. 26, 89), Paul Munro (Jan. 11, 74), Ramon L. Peterson (July 9, 89), Walter R. Potter (July 19, 86), Charles Prentice Jr. (Feb. 12, 87), Glenn C. Reynolds (June 26, 80), Hogan Rountree(Jan. 29, 93), Harold L. Thomas (Feb. 28, 90), Dick Turner (April 5, 85), George Valuck (March 14, 97), Steve Vaskovic (Jan. 26, 86), and Virgil (Buck) Worsham (Feb. 25, 90).
A member of a notable golfing family, Thomas (Tommy) Vickers (March 3, 72) started building shopping centers, restaurants and nightclubs at a young age. In the Denver area, he and brother Jack were key figures at Castle Pines Golf Club, past site of The International on the PGA Tour. Also from a well-known golfing family was insurance executive Prescott Bush Jr. (June 23, 87). His father Prescott S. Bush was USGA president in 1935, and his brother and nephew were elected to a higher office, President of the United States. Prescott Jr. was a member of the Round Hill Club in Greenwich, Conn., and served as a member of the USGA Executive Committee from 1973-1976.
Each year brings sadness of youth cut short just as this game of a lifetime is taking hold. Erica Blasberg (May 9, 25) had been an LPGA Tour member since 2005. But a nonwinner, and her game not flourishing like it had as an Arizona and 2004 Curtis Cup standout, Blasberg was trying to cope with the demands of a marginal tour life when she was found dead from a ruled suicide. A pair of high-school standouts was killed in car accidents. Jordan Day (Aug. 12, 16) was a junior at Lakota East High School in Liberty Township, Ohio, and Kyle Lewis (July 26, 18) had just finished his final tournament for Bethel High School in Oklahoma at the All-State Golf Tournament when highway accidents took their lives. Kyle had been named Oklahoma's Jim Thorpe Boys Golfer of the Year and had signed to play for Oklahoma's golf team. The 2008 state champion, Lewis was one of seven players who had finished in the top four at the state tournament all four years of school. Another 18-year-old who died was Greg Misodoulakis (Sept. 3), who drowned at Back Nine Golf Club in Lakeville, Mass., while cutting grass after his ride-on tractor tumbled into five-foot deep water and he remained pin under. He was a college freshman at University of Massachusetts-Amherst.
We exit this reminiscence transitioning from youth to a fivesome of nonagenarians who did spend a lifetime in golf: Charles (Monk) Wade (June 20, 90) was a banking executive who served as executive director of the Arkansas State Golf Association. In 1979, he began an event that in 2001 was renamed in his honor: the ASGA Monk Wade Father-Son Championship.
David Foster(June 4, 90) was already past 50 when he gained notoriety in the golf business. Born in London to American parents, Foster served with distinction in the British Royal Navy in World War II. After he joined Colgate-Palmolive following the war, he became company president in 1970 and saw potential for company publicity and profits by hooking up with women's golf. It was through his influence at C-P and his high-profile publicity events that he brought the big-purse Colgate Dinah Shore tournament to the LPGA Tour, and it became one of the women's majors. "Look, if you want to do it, you've got to do it big," he told Golf Digest in 1973. Colgate remained sponsor through 1981. A lifelong golfer, Foster once belonged to Baltusrol and wrote a book in 1988, "100 Heroes of Golf."
Illustrator Donald Moss (May 18, 90) made his biggest art impression working in the sports world. He painted covers for Sports Illustrated for 30 years and did work for Golf Digest in the 1980s. He most notably applied his skill to golf courses, sometimes on a surrealistic or pop-art level. One of his early golf projects was SI's "The Best 18 Golf Holes in America," for which he did the hole drawings in 1966.
Once Morton (Mort) Olman (May 9, 93) opened his Old Golf Shop in Cincinnati in 1970, there was no stopping him in the collectibles world. He was well-versed in golf art, books, antique clubs, balls and memorabilia. His book, "The Encyclopedia of Golf Collectibles," written with son John and published in 1985, was the first to greatly detail prices and value of golf collectibles. Ben Crenshaw used Mort's expertise to help build a golf library.
And on the topic of "antiques," the Masters lost a valued one from its faithful gallery members. Thomas Edward Bailey Sr. (Jan. 4, 94), a pediatrician in Augusta, had attended every Masters since 1934, getting in with free tickets that year so he could follow Bobby Jones. A man he would have seen in 1934, Errie Ball, is the last remaining player from the inaugural event. He just turned 100 in November.