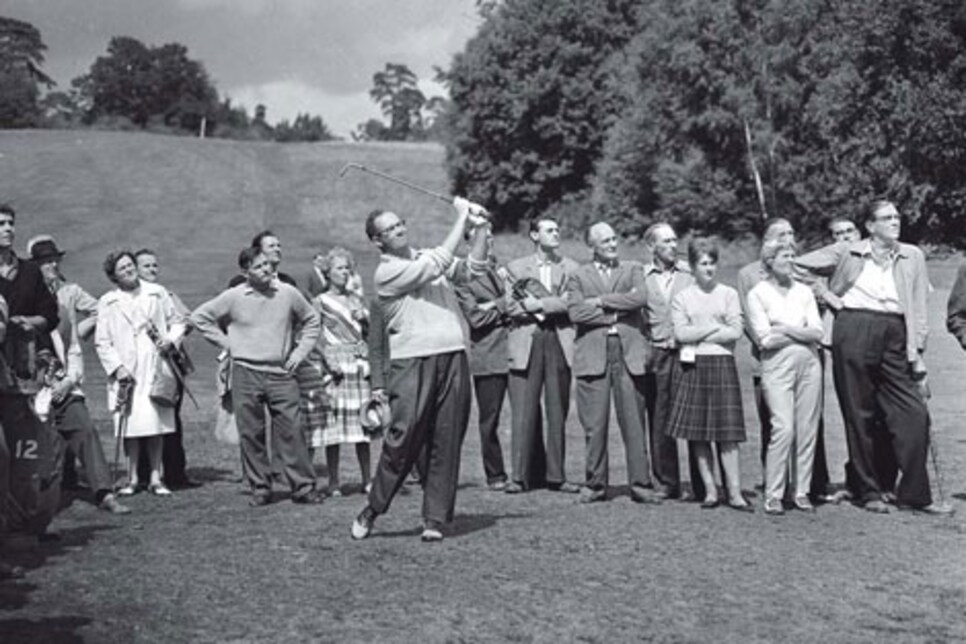 Bob Rosburg, winner of the 1959 PGA and golf's first on-course reporter, was among those the game lost in 2009.
Forever, or just about, the short, stout, bespectacled Bob Rosburg appeared on our television screens with antennae sprouting from a headset clamped over his cap. He'd be wandering in the rough or loitering by a green, ready to answer Jim McKay and Dave Marr, who sat on the tower at the 18th and asked their man on the ground, "Rossie, what you got?"
Rossie had an assessment of a player's lie, conditions, distance and circumstance. Usually, the summary came down to a simple sentence born of his belief that a golfer's chance of success at any given moment was minimal, or worse. "He's in jail," Rossie might say. Or it would be, "He's got no shot." Most often, forlornly, "He's got no chance." Before becoming the voice of imminent doom, Bob Rosburg was a player. He won six times on tour, including the 1959 PGA Championship. He was twice runner-up in the U.S. Open (losing in '69 when he left short a straight-in, uphill, into-the-grain, never-forgotten three-footer on the 72nd hole). He finished in the top 10 in eight other majors, and from 1953-'74 had 112 top-10 finishes.
Still, when he died on May 14, 2009, at age 82, Rosburg's lasting renown had come with his unique role in sports-television history. He was the first reporter all over the field of play. For 31 years at ABC Sports, his on-course commentary was the model for a generation of golf whisperers.
Rossie was also a rascally raconteur. He once said that as the players' committee chairman he was forced to deal with several stinking issues, among them a malodorous incident involving Tommy Bolt.
The 1958 U.S. Open champion was known as Thunder Bolt because of his temper, though on the day in question the thunder came from another source.
Speaking at a roast for Bolt -- where devotion to truth was minimal, or worse -- Rossie recalled the 1959 Memphis Open Invitational.
Tommy stood to the side of a green, waiting his turn to putt.
Into the hush there came a ripping, reverberating, rolling thunder of such intensity that spectators were moved to laughter and to an agreement that the explosion had occurred in the vicinity of the Open champion's rear pockets.
As judge and jury of player behavior, according to Rosburg's tale, he was obliged to defend the game's honor.
"Tom, you and I are good friends," he said, "but we've had this report that you farted on the green."
"Oh, yeah," Bolt said. "I just had to do it."
"Tom, you can't do that, not while a man is playing. I have to fine you."
"Damn it!" Bolt said. "You guys are trying to take all the color out of the game."
Realist or pessimist, Rosburg could say a man had no shot because he knew the feeling. His considerable ability resided mostly in magic on the greens; beating balls was something Ben Hogan did. Rosburg's father had given him a golf club at age 2. He was 12 when his 7-and-6 victory in a lower-flight championship match caused Ty Cobb to quit San Francisco's Olympic Club; the baseball immortal was then 52 years old.
Rosburg played baseball and golf at Stanford University (sticking with the baseball grip for golf). He was 26 when he turned pro in 1953 and won the sixth tournament he entered. A victory in the '54 Miami Open put him among that year's top-30 money-winners, with $8,600. He won the '59 PGA at Minneapolis Golf Club when a four-under-par 66 moved him past five men the last day. He never left a golf life that started in Hogan's time and ended in Tiger's. He was a tournament advisor for Bing Crosby (he won at Pebble in '61) and Bob Hope (his last win, '72).
Drawn and weary from cancer, Rosburg sat with an old ABC colleague, Sal Johnson, six months before he died of a head injury suffered in a fall near his home in Palm Springs. "Even then," Johnson said, "our conversation was all golf. He was opinionated, and he believed to the end that the tour, with all its money, should help the guys from the '50s more. Some were just derelicts. They built the tour, not Tiger."
Rosburg's tour moved in Buicks, not Lears. The money came in the low five figures, not the low seven. Wives traded off babysitting, and guys on the road alone shared rooms, a hundred bucks for the week.
The sharing-rooms thing could become thrilling -- here comes Rossie the Raconteur again -- if your roommate made friends of women and enemies of their husbands. Rossie said one such husband with a gun burst into his room shouting, "You're him, and I'm going to kill you."
"No, no, I'm not him, I'm Rosburg," he said.
The man put the gun down.
Compiled by Cliff Schrock
Dave Adamonis / 62 / Oct. 10
Father of tour player Brad Adamonis; coached Johnson & Wales to eight straight NAIA national finals, winning in 2005.
John Atkinson / 40 / June 11
Battled lung cancer to play in the inaugural Golf Digest U.S. Open Challenge in 2008.
Gene Borek / 72 / April 14
Shot a then-course-record 65 in the second round of the 1973 U.S. Open at Oakmont; 48-year member of the PGA of America.
Wendy Boyd / 57 / Feb. 24
Pioneering African-American in the LPGA Teaching and Club Professional Division.
Marjorie (Marge) Burns / 83 / June 3
Ten-time North Carolina Amateur winner.
Pearl Carey / 96 / Feb. 23
Promoted junior golf and minority participation; awarded the 2005 Joe Dey Award from the USGA, the second female and second African-American to be honored.
Mallory Code / 25 / Nov. 9
Diagnosed with cystic fibrosis at six weeks old, Code became a four-time AJGA winner and earned a scholarship to Florida.
Carolyn Cudone / 90 / March 19
Her five straight U.S. Senior Women's Amateurs starting in 1968 are the most consecutive USGA titles ever won.
Gordon Ewen / 93 / Feb. 27
Member of the Royal & Ancient and the USGA Executive Committee, president of the Western Golf Association and a creator of the USGA's Joe Dey Award.
Bernie Fuchs / 76 / Sept. 17
Innovative illustrator whose work began appearing in Golf Digest in the 1970s.
Betty Jameson / 89 / Feb. 7
One of the LPGA Tour's original 13 founding members in 1950 and a member of the World Golf Hall of Fame. Winner of the 1947 U.S. Women's Open and the U.S. Women's Amateur in 1939 and '40.
Lamont (Monty) Kaser / 67 / Sept. 18
1966 U.S. Amateur Public Links champion.
Three-time PGA Tour winner.
John Panton / 92 / July 25
Played for three Great Britain Ryder Cup teams.
Robert (Skee) Riegel / 94 / Feb. 22
U.S. Amateur winner, 1947 and 1949 Walker Cup player and 1951 Masters runner-up.
Andy Shepard / 84 / Jan. 20
Member of the LPGA Board of Directors from 1992-'96 and its chairman from 1997-2000.
Edwin (Bud) Shrake / 77 / May 8
Texas writer who helped put teacher Harvey Penick's thoughts in five best-selling books, beginning with the Little Red Book.
Beth Smith / 42 / June 21
Wife of professional golfer Chris Smith, Beth was killed in a highway accident in Indiana.
Edgar (Ted) Swartz / 104 / Oct. 18
Labeled by Golf Digest as the "longest continuous member" of a club because of his membership at Punxsutawney (Pa.) Country Club, which his father founded.
John Updike / 76 / Jan. 27
Author who wrote 15 essays for Golf Digest.