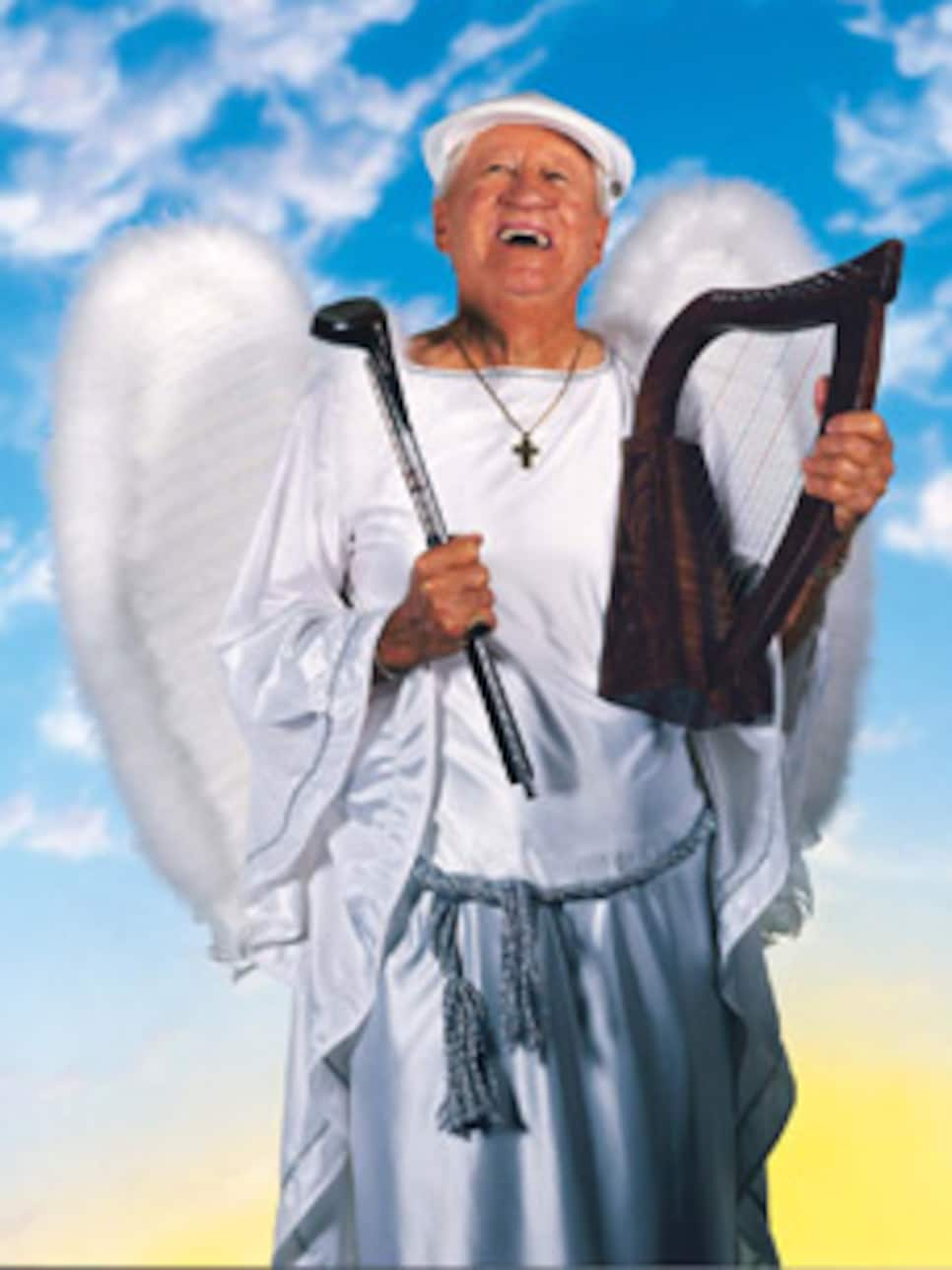 Tommy Bolt, photographed Aug. 15, 2002, in Cherokee Village, Ark.
One was unpredictable. One was unshakable. And one was unimposing. But taken together, Tommy Bolt, Jim McKay and Orville Moody were key individuals in major-championship history, and their unique talents and personalities made lasting impressions. They are also linked as three of the notable golf figures who died in 2008 and are remembered here.
From Bobby Jones to Tiger Woods, golf's best have tried to put their misplays behind them by using the occasional blowup to let off steam. Arguably the greatest, or most notorious, at blowing a valve was Thomas Henry Bolt, whose sweetheart of a nickname, Tommy, was often replaced or added to with Thunder, Terrible Tempered or Tempestuous. Bolt, who died Aug. 30 at age 92, was so well known for his temper tantrums, swearing and occasional "helicopter heaves" that the unsavory behavior undoubtedly delayed his entry into the World Golf Hall of Fame.
Bolt never denied he had an anger and club-throwing issue, but he said people chose to shape their opinion of him by that sole personality trait rather than his shotmaking skill, which was considerable and helped him win 15 PGA Tour events and play on two U.S. Ryder Cup teams in the 1950s.
When Bolt discussed his legendary behavior -- which was Question No. 1 in any Bolt interview -- he preferred to speak from his backwoods persona ingrained from being born near the Ozarks in Haworth, Okla., just a few miles from the Arkansas border. At those times he was charming and amiable. He referred to himself in the third person as Ol' Tom, arguing that "dozens" of other pros had tempers and tossed clubs, but that he had the ironclad reputation and photographers hunted him down as a marked man, shutters ready to fire, waiting to capture a club in the air or Ol' Tom in mid-heave.
One of golf's memorable photos is Bolt in a fit of anger at the 1960 U.S. Open. It's a stark black-and-white shot of the 42-year-old ready to slam his driver into the lake on the 18th hole at Cherry Hills. Bolt said that was an example of how he was a man in the viewfinder, that what he was actually doing was trying to clobber the noisy carp in the lake. Never mind that he had hit two balls in the water off the tee and was heading for an 80 and a WD. "If a photographer hadn't just happened to be there, my reputation might be better today," he complained in 1977.
But the manic behavior helped Bolt discover his showman side. He would sometimes toss a club to satisfy those people expecting a sideshow, perhaps realizing that deep down all golfers have a need to slam a club but most of us are too committed to the game's gentleman code of conduct. "I've thrown a few just for the man who came out to see me do it," he said. "I've missed two-foot putts and heard people say to each other, 'You'd better duck.' "
Bolt would get amusement out of mentoring other tormented souls. He often cited Arnold Palmer as being one of the notable club-throwers of the 1950s and said he told Palmer the common advice to always throw the club ahead of you "so you can pick it up on your way." Another bit of wisdom was, "Never break your driver and putter in the same round."
And what heavy clubs they were. In his PGA Tour days, he estimated he swung clubs swing-weighted at D-7 or D-8. He thought weight meant distance. When he got to senior tour age, he felt distance equated to how fast and how squarely you could hit the ball. He went to a 44-inch driver with a C-9 swingweight that weighed 13 ounces.
Bolt was already 34, a self-admitted "late starter," when he began playing the tour in 1950 (he turned pro in 1946), but his penchant for anger had already been noticed. When he was assigned to the Special Services during World War II, he played a lot of golf during his four-year enrollment, once serving as the pro at a Rome-area club. Seeing Bolt play, the late writer Merrell Whittlesey, filing for Stars and Stripes, wrote that "the clubs flew like shrapnel."
Bolt's hair-trigger behavior inspired sharp opinion. He was fiery and fierce to some, colorful and competitive to others. One of his sponsors felt his temper indicated he had spunk and spirit. At home, wife Mary Lou said her husband was at ease, that he left all his anger on the course.
Bolt could get belligerent with the gallery over his behavior as well and banter with the more outspoken members. But it was the clubs that took a pounding. In one example, a 1953 round at Las Vegas, he broke the head off his putter and bent the shaft of his driver around a tree, finishing with his 2-wood for a driver and putting with a 2-iron.
Like most anger-challenged golfers, however, the edgy behavior meant there was talent and determination below the surface. He was praised as a great shotmaker and ball striker who could hit the same shot with a 3-wood or a 3-iron. He won his first tour event in 1951, and 11 victories later he had his greatest triumph when he won his lone major, the 1958 U.S. Open, in his home state at Southern Hills in Tulsa.
The brutal heat -- said to be 95 in the shade -- didn't affect Bolt, who was the coolest thing going and played with a rare calm. Even a double bogey on 18 in his third round to close out a 69 didn't heat him up. "I knew I was going to win," he said. "It just became less of a runaway."
His 71-71-69-72-283 won by four over Gary Player, prompting Bolt's friend Ben Hogan to say it was "possibly the finest golf ever shot in a United States Open."
As Bolt retells in his book, "The Hole Truth," Hogan had been behind Bolt's ball-striking skill, giving him a grip change in the 1955 off-season that helped eliminate a hook. If not for Bolt's on-course antics and lack of mental toughness, Hogan thought Bolt "could have been the greatest who ever played."
Bolt had mellowed enough by the late 1960s to write a book, "How to Keep Your Temper on the Golf Course." Considering the source, it was tough to take the advice seriously, but it was a fun read and Bolt got to kid the by-then retired Hogan with the inscription: "To Ben Hogan, the only teacher I ever had. So who's kicking?"
Combining Bolt's on-course antics, his admirable fashion style, and his shotmaking talent, he had the hall of fame look but he could have had a better hall of fame record. His one major, two Ryder Cups and 15 tour victories were followed by five U.S. National Senior Association Open (precursor to the USGA Senior Open) victories, the 1969 PGA Seniors and two Australian Seniors. But when the Senior PGA Tour came along in the early 1980s, Bolt was already in his 60s and was more of a curiosity piece due to his old reputation.
His biggest moment was when he and partner Art Wall lost a brilliant six-hole playoff to Roberto De Vicenzo and Julius Boros in the 1979 Legends of Golf, a thrilling event whose success gave direct life to the senior tour. Bolt and Wall won the Legends the following year.
In his calmer golden years, Bolt had one common lament: "As the years pass by, I do wish people would sometimes think of my ability to play rather than just my temper," he told Golf Digest in 1993. He got his wish in 2002 at his hall of fame induction, but couldn't resist a last quip: "I want to thank the members of the committee for nominating me...so quickly. If they'd waited 15 to 20 more years, I might have gone back to drinking."
Other Bolts from the blue:
"I had a face that looked like I should break clubs."
"I've always had a temper, but they haven't made as many golf clubs as I've been accused of throwing."
"I never threw a club that didn't deserve it."
"I never cussed much. That's a bunch of bull----."
Referring to the newspaper story that listed his age as 49 when he was really 42: "Typographical error, hell! It was a perfect 4 and a perfect 9!"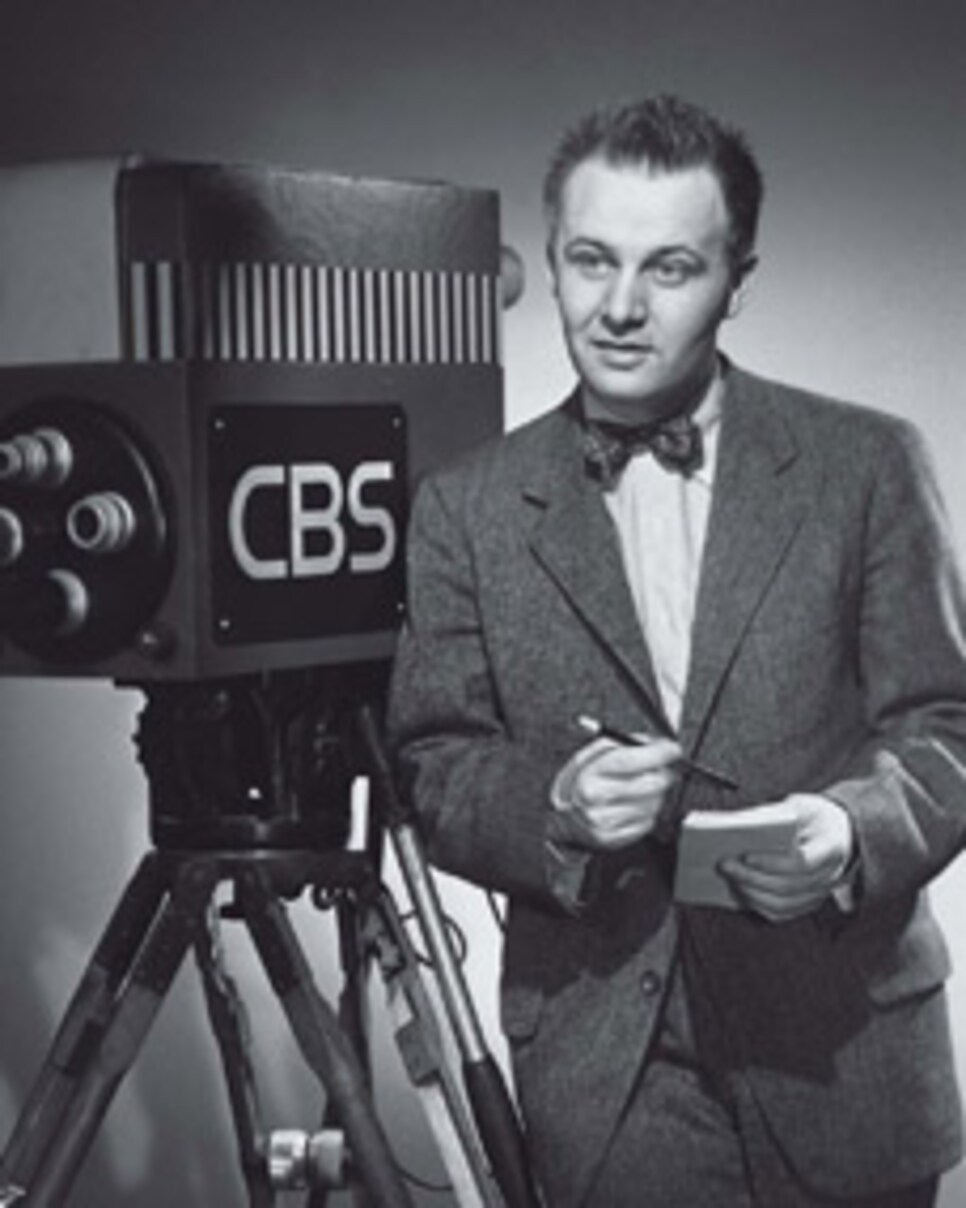 Even if you assessed Jim McKay's career in stages, each one would earn him broadcasting greatness, whether it was voicing "The thrill of victory and the agony of defeat" line for "ABC's Wide World of Sports," or his 1972 Munich Olympics work in the face of tragedy, or his body of work as a multisport expert. But add to it that McKay, along with the late Dave Marr, were arguably the finest anchor and analyst team in TV golf history, you can see why his death on June 7 at 86 is an immense loss.
McKay's golf heyday coincided with ABC's when the network was superior in all aspects and held all the major cards but the Masters. An ABC U.S. Open broadcast intro from 20 years ago can still thrill as a snippet on youtube.com with three key elements: an aerial flyover of the course, McKay's voiceover set-up of the action, and "Love's Theme," arguably the most stirring intro music ever for a golf telecast.
McKay was the calming influence, the lead guy who took viewers through the ups and downs of a round, bringing in the broadcasting extras for appropriate commentary. He was steady and reassuring, and gave the impression that he was one of us but with the gift of a storyteller able to pull the golf drama along over several hours. If anyone could be called the Walter Cronkite of the sports world, it was McKay. In traveling more than 4 million miles to showcase sports in 40 countries, McKay broadened our understanding and appreciation of all sports, educating viewers on everything from cliff diving to the Kentucky Derby.
Born James McManus, he developed these talents starting with debate and drama activities at Loyola College in Baltimore, then in 1947 as a reporter for the Baltimore Sun and soon after with the paper's TV station WMAR. He learned to fill TV time with a three-hour afternoon show, "The Sports Parade," which featured songs, interviews and reports. In 1950, he was hired to do a daytime variety show for WCBS in New York, "The Real McKay," a play on the phrase "the real McCoy." McManus changed his public name to McKay to match the show and it stuck with him as his career took off.
McKay actually worked the Masters for CBS in the late 1950s before Roone Arledge at ABC hired him in 1961 to lead a risky new program, "ABC's Wide World of Sports." The show and host went on to make broadcasting history and he was a multi-Emmy winner.
Of single sports, golf was the game he was most closely associated with and he had a great appreciation for it, although he also raised thoroughbred horses in Maryland. "Golf is, in fact, the best game anybody has thought of up to now," he said. He played it as a 19-handicapper at Baltimore Country Club at Five Farms, Timonium, Md. His favorite broadcast moment was the 1972 British Open, where Trevino held off Nicklaus and Tony Jacklin, and his final golf telecast was also at the Open, in 2000 at St. Andrews.
OL' SARGE WINS THE BIG ONE__
In a cast of golf's most unlikely heroes, Orville Moody would be a lead character, a regular Mr. Cellophane. Coming on the scene a generation after a pro golfer named Porky, Moody would have had Portly locked up. He grew mutton-chop sideburns and looked like the typical neighborhood TV cop. His on-course presence was easy to underestimate with his cross-handed putting, reputation for never having taken a lesson, and his unease in front of a crowd.
But the part Choctaw American Indian and son of a golf course superintendent from Chickasha, Okla., could play. And he knew how to win early on, as far back as the 1952 Oklahoma State High School Championship. He eschewed a football scholarship to Oklahoma and went for a bigger stage, in the U.S. military after enlisting in November 1953. During 14 years, he reached staff sergeant and was stationed in Germany, Japan, Colorado, Korea and Texas. After starting as a rifle instructor, his all-around golf knowledge and skill made him a valuable golf commodity. He helped build a golf course in Germany for the 9th Division, and in Seoul was golf professional for the 8th Division.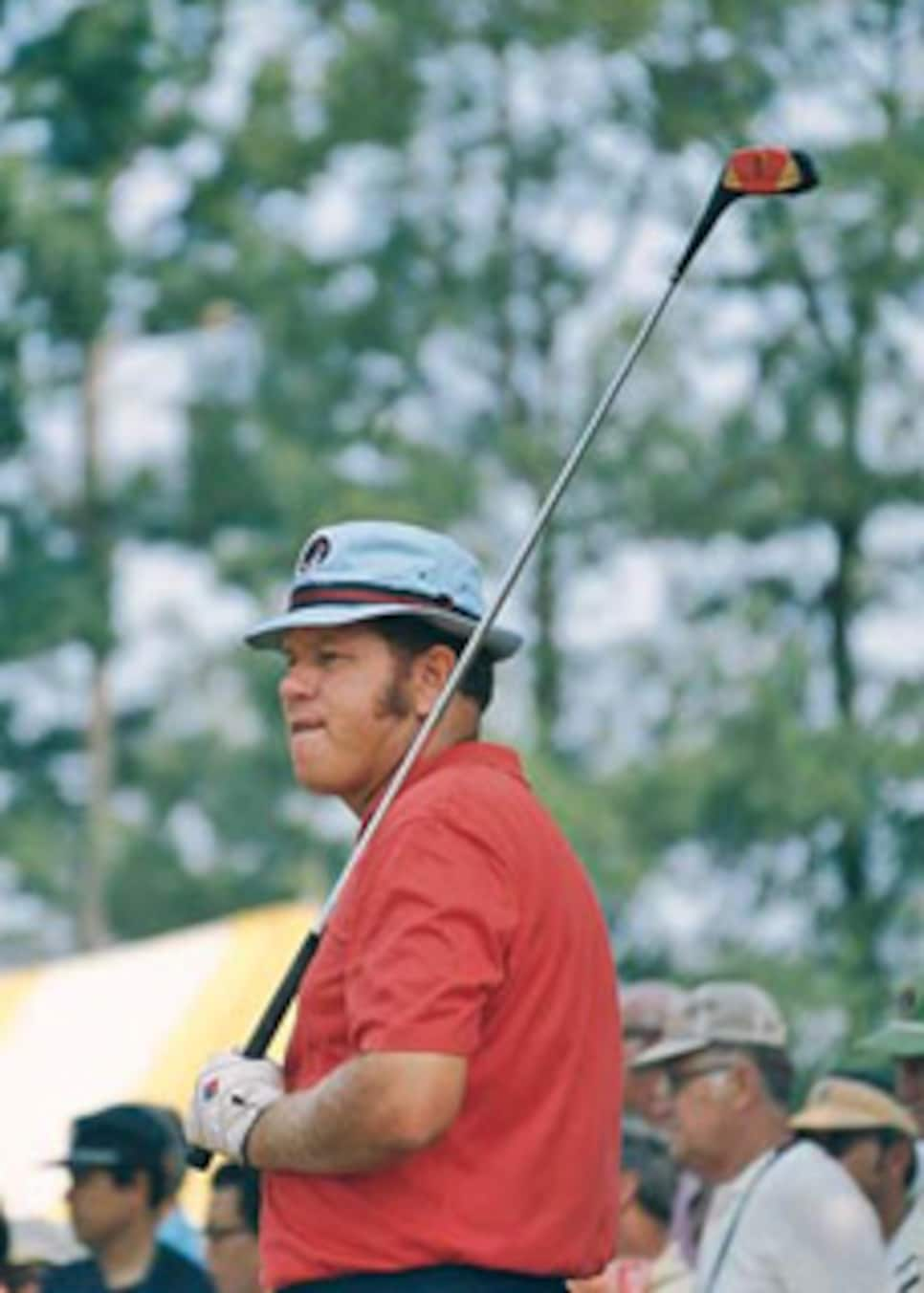 In his travels he did a lot of saluting and swinging, playing with numerous superior officers. He didn't fail to impress, and won the 1958 All-Army Championship, 1962 All-Service Championship and the Korean Open three times.
When Moody's enlistment expired he graduated from the tour qualifying school in 1967. He won just $12,950 in 1968, and decided he'd go back to the Army if 1969 was more of the same. It was the last career decision he had to mull.
The 1969 U.S. Open was played at Champions Golf Club in Houston. Moody had played the Open before, in 1962, but to get into the '69 Open he had to go through regional and sectional qualifying. Moody's good friend, Lee Trevino, had labeled Moody a contender, and with a round to go, he trailed Miller Barber by three, having shot a 68 in Round 3. But Barber finished with 78 and Moody had two putts to win from 12 feet on 18. The cross-hander got the final putt in from 14 inches and his 72 had held off three others by one stroke.
The rest of 1969 was a gem: Moody won the World Series of Golf, teamed with Trevino to win the World Cup, was 21st on the money list with $79,176 and was Player of the Year.
But 1969 was like a lone U.S. port of call on the Moody Golf Cruise. "Sarge" went out to sea and never won in the U.S. again, only winning in Hong Kong, Morocco, Australia and the Caribbean. Poor putting confounded his PGA Tour chances and it wasn't until Moody reached senior-tour age that he was back onto solid ground again. He won 11 times, using another senior standard, the long putter, to solve his putting woes, and he validated his 1969 U.S. Open with the 1989 U.S. Senior Open title, an Open double that only six others have done.
Losses from the playing field included Mike Souchak (81, July 10), who had a career that compared favorably to Tommy Bolt's: 16 PGA Tour victories, two Ryder Cups (a 5-1 record), and instead of a major, he had the 72-hole scoring record for 46 years. But Souchak was a Bolt with a belt; he could hit the ball more than 325 yards, according to one report, and he did it with a smile. He was a naturally strong 5-11, 210-pounder-usually described as burly or a bear-who could have played pro football. He did play as an All-American end for Duke, where he also played golf and was team captain in 1951 and '52.
The Durham Bull always preferred golf as a profession and from the start tried to muscle the golf course. When he had his putter working, as he did in the 1955 Texas Open, nobody could touch him. He shot 60-68-64-65 for a 27-under score of 257. His final-round 65 was shot in 38-degree weather and only two others broke 70.
"Sooch" toned down his power game and played more in control, winning consistently and factoring in three U.S. Opens, most notably as the 54-hole leader in 1960, only to be overtaken by Arnold Palmer's famous 65. By 1967 he had tired of the travel and took the club pro job at Oakland Hills; three years later he also worked at Innisbrook in Florida in the winter. He eventually formed Golf Car Systems, a golf car maintenance company.
By the time the senior tour began in earnest, Souchak was already 54 and did not win a title. But because of his record play in 1955, he got plenty of ink and airtime as the "go-to guy" for commentary anytime someone approached his record. That it took 46 years with all the advances in equipment for someone to break it always amazed him.
Virginia Guilfoil Allen (91, Aug. 27): Won the 1941 New York State Women's Amateur and two state's senior women's amateurs.
Keely A. Grice Jr. (82, Jan. 12): Won events in the Carolinas and was a four-time U.S. Amateur participant.
George Haines Jr. (64, July 16): A member at both Somerset Hills and Merion Golf Club, won the New Jersey Amateur twice and was a regular entrant in the U.S., British and Canadian amateurs. For 20 years he wrote historical articles for the USGA Golf Journal.
Barclay Howard (55, May 20): Born in Glasgow, Scotland, the lifelong amateur showed great promise as a youth but fell into a deep alcohol addiction that provoked thoughts of suicide. He recovered by the 1990s to enjoy success, most notably by helping the Great Britain & Ireland team win the 1995 Walker Cup and finishing as low amateur (tied for 60th) in the 1997 British Open at Troon at age 44 after briefly leading. Later that year in a cruel turn he was diagnosed with leukemia. He had more than 100 amateur tournament victories and chronicled his life's story in the book, "Out of the Rough."
Stiles Mitchell (42, July 19): Turned pro in 1993, won on the Nike Tour (now Nationwide) and was known as Big Daddy for his long-drive abilities.
Torakichi Nakamura (92, Feb. 11): Son of a poor farmer and standing just 5-foot-2, was a caddie at 14 and turned pro at 20. His big fame was as a pioneering Japanese player, winning the 1957 Canada Cup (now World Cup) for Japan with Koichi Ono and was the individual winner as well at age 42.
Elizabeth Price-Fisher (85, May 23): 1959 British Ladies Championship winner and a two-time runner-up; played in six Curtis Cups for Great Britain & Ireland, going 7-4-1, as GB&I went 2-3-1.
Dick Rhyan (73, Jan. 16): Never won on the Champions Tour in 277 events, but he finished second four times and earned more than $1.5 million.
Thomas Robertson (57, July 8): Native Scot who as a golf pro in America won more than 100 Pennsylvania events and played in the PGA and U.S. Open.
Jeffrey (Boo) Burrell (60, July 24): Tour looper from 1973 until his death. Bagged for Ben Crenshaw, Tom Watson, Andy North, Lanny Wadkins, Jerry Pate and Curtis Strange.
Steve Duplantis (35, Jan. 23): Free spirit featured in the book Bud, Sweat and Tees who won with Jim Furyk, Tommy Armour III and Rich Beem.
Jeffrey (Shadow) Jones (44, Sept. 4): Worked for LPGA Tour players such as Tracy Kerdyk, Michelle McGann, Deb Richard and Dawn Coe-Jones.
Of those who help govern and rule the game, the most prominent passing was William C. (Bill) Battle (87, May 31). The son of former Virginia governor John S. Battle had a varied business and political career that followed World War II service in which he skippered one of the boats in John F. Kennedy's famous rescue at sea.
He joined the USGA Executive Committee in 1978, which started a climb to USGA president in 1988 and '89. He went into his term wanting to improve communications with the grass-roots segment of the game, saying the USGA needed "a different image." He also wanted to "preserve the game against tremendous commercial interests."
But during his tenure the USGA was tied up with the Karsten vs. USGA square-grooves controversy, which challenged who was in charge of governing the game. During his presidency there was the full adoption of the Slope Handicap System by the USGA's 102 associations, and the appointment of David Fay as Executive Director, a position he still holds.
Bill Bentley (46, Aug. 30): A past Southern Cal golf captain and former Cornerstone Sports player manager.
Ben Brundred (83, March 28): Former tournament director of the Kemper Open/Booz Allen Classic.
R. William Clarke (85, Sept. 22): Joined the PGA in 1948 and spent 35 years at Hillendale Country Club in Phoenix, Md. He rose to PGA president in 1973-'74. Larry Disera (79, Aug. 27): Two-time president of the Utah Golf Association.
William Dyer (95, March 18): President of the Virginia and West Virginia Senior Golf Association and shot his age more than 280 times. Barbara Ann Gordon-Hefner (51, March 11): Past president of the LPGA Tournament Sponsors Association.
Sonny Graham (69, April 1): Former Heritage Classic tournament director.
Steve Hogan (55, Nov. 22): Started Hogan's Junior Golf Heroes program in 1990 to help inner-city youth.
Joe King (88, Sept. 7): USGA's 1998 Joe Dey Award winner for outstanding volunteer efforts.
James Latham Jr. (79, July 16): Agronomist and turf-grass specialist for the USGA Green Section.
Bob Nelson Jr. (68, March 18): Had joined the PGA in 1991 and was a club pro in Tennessee, but he also served as a volunteer chaplain for the Champions Tour.
Gene Nutter (85, Jan. 16): Executive director of the Golf Course Superintendents Association of America (GCSAA) from 1959-'65.
John Schilling (56, April 6): GCSAA Executive Director from 1983-'93.
Henry Wilshusen (82, Feb. 28): Official with the Byron Nelson Classic.
Michael Cunningham (64, June 9): Architect of the clubhouses at Sebonack Golf Club on New York's Long Island and Bayonne (N.J.) Golf Club.
Ted Robinson (84, March 2): Course architect had more than 160 designs worldwide, most notably at Sahalee Country Club in Seattle, site of the 1998 PGA. He was also a past president of the American Society of Golf Course Architects.
Warren Cowan (87, May 14): Publicist who created one of the first charity sports events with the 1950 Frank Borzage Invitational Motion Picture Golf Tournament.
Dai Davies (69, May 19): The golf writer for the Birmingham Post and The Guardian in the UK. He wrote three golf books, but his coverage of the European tour endeared him to many. "He was always very respectful to what we were doing as golf professionals," said Jose Maria Olazabal.
Dudley Doust (77, Jan. 13): Born in Syracuse, N.Y., worked in Kansas City, New York, London and Mexico, before settling in London once more, this time making his mark as a sports writer for the Sunday Times, where he followed the hallowed Henry Longhurst on the golf beat. He wrote books on cricket and golf, the latter most notably in 1982 and 1986 about his good friend Seve Ballesteros.
Ross Goodner (81, Sept. 11): As a collector from his youth, he developed a love for history. After getting a journalism degree at Oklahoma in 1954, he turned to writing as his profession. He went from sports desk work at The New York Times to Golf Magazine editor to public relations work to finally joining Golf Digest in 1977 as a Senior Editor. He was respected as a golf historian and his distinguished manner helped him become friends with many of the game's key people. His 1978 book, "Golf's Greatest: The Legendary World Golf Hall of Famers" was one of the first books that covered the careers of several great players at once. He retired to his native Oklahoma in 1993, but tales of his love-hate relationship with playing bad golf on a great day are still told. His other book work includes a history of the Chicago Golf Club in 1992, and substantial writing on Golf Digest's America's 100 Greatest book series.
Charlie Jones (77, June 12): The silver-maned NBC Sports announcer from 1965 to 1997 worked many golf and NFL events. When his "kettledrum voice," as it was described, came over the air, you could picture a crisp fall day of football or a green-grassed golf course. He was coauthor of the golf book, "Be the Ball: A Golf Instruction Book for the Mind."
Bob Labbance (56, Aug. 23): Author and historian, died of ALS, but had produced 17 golf books, most notably on unique topics such as a Walter Travis biography and a book on Harry Vardon's 1900 playing tour of the U.S. A photographer and collector, he also edited Vermont Golf for 11 years and was a member of the USGA Museum Committee.
Robert Sommers (81, July 26): The editor of the USGA Golf Journal from 1966-1991, was a well-respected golf historian and journalist. His book, "The U.S. Open: Golf's Ultimate Challenge," is recognized as the championship's best history.
Arthur Weaver (90, March 31): English painter whose golf focus included players and scenes. He illustrated the book "St. Andrews & Golf."
Other GWAA members who died were Larry Jordan (76, March 24), Dave Nightingale (72, April 11), Gordon Wells (54, June 22) and Herbert Werner (79, June 10).
In the field of creative thinking and innovators, a key civil-rights figure passed away. Rev. Abraham Woods (80, Nov. 7), a Baptist minister, was president of the Birmingham chapter of the Southern Christian Leadership Conference, which led the protests against Shoal Creek's discriminatory membership practices prior to the 1990 PGA there.
Peter Belmont (77, June 29): Was a PGA professional who started off focusing on teaching the game but found equipment more interesting. In 1970 he developed equipment under the company name Belmont USA Golf, and in 1976 he developed the clubhead variable weighting system that is still used today. ESPN hailed him as America's Most Complete Golf Teacher following his formation of computerized golf clinics and winter golf schools in Florida and the West Indies.
Ernest King (86, Jan. 2): Was a king in the upholstery business, but was instrumental in creating playing opportunities for African-Americans in the southeastern U.S. Having endured limited chances as a kid, as an adult he helped make golf more accessible, such as the creation of the Palmview Golf Association in Fort Lauderdale, Fla., which Calvin Peete participated in.
Robert M. Williams (93, March 7): A turfgrass expert and course superintendent, was a creative teacher of golf course management skills, especially innovative business-management tips.
Among players, Andrew Jewell (23, April 2), a Northern Kentucky golfer who was team captain, passed away from an epileptic seizure in his sleep. Jonathan Lavin (21, Sept. 3), a native of Sweden, had played only 10 events for Francis Marion University when he died in a traffic accident on campus. Also dying tragically in an auto accident was Danielle Smith (19, Jan. 12), a freshman golfer at West Florida.
Among coaches, Al (Bud) Lefevre (65, Aug. 8) had been coach of Clarion University's men's golf team the past nine seasons. Also, Joe Boyle (87, Sept. 17) was Penn State men's golf coach for 25 years from 1957-'82 and had a dual meet record of 197-38-1. The job brought his Penn State ties full circle since he had also played for PSU from 1946-49. Boyle was elected to the Golf Coaches Association of America Hall of Fame in 1987.
Rev. Clarence Durbin (94, March 12) achieved coaching success in his 1961-'73 tenure as Notre Dame men's golf coach. In his first five seasons, his team was 17th, 15th, fourth, 18th and 11th in the NCAA Championship. And Robert (Bobby) Nichols (66, March 16), a former college and tour player, had been Tennessee Tech coach in the 1970s, '80s and '90s.
From our golf courses we begin with an Augusta National treasure. For a man well-known for how he kept time, Phil Harison (82, April 27) was a timeless part of the Masters. As an Augusta native who once lived in a house by the first tee, he had seen every Masters ever held, and as the first-tee starter since 1948, he had announced every legend from Bobby Jones to Tiger Woods. But everyone got the same introduction, after scorecards were passed out and a final check of the official time kept on his own wristwatch, in a Southern-tinged, hickory-smoked, "Fore, please, Arnold Palmer now driving."
The Masters tee is so reverent that Harison neither used a microphone or yelled. When it was time for him to speak, it got quiet quick. Only Yankee announcer Bob Sheppard can compare with Harison's 60 years as a PA voice, but frailty and death have ended their reigns. But legends live on, and in Harison's case, his style was so iconic, everyone who heard it would return to their home foursomes and do their own impersonation when their buddies teed off.
Befitting a man with impeccable timing, Harison made aces while playing with Jack Nicklaus and Dwight Eisenhower.
Carl Brown (75, May 15): Co-owner of Country View Golf Club in Brooks, Maine.
Bob Crowley (81, Sept. 24): Was a long established club pro at Pine Brook in Weston, Mass., but his 400-plus tournament victories on the New England pro circuit were part of a resume that earned him a spot in the New England PGA Section Hall of Fame.
Jerry DeRosa (94, July 5): The oldest active PGA head golf professional at the time of his death. A PGA member since 1953, he was working at Riverbend Golf Club in Jupiter, Fla.
Lloyd Gauss (84, Jan. 17): Builder in the 1950s of Gauss' Green Valley Golf Course in Jackson, Mich.
James Glover (91, Jan. 14): General manager of several New York and New Jersey clubs.
Carl Jonson (92, April 13): An attorney who was the main force behind the creation of Sahalee Country Club near Seattle, a Ted Robinson-designed course that was site of Vijay Singh's 1998 PGA Championship victory. He was Pacific Northwest Golf Association president as well as its 1975 and 1977 Senior Men's Amateur champion. Helped win the 1936 U.S. Amateur Public Links team title for Seattle.
Dave Mahoney (48, Sept. 27): For more than 20 years the course superintendent at Siwanoy Country Club in New York.
Denise Martinez (46, Sept. 18): Arizona club pro at Troon North, Forest Highlands and Silver Leaf and who was a star at the University of Arizona.
Rick Tatum (48, July 2): Director of golf course operations at Grey Oaks Country Club in Naples, Fla.
Peter Zangrillo (86, May 26): For more than 50 years a driving-range and miniature-golf-course operator.
The lone figure from golf entertainment walked on four legs. Benji Hogan (13 in human years, about 91 in dog years, May 1) was a 24-pound terrier mix rescued from a shelter. He served as a sidekick in the Dennis Walters Golf Show for 12 years. Benji was the third pet dog Walters had used in 34 years of his show.