The Loop
"Party on grass" billboard pushing legalizing pot causing stir at Waste Management Phoenix Open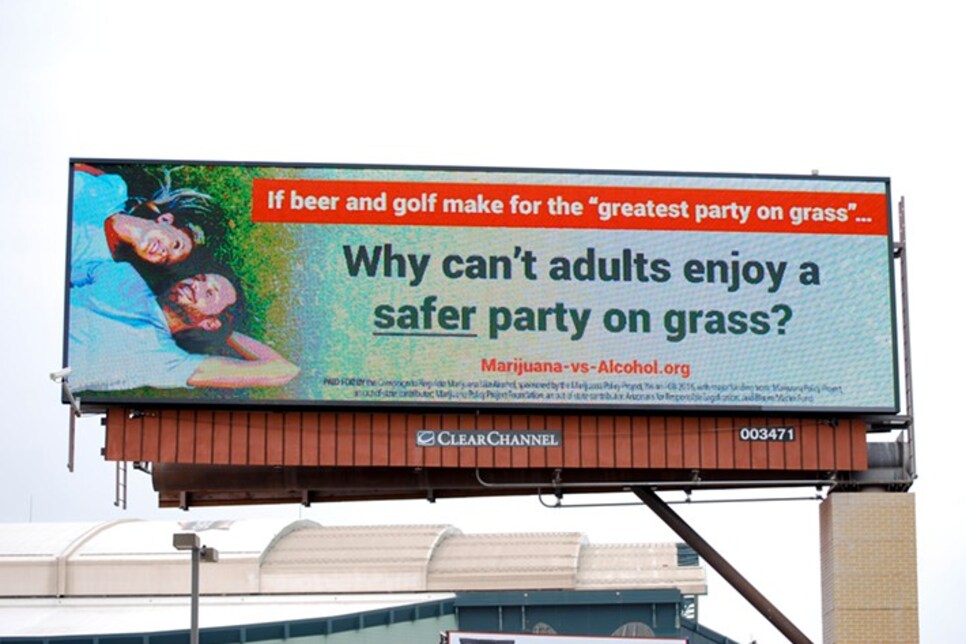 It's no secret that the Waste Management Phoenix Open is the PGA Tour's biggest party. And now, a certain substance is looking for an invite onto TPC Scottsdale's grounds. At least, officially.
According to the Arizona Republic, a billboard pushing for the legalization of marijuana is going up in conjunction with this week's tournament. The billboard reads, "If beer and golf make for the greatest party on grass ... Why can't adults enjoy a safer party on grass?" -- a play on the event's "Greatest Show on Grass" slogan.
The Campaign to Regulate Marijuana Like Alcohol is behind the billboard, which is located on the southwest corner of Seventh and Lincoln streets. The goal is to raise enough signatures and awareness to have this issue voted on in November with the hope that Arizona will legalize pot like it has been in neighboring Colorado. At least, that's the hope of the campaign.
"This isn't really a question of, 'Yes, marijuana,' or 'No, marijuana,' because it's already out there, it's easily accessible and readily available to anybody who wants it," campaign chair J.P. Holyoak said. "The real choice that we're making here is do we want to keep criminalizing marijuana, and enriching criminal drug dealers and cartels in that process or are we better off taxing and regulating it for the benefit of public education and healthcare . . . That's our real choice."
Of course, not everyone is thrilled about the billboard.
"Using the laudable and charitable Waste Management Phoenix Open golf tournament as a springboard to publicize a political campaign to legalize marijuana in Arizona is the opposite of good health, good education and good public policy and certainly the opposite of good taste," Arizonans For Responsible Drug policy chair Seth Leibsohn said.