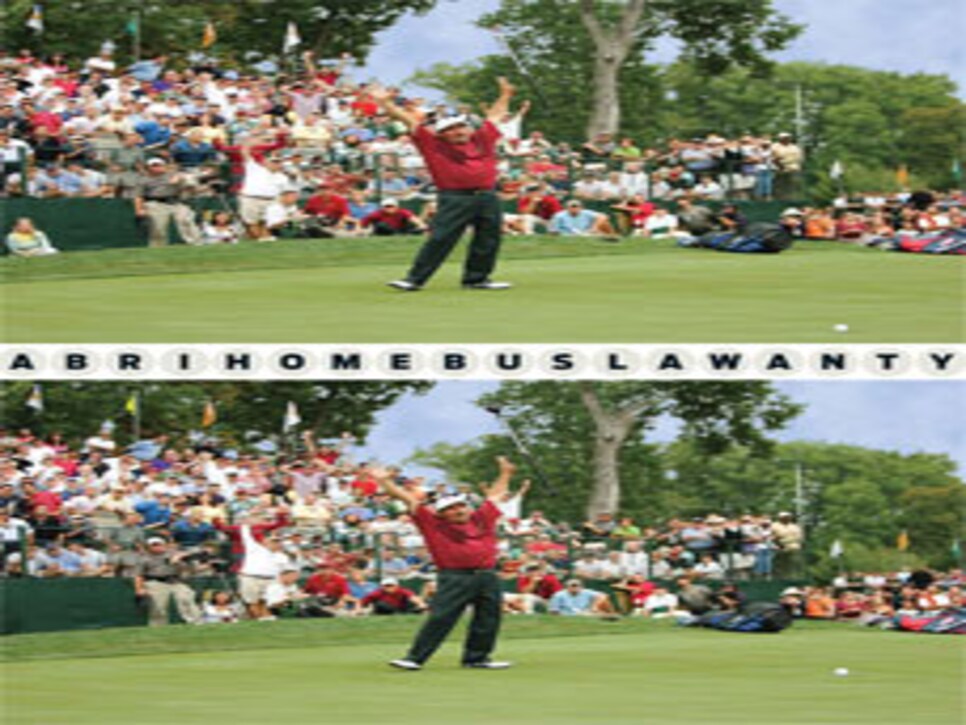 Click on the image above to zoom in. Then print the page and follow directions on the left.
During the Presidents Cup Oct. 8-11 at Harding Park in San Francisco, NBC will no doubt relive the 2005 shot heard 'round Washington: Fred Couples' 16-foot putt to beat Vijay Singh, 1 up, helping the U.S. to an 18½-15½ victory at Robert Trent Jones Golf Club near the Capitol.
These two photos seem identical, but they're not. Find nine differences, and draw a vertical line connecting the spot in the top photo to its changed counterpart in the bottom photo. (Use a ruler for best results.) Each line will cross out a letter. When you're done, the remaining letters will spell an apt caption.
Note: Answer key on second page.
Differences, from left: (1) woman missing in front of tarp; (2) yellow flag; (3) black camera; (4) Man wearing long-sleeve white shirt; (5) Couples' shoe missing stripes; (6) driver; (7) missing tree limb; (8) location of hole; (9) orange flag is higher | caption: Bombs Away