News
Par For The Cure Honors The Memory Of A Tireless Activist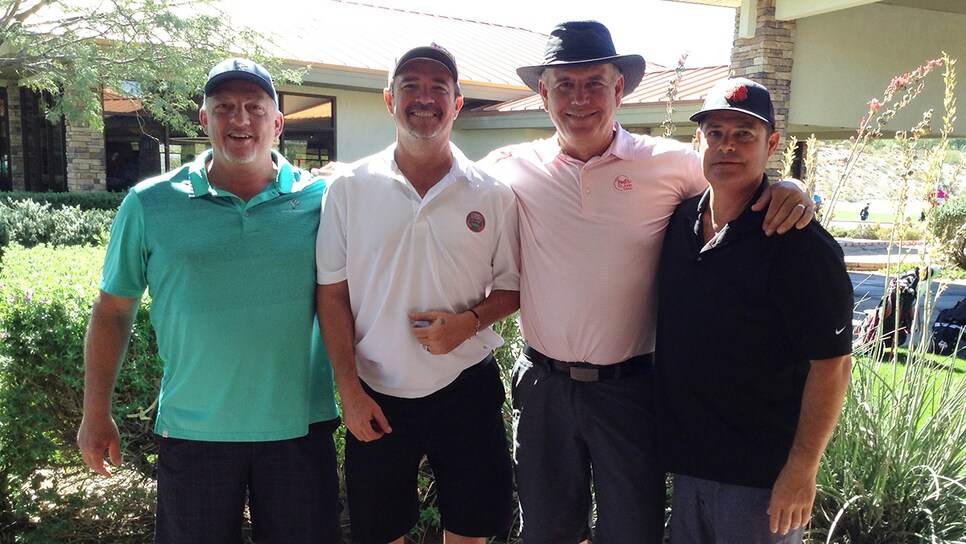 The team of Dave Fortner, Jade Rosenberg, Trent Scarlett and Tom Stevenson secured their victory in the 13th Annual Par for The Cure Golf Tournament at Bear's Best Las Vegas in a scorecard playoff.
In 2003, when JoAnn Esposito, then 54, learned of her Stage IV breast cancer diagnosis, she decided to become a force for good and help fight the disease by joining forces with her son Brian to launch an annual charity golf event called Par for The Cure in Las Vegas. Over the next 10-plus years, team Esposito has raised more than $1.3 million for breast cancer research through their event, until this past April when, six months before the 2017 Par for The Cure was to be played, Esposito lost her battle with the disease.
Needless to say, the 13th annual Par for The Cure, which lives on through Brian and was played as planned on October 6 at the Jack Nicklaus-designed Bear's Best Las Vegas, was a day of giving thanks and paying tribute to Esposito while doing what she knew best—spreading education about, and raising funds for, breast cancer research. The team of Dave Fortner, Jade Rosenberg, Trent Scarlett and Tom Stevenson won the 2017 event, an 18-hole shamble tournament, at 15 under par after a scorecard playoff.
The Par for The Cure is one of 34 amateur golf events across America that are part of the Genesis Invitational series in 2017, which means players were treated to Genesis-sponsored experiences throughout the day, including a chance to win a brand new Genesis G90 luxury sedan with a hole-in-one on Bear's Best Las Vegas' par-3 4th hole. Two of the event's winners also earned an all-expenses-paid trip to the Genesis Invitational at Florida's Streamsong Resort in October. Click here to learn more about the Genesis Invitational, including the lineup of upcoming events.