Panic Practice
What is 'panic practice'? A U.S. Open tradition unlike any other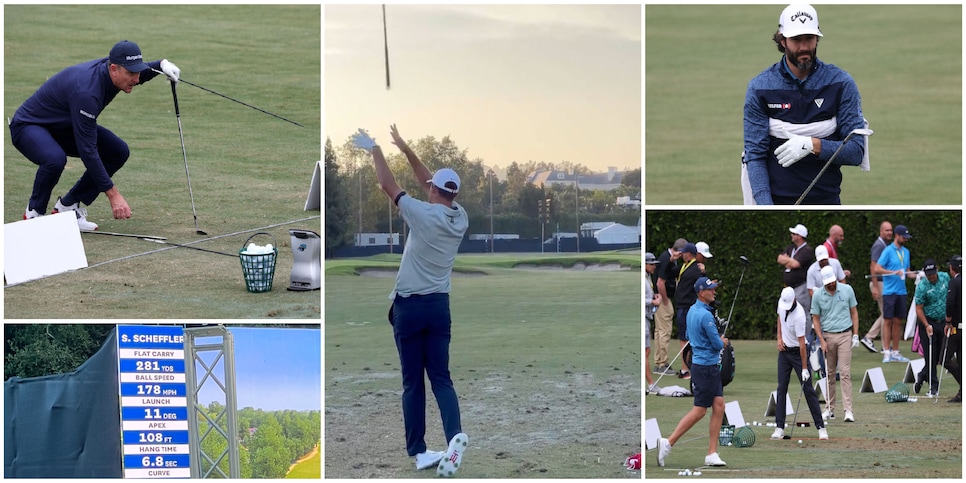 LOS ANGELES — Brooks Koepka takes off his hat, ruffles his hair and exhales loudly as he steps off the Los Angeles Country Club range.
Wyndham Clark, who trails the tournament leader Rickie Fowler by one stroke through 36 holes, has also ditched his hat. He's still hitting golf balls, though. Sending iron shots over an alignment stick that's angled into the ground, making sure they didn't start too far to the right.
Matt Fitzpatrick is another player still there.
The defending U.S. Open champion made a hole-in-one on Los Angeles Country Club's 115-yard 15th hole on Friday. Most golfers would be in the bar celebrating by now. But Fitzpatrick is on the range, hitting drivers, unintentionally sending them left and right. The ordinarily-accurate Englishman ranks last in driving accuracy of all players who made the cut. He and his caddie, Billy Foster, dissect each drive after he hits it. The pair know it's an issue.
"Every other aspect of my game is pretty decent, I just can't get the driver going," he says. "I feel like if I get the driver going I can shoot a really good score."
It's Friday afternoon, and the range is packed with players whose second round is already over. For some of these players, so is their tournament. The range is their last stop before they catch a fight home. And just as the course empties and then fills as the afternoon wave flows into the golf course, the driving range will once again, too.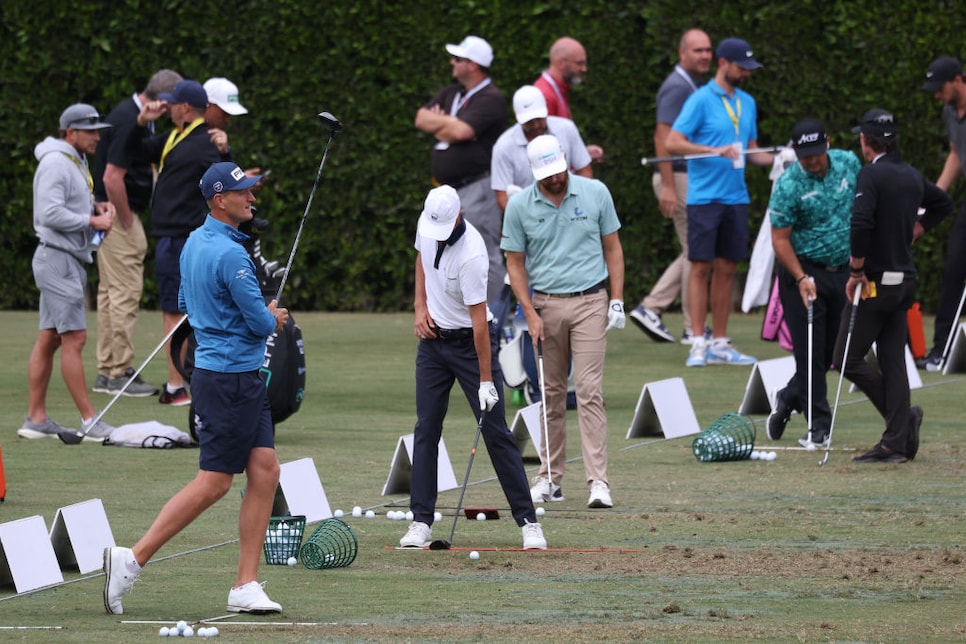 There's perhaps no tournament where pros clock more hours on the driving range than the U.S. Open. U.S. Opens — even the easier ones, as the 2023 contest has been accused of being — are one of the few events that players can't play on their own terms. It's not about hitting good shots, it's about avoiding getting punished for bad ones. Or unlucky ones. It's about plodding, not attacking. Players don't get to take the lines they want in the U.S. Open. They go where the course steers them.
"The fairways aren't that narrow, but they feel narrow, because you know if you miss them you're f–ked,"one player says, driver in hand on range. His caddie tosses him another ball He tees it up quickly, then sends it into the distance.
Avoiding 'panic practice'
It transforms the driving range into a much-needed pressure valve for players during U.S. Open week. There's a practical element, of course, but also a large irrational one. It's essentially golfers' form of therapy—the place they go to make sense of it all.
"It's really just for peace of mind," Golf Digest Top 50 coach Tony Ruggiero says. "Players want to resolve what questions they have from the round. Sometimes it's just to blow steam, to be honest."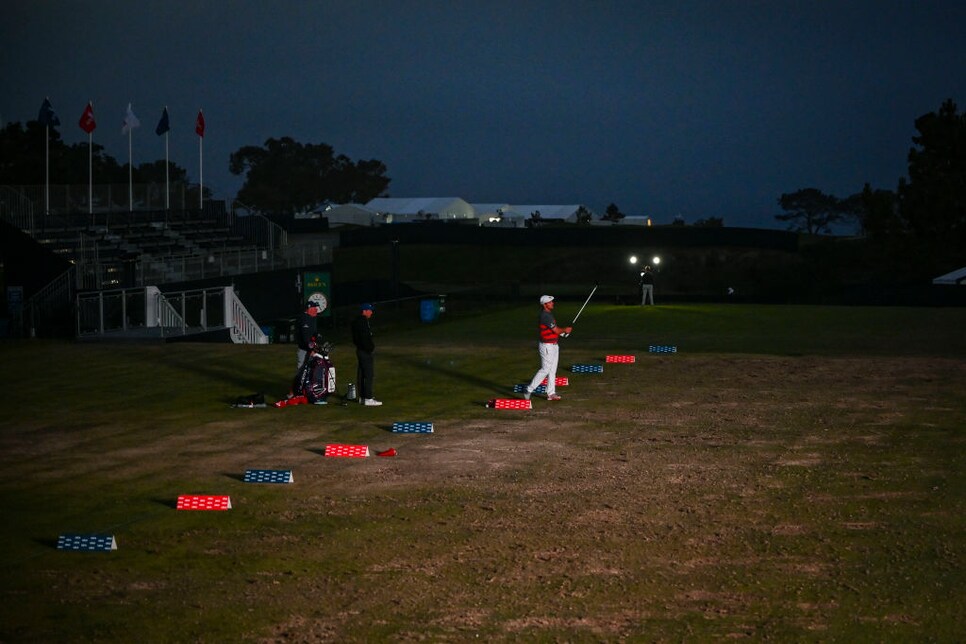 The problem coaches become acutely aware of during these weeks is the driving range becoming a crutch for players. They don't wield enough power to prevent their players from going at all, but players and coaches often reach a kind of truce. Go the the range, but for a specific purpose.
For Ruggiero and his student in the field—amateur Ben Carr, who made the cut on the number—that meant setting a time limit to their post-second round session.
"We counted out 25 balls and did three things," he said. "We reconfirmed what we were working on, we answered the couple questions about what his misses were caused by, and we came up with a feel to put in play for the weekend."
Setting that structure — that clear purpose for why you're choosing to practice — is essential for amateurs and professionals alike, coaches said. When you don't have it, it can let what would be a productive practice session slide into what golf performance expert Jason Goldsmith, author of the book "Take Charge of You," calls "panic practice."
"Panic practice can be incredibly counterproductive," Goldsmith, who has worked with Justin Rose and Jason Day, among others, says. "Players are using the range to find an immediate solution to a problem they can't solve immediately…that can send them into a downward spiral with no end that leaves them mentally and emotionally drained."
The 2020 U.S. Open champion Bryson DeChambeau admits he may be guilty of the odd bout of panic practice. DeChambeau says for him, it's all about the resolution. Going to sleep with an understanding of what went wrong, and a feeling to help him put it right. He doesn't give himself ball limits though. He adopts an as-many-as-it-takes mindset, for better or for worse.
"I'm working through some stuff with my swing," he says. "I'm so close to getting it. I feel like I can reach out and touch it. I had it for a bit, but now I need to find it again."
DeChambeau and his team were indeed on the driving range on Friday evening, after the afternoon wave rolled through. He called time on his post-round practice session about 7:30 PT, leaving one man alone on the range: Scottie Scheffler.
Scheffler, the World No. 1 who is currently five back after 36 holes, was alternating shots between two different TaylorMade Stealth 2 Plus drivers. Both drivers were the same make, model, specs, shaft, grip; everything. One was brand new, and the other had some miles on the clock. They were good miles, by all accounts: he won the Players with that driver, and rose to World No. 1. But rattled by a drive on LACC's 18th hole which flew some 30 yards left of the fairway, Scheffler wanted something fresh to bring back his trusted fade.
"I can feel a duck hook," Scheffler says.
Still deciding between the old and new, Scheffler hits one more. As he brings the club into his follow through, Scheffler smoothly recoils and releases the club into the air. Scheffler and his caddie, Ted Scott, chuckle to each other. A big screen illuminating the darkening driving range confirms the decision: The ball traveled 15 yards left, and about 12 feet lower than his standard, stock fade. A small miss for the rest of us, but one which feels like an ocean to professionals trying to win a U.S. Open.
"You've hit this thing so good for so long you've hit all the good shots out of it," one of his team members said.
Scott fake sobs as he inserts the new gamer into Scheffler's bag, and the pair chuckle again. Some semblance of resolution found, the two walk off the driving range. Leaving the place which feels like home, and voyaging into a future which remains unknown.