The Loop
Palmer thinks Woods needs to "open up"
ORLANDO -- For the briefest moment here, Arnold Palmer was intent on keeping to himself his thoughts on how Tiger Woods can emerge from the deepest of public-relations holes. The 80-year-old Palmer had an opinion, he said, but this wasn't the time to share it.
The holdout lasted roughly 60 seconds.
"My opinion, as I said, I was going to keep to myself. But I suppose the best thing he could do would be open up and just let you guys shoot at him," Palmer said moments later, on the eve of his Arnold Palmer Invitational at Bay Hill. "That's just my thought."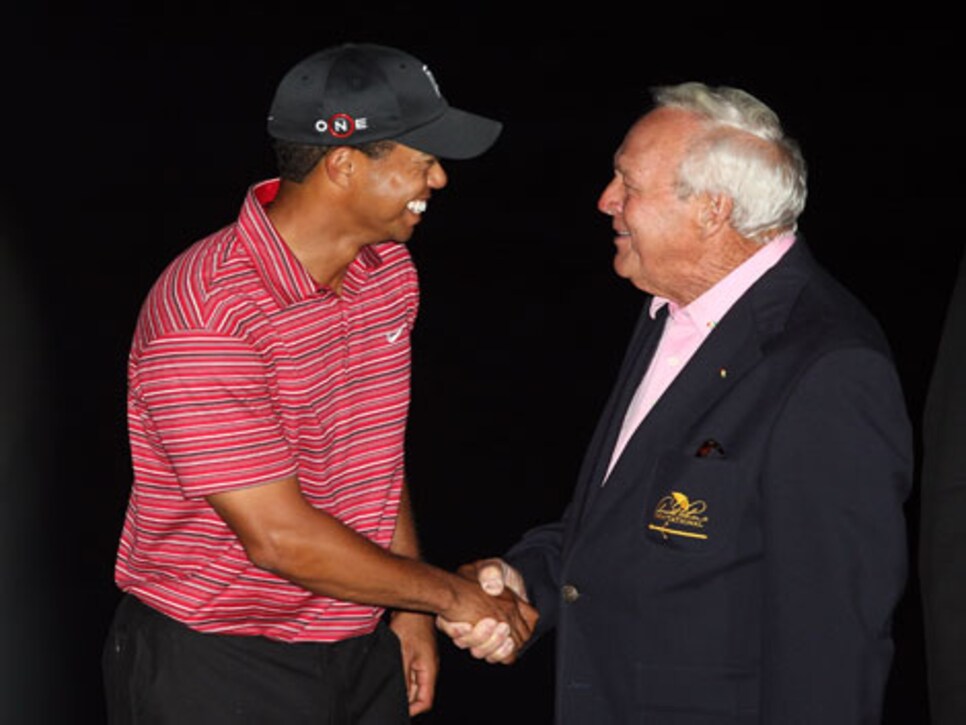 As two giants of the game who have known two distinctly different eras on the PGA Tour, Palmer and Woods have always employed disparate media strategies as well -- Palmer reliably open and engaging, Woods guarded and often inaccessible. If that was a course that was difficult to question when Woods was racking up majors and endorsement dollars, it's one that has repeatedly come under fire now that the world No. 1 is set to return to golf with a decidedly frayed public image.
While Woods has now issued a series of prepared statements and given two five-minute television interviews regarding his sex scandal, what is apparent with the Masters less than two weeks away is that the majority of questions remain unanswered. In Palmer's eyes, the sooner he could throw himself in front of the press, the better.
"What would be the best thing?" Palmer said. "Someone said, 'Move on.' Well, that might be the best way to move on."
When Woods emerged from rehab and began working with swing coach Hank Haney, speculation ramped up that he would return to the PGA Tour at Bay Hill, a tournament he has won six times, including each of the last two. Instead, he announced last week that Augusta National would be the site of his first tournament of 2010. Palmer said he was disappointed that the world No. 1 wasn't going to be in the field, but said Woods had at least called him to inform him of his decision beforehand.
"Tiger called me," Palmer said. "He called me one evening and we had a conversation. I wasn't in a position to hear him very well, so I asked him if he would call me the next morning just to confirm what he had said, and he did. And the situation was that he didn't feel his game was sharp enough to come and compete that soon, so he told me that he would was going to not play; he would go to Augusta first. That's really the conversation."
Not surprisingly, the absent Woods has still been the dominant topic at Bay Hill, a tournament that in many ways marks the end of his hiatus from the PGA Tour. Although there is one more tournament left on the schedule before the Masters, the Shell Houston Open, Bay Hill is the last tournament that Woods will miss that he has traditionally played. It's the only regular PGA Tour event he's never missed as a pro, which only heightens the anticipation for his return at Augusta.
"I've heard when he said that he's nervous to come back, and that's the first time I've ever heard Tiger say those words," Colin Montgomerie said. "We all have, and it's going to be interesting...He'll get over those nerves, and he will be as determined as anyone has ever been on a golf course to prove that he's still the No. 1 player in the world, and in my opinion, the best player ever to play the game."