The Loop
Palmer looks fit in appearance at Augusta National GC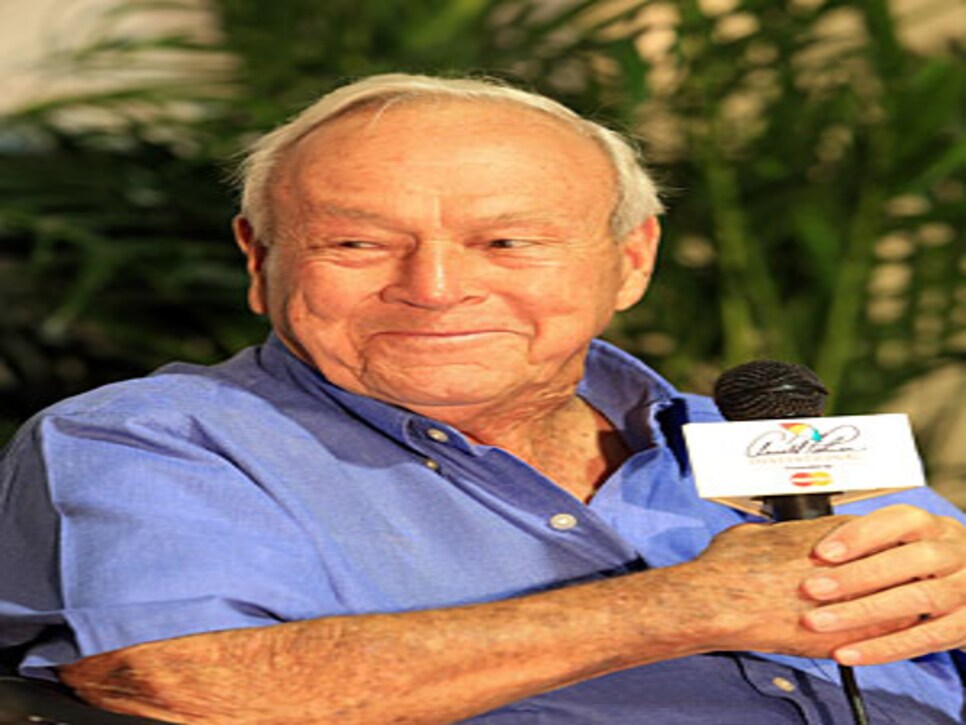 AUGUSTA, Ga. -- Arnold Palmer appeared healthy and energetic Tuesday afternoon when he visited with club members and guests on the veranda behind the famous white clubhouse at Augusta National GC. It was the first public appearance of the four-time Masters champion since he was hospitalized March 25 in Orlando as a precaution for high blood pressure.
Palmer, 82, is still having his blood pressure monitored several times per day, but he plans to play in the Par-3 Tournament Wednesday with Jack Nicklaus and Gary Player, and he is set to join the same two former Masters winners as an honorary starter at 7:40 a.m. Thursday. Palmer is to hit the first drive followed by Player, who is performing the ceremonial task for the first time this year, and then Nicklaus.
Mockingly scolded not to give his loyal followers known as "Arnie's Army" such a scare again, Palmer, wearing his green jacket, played along, slumping his shoulders and responding, "Yeah, I'm sorry." He then added, "That wasn't very good, was it? But all good now."
Palmer was taken to Dr. Phillips Hospital in Orlando just before the completion of the tournament that bears his name, the Arnold Palmer Invitational, which Tiger Woods won for a seventh time. Palmer was kept overnight for observation and tests, but was released the following afternoon and returned to his office to work later that day.
Palmer won his four Masters titles in 1958, '60, '62 and '64. He competed in his 50th and final Masters in 2004, and he accepted an invitation to become the tournament's seventh honorary starter in 2007.
(Photo: David Cannon/Getty Images)