ISPS Handa World Invitational
Pajaree Anannarukarn's 'Good Luck' carries her to her first LPGA victory in a playoff over Emma Talley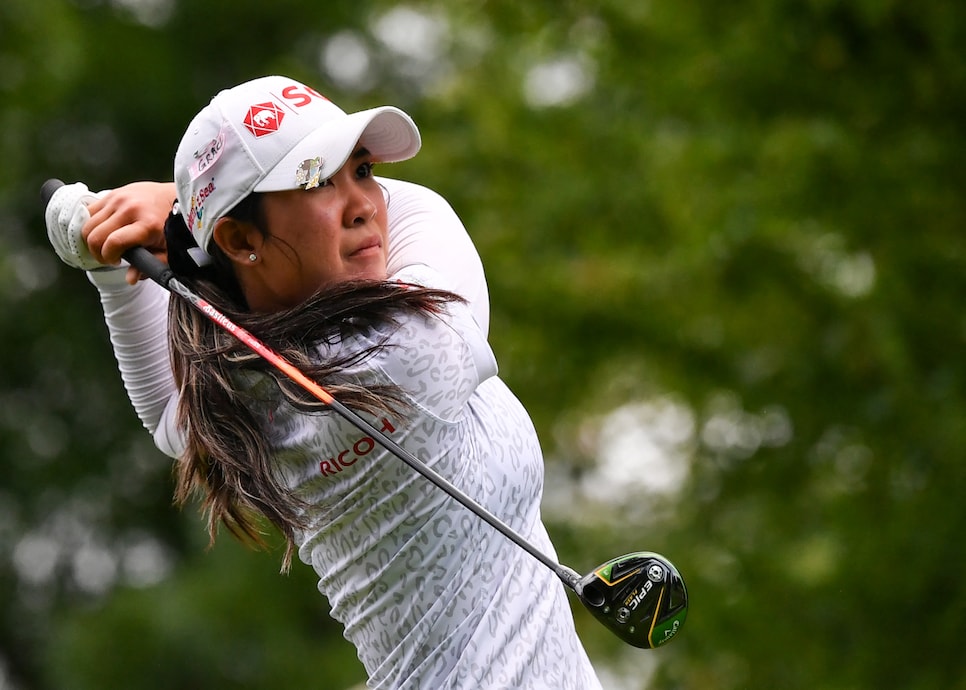 A decade before her first LPGA Tour victory at the ISPS Handa World Invitational on Sunday, Pajaree Anannarukarn had a conversation with her dad about how she was marking her golf balls. Her creative 12-year-old self drew so many pictures on the ball, she could hardly see its white cover when it sat in the rough. They agreed she should stick to one phrase to mark her ball, "Good Luck," which is how she marks her ball to this day.
So maybe it was no coincidence that her first career LPGA victory came in Northern Ireland with perhaps a little luck of the Irish to defeat Emma Talley in a two-hole playoff after each concluded 72 holes in 16-under 275 at Galgorm Castle Golf Club. The afternoon ended with Anannarukarn's father hoisting her up in celebration, gleefully spinning around on the 18th green as friends sprayed them with water.
"[My dad has] always been by my side along the way from the very beginning of my career," Anannarukarn said. "And just to be able to share it with him was very, very special."
Anannarukarn admitted there was some luck to how she recovered from a slip-up at the par-4 sixth. Tied for the lead entering the hole, she had to take relief from an awkward stance next to a tree in the scruff following a wayward tee shot. She wound up posting a triple bogey to fall behind by two.
Rather than lamenting the triple, Anannarukarn somehow let go of the jarring moment as soon as she walked to the seventh tee.
"I just forgot," Anannarukarn said. "I just kind of just stood up and told myself to keep trying, just do the best I can."
Anannarukarn recomposed herself, playing the final 12 holes at three-under. She trailed Kupcho by a stroke with three to play, but Kupcho opened the door with bogeys on two of her final three holes, the final one a shot into the water at the par-5 18th hole with her third shot from the left rough. The 2019 Augusta National Women's Amateur champion missed out on the playoff by a stroke in her bid for a first LPGA victory.
"I choked at nationals one year and then the next year came back and won," Kupcho said, "So I think it's just all part of building and learning from every experience."
It turned into match-play mode from there between Talley and Anannarukarn. On her 72nd hole, Anannarukarn ran her birdie putt eight feet past the cup. But the Thai native and Talley each knocked in their pars, guaranteeing a first-time winner.
After pars at he first playoff hole, Talley hit her drive in the second extra hole into a bunker right of the fairway. Anannarukarn followed on a similar line, but her ball carried the bunker narrowly and settled in the rough.
Talley compounded her error with a second shot into rough and a third careening off the patrons to the right of the green. After Anannarukarn hit the green with her third, Talley's chip just stopped short of the green. Her 20-foot right-to-left par putt from the fringe missed the cup low left, leaving a tap-in bogey. Anannarukarn, hitting her first putt over the fringe to eight feet, then holed the winning putt.
Anannarukarn credited the consistency of her approach to how she remained seemingly calm under pressure with her putter.
"I just really go back to my routine," Anannarukarn said, "and try to stay focused and committed to the given line and really trust that I can make those."
The second-place finish is the best result of Talley's career. She tried to maintain that perspective before play began Sunday, jotting in her yardage book, "Thank God for this opportunity and the experience no matter what happens," on Saturday night.
"That's how I truly feel," Talley said afterward.
Anannarukarn's victory makes her the fifth first-time winner on the LPGA Tour in 2021. She is also the fourth Thai player to win this year, joining Patty Tavatanakit at the ANA Inspiration, Ariya Jutanugarn at the Honda LPGA Thailand and Moriya and Ariya Jutanugarn partnering for a victory at the DOW Great Lakes Bay Invitational. It's the most individual Thai champions in a single season in LPGA history.
"It's a great honor to be able to be representing Thailand and also winning out here," Anannarukarn said. "It's definitely a dream come true to be able to achieve this."