The Loop
Padraig Harrington says Darren Clarke "will leave no stone uncovered" to lead Europe to a Ryder Cup victory
PALM BEACH GARDENS, Fla. -- It's a bit early for any official announcements, but it will come as no surprise if the five assistant captains lined up behind European skipper Darren Clarke at this year's Ryder Cup are as follows: Thomas Bjorn, Jose Maria Olazabal, Paul Lawrie, Padraig Harrington and one of Ian Poulter and Lee Westwood.
Speaking before his defense of the Honda Classic title later this week, Harrington was neither confirming nor denying his likely presence at Hazeltine this September. But only a foolhardy punter would bet against the three-time major champion being part of his fellow Irishman's backroom team.
"I have spoke to Darren and we have discussed it," said Harrington, who admitted that he would "love" to be a Ryder Cup skipper "down the road." "I'd bring a different personality to the mix -- in a good way. Darren is emotional and my role would be to take a little bit of that out of the equation. If I were to be there, I'd see me as more of a manager behind the scenes. Darren will be the front man, which is as it should be. I'd be more of an organization guy, doing all the things he needs me to do. I like to think I'd bring a bit of balance to his team. He's an early-morning person; I'm not (smiles)."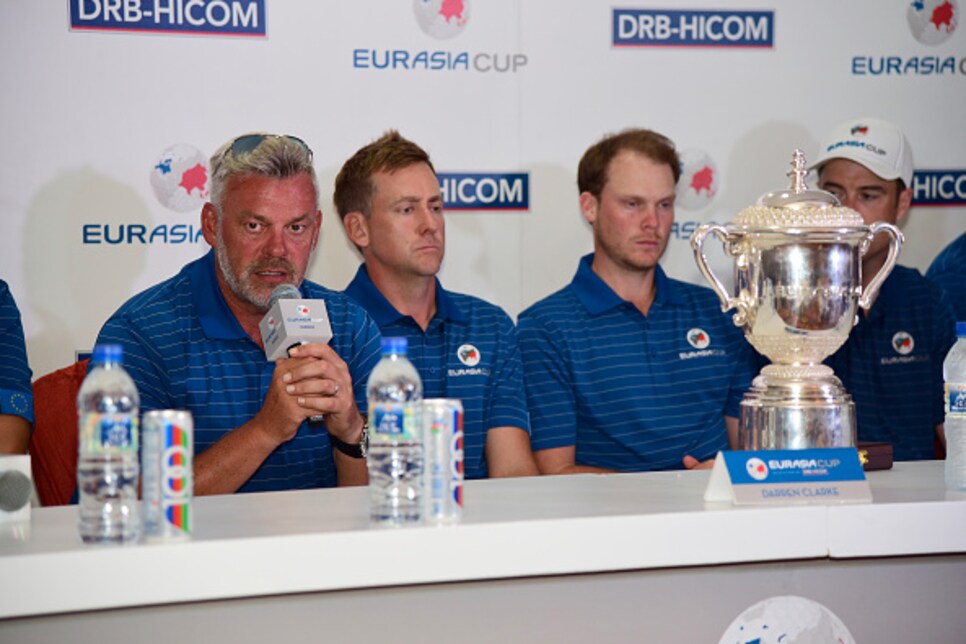 Like most tour insiders, Harrington is of the opinion that the public image of Clarke as the Guinness-drinking cigar-smoking good-time boy is, in reality, far removed from the attributes the 2011 Open champion will bring to the role of leader.
"It is up to Darren as to how he wants his team to be seen during the week," said the 44-year old Dubliner. "He doesn't want to have to explain or recover from something someone else has said. It's up to him to be out there deciding how the image of the whole thing is going to be. It's his job to dictate if we go in as favorites or underdogs, for example. The only time anyone else should be speaking is to toe the party line.
"Darren plays up to being the larger-than-life guy. There's a bit of a front there when he comes across as vivacious and loud. But behind the scenes he works a lot harder at everything than people realize. He was impressive in Malaysia at the EurAsia Cup. He will leave no stone uncovered in his quest to get a good job done."
One thing did surprise Harrington. On being told that Jack Nicklaus is having US skipper Davis Love and his likely squad members over for dinner this week, his first reaction was one of bemusement. In the end though, he opted for diplomacy.
"They've got to do their own job," he said. "They will have a very strong team. Very strong."