The Loop
Padraig Harrington puts tough year behind him, starts new year on upbeat note
KAPALUA, Hawaii – Coming off one of the most difficult years of his professional career, Padraig Harrington couldn't help but be pleased with the three-under-par 70 he posted Thursday in the opening round of the Hyundai Tournament of Champions.
Even with a bogey on the par-5 closing hole, Harrington couldn't find much wrong with his first competitive golf in more than two months and his first official tour of the Plantation Course at Kapalua Resort.
"Yeah, it was exactly how you would like to start the year," said Harrington, 44, the three-time major winner making his first appearance in this event reserved for PGA Tour winners. "It was nice play. And unusual for me. I created a lot of chances today. As all of these guys, we're trying out a few new things at the start of the season. You're not sure what to expect, so I was happy with what I saw."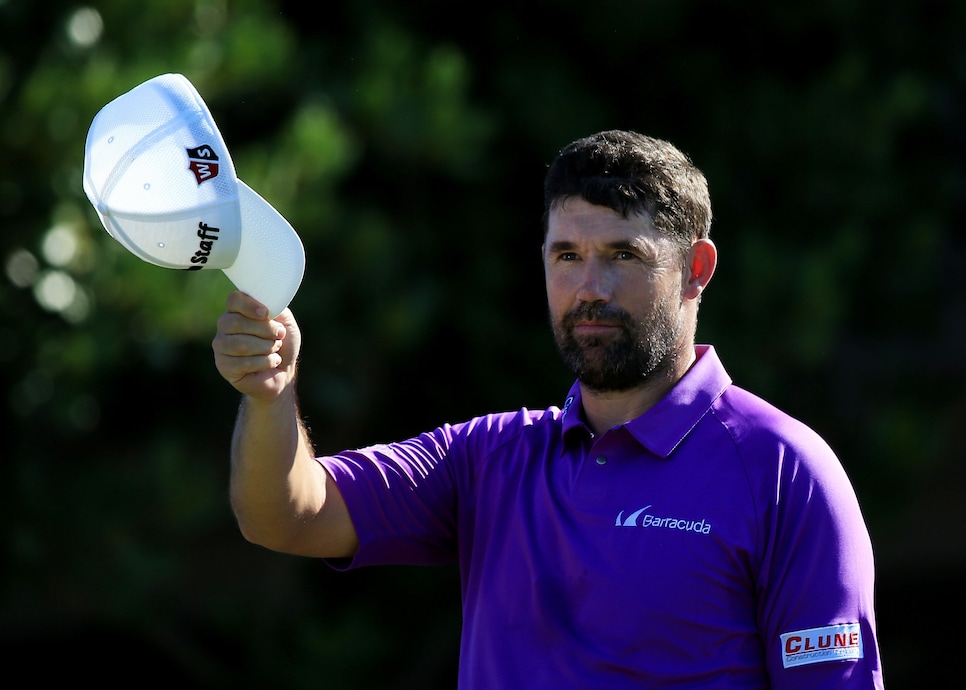 Harrington qualified for this limited-field event by capturing last year's Honda Classic, where he defeated eventual PGA Tour Rookie of the Year Daniel Berger in a playoff. The win was his first in the U.S. since the 2008 PGA Championship, so undoubtedly your eyes are now circling back to the top of this story and questioning the assertion that the native of Dublin, Ireland, endured a rough season.
A win can salve over a lot of wounds, but a pile of bad scores remains a tough burden to carry around from one event to the next.
"Last year was a tough year on the golf course. It really was," Harrington said. "Every day … I seemed to be playing OK and just grinding, grinding, grinding, couldn't get anything out of it.
"It goes down as a winning year, but it was hard work every week. Hard, hard work. As I see it, when you see a player in form, he's walking off the golf course thinking, 'Gee, I played like I should. I shot 70 and signing for 68.' When you see a player out of form, he's walking over the golf course saying, yeah, I should have shot 70 today and he's signing for 72. When you're shooting 72 out here, it's just a grind, because every day you're on 72, you're looking over your shoulder at the cut line. And that was my year."
In 21 starts last year, Harrington made just nine cuts. His only other top 25 finish was a T-20 in the Open Championship at St. Andrews. In 33 of his 62 competitive rounds he posted a score between 70 and 74.
Harrington decided to make his first visit to Kapalua because of a long layoff foisted upon him after knee surgery five weeks ago. He played most of 2015 with a torn meniscus in his right knee, which would partly explain his struggles. The knee was not an issue on the imposing hills of the Plantation Course. The extended vacation was the reason he decided to make the 24-hour trek by air for the first time.
"I finished [the season] early because of the injury. So no matter what I would take, six plus weeks off, that's the minimum anybody should take in order not to carry stress from one year to the next.
I" was due to play a couple more events. I was going to come over to the fall series over here. My caddie [brother-in-law Ronan Flood] looked at me and he said, 'You're playing stale golf, you need your operation, go do it, and start earlier.' I hate to say it, it made sense.
"I've got to say my legs are tired now. But the only thing probably not hurting me is that knee that I had operated on, so that's a good sign."
Harrington could well say his heart was aching a bit too, given the news of countryman Christy O'Connor, Jr., passing away on Wednesday at the age of 67. Harrington had seen O'Connor only a month ago at a charity dinner that he hosts. When Harrington broke into the game, it was O'Connor and some of the older Irish pros who helped him, watched over him, and gave him the occasional stern lecture if warranted.
"He was still loving life. You'd have never thought that anything could be wrong," Harrington said. "It's a huge loss to golf, not just to Irish golf. He certainly was a help to me in my career. I'm still trying to process the news. It's a passing of an era of sorts."
Now Harrington is moving into the realm of elder statesman, the second oldest man in the field at Kapalua behind 51-year-old Davis Love III. The body aches, sure. But the mind is fresh. A tough year he is ready to leave behind.