PGA Tour Champions
Padraig Harrington's furious back-nine rally carries him to second straight Dick's Sporting Goods Open victory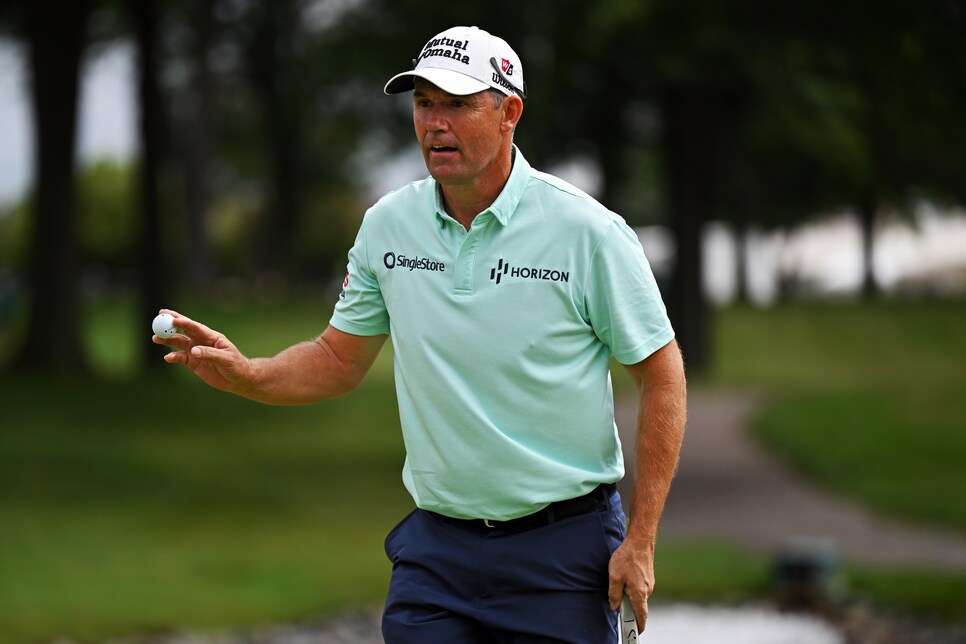 Fifty-four-hole events tend to be a sprint to the finish line anyway, but Padraig Harrington's furious back-nine kick was an extraordinary display of Sunday pressure golf that propelled him to a one-stroke victory in the Dick's Sporting Goods Open.
Harrington, 51, the defending champion, trailed leader Joe Durant by three at En-Joie Golf Course in Endicott, N.Y., then played a six-hole stretch in seven under par, completing a round of nine-under 63 to record his fifth PGA Tour Champions victory and first of the year.
"It was amazing, it was a bad hole that kicked that. I got and down from 31 yards out of a bunker, holed an eight-footer and it went from feeling like everything was going against you, to, oh, that's not so bad," Harrington said. "Obviously I wasn't thinking about winning at that stage, I was thinking about just trying to make as many birdies.
"When I started making them, then I started thinking about [winning] when I got, I suppose, three or four of them. But it was a bonus obviously to make eagle. And when I had about a six-footer on 17, it's amazing when you're holing putts. I could have closed my eyes, turned my back and I would have holed the putts on 17."
Durant, 59, was in pursuit of his first senior victory in more than three years and seemed in command, playing the first 12 holes in six under par. But he parred out for a final-round six-under 66 that left him one stroke short.
Harrington started his incredible run at the 12th hole. He made four straight birdies, followed by an eagle two at 16 and another birdie at 17 before closing with a par.
On the eve of the tournament, he was cautiously optimistic, coming off two quality starts, a playoff loss to Steve Stricker in the KitchenAid Senior PGA Championship and a tie for 27th in the U.S. Open last week at Los Angeles Country Club.
"I feel good about my game," he said. "Sometimes I try and get better for down the road instead of being focused on the tournament at hand. But that's the burden I have, I suppose, all the time. I'm always trying to get better and better, which can hold you back in the short term for sure.
"My goal is to try and get my head in the game. I finished my practice now so my head better be in the game now, but even if it's not quite there tomorrow, as long as it's there for the last nine holes on Sunday that would be OK."
It exceeded OK, this seven-under 28 to close. In fact, he played his last 10 holes in eight under par.