The Loop
Harrington answers Ryder critics with his play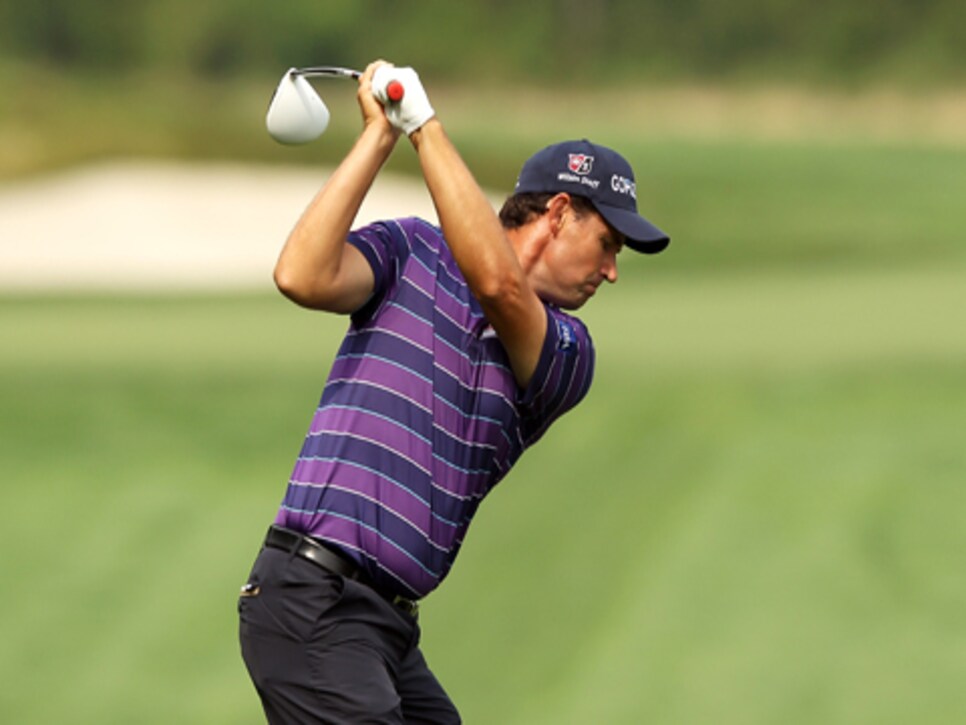 (Photo: Scott Halleran/Getty Images)
FARMINGDALE, N.Y. -- Padraig Harrington entered the FedEx Cup playoffs knowing it was mathematically impossible to make the European Ryder Cup team on his own. With no points awarded for the four FedEx Cup events, Harrington is dependent upon a captain's pick from Jose Maria Olazabal, something the Irishman knows is far from a guarantee. A 64 on Thursday -- including a 29 on the back nine -- at the notoriously-difficult Bethpage Black should help his cause, if not add a little more intrigue into an already juicy subplot at this week Barclays.
"I don't know where I sit," Harrington said, before cracking, "or maybe I do. I'm Irish, and we pay a lot of attention to the bookmakers and their odds, and I'm sure if I went and had a look at the odds, I would be a longshot to make the team."
Despite his strong play throughout most of 2012, Harrington's weak schedule -- he missed out on eight tournaments that guarantee world ranking points due to a poor 2011 -- has dropped him to 62 in the world and put him well outside of the top 10 automatic qualifying spots for the European team. And a much-publicized run-in with Olazabal at the 2003 Seve Trophy has many wondering if the bad blood will overshadow Harrington's strong performances at the year's big events. Though he remains winless in 2012, Harrington finished in the top 10 at both the Masters and U.S. Open, and in the top 20 at the PGA.
Prior to the season's final major, Olazabal said Harrington would need to play "extraordinarily well" at Kiawah to sway his hand toward selecting the six-time Ryder Cup player. And though a T-18 might not have done much to move the needle in his favor, his opening round on a two-time U.S. Open venue definitely caught the captain's attention.
Olazabal was told of Harrington's 64 after his own opening round Thursday in the Johnnie Walker Championship at Gleneagles, the final qualifying event before he announces the final two selections on Monday. But when asked what the four-time Ryder Cup winner had to do this week in order to make the team, Olazabal replied bluntly: "At least win."
"I would be a liar to tell you I'm not thinking about the Ryder Cup," Harrington admitted. "I thought about it too much at the PGA [Championship] for sure. I think I've had a little bit of clarity since the PGA and certainly I've had a better ability to do my own thing this week."
"Guys in the U.S., you can't understand how big of a deal [the Ryder Cup] is in Europe. It's very important. It's just a big, big deal."
On Wednesday, when asked about the choice facing his fellow countryman, Sergio Garcia backed his captain, saying Harrington "wouldn't be a sure pick" if he were in Olazabal's shoes. Ironically it was Sergio's win at Wyndham -- securing a guaranteed spot on the Ryder Cup team -- that re-opened the door for Harrington. With only two spots remaining, Garcia was seen as a favorite to earn one of the captain's picks, but now that he's locked up a place on the team, the spotlight has turned back to Harrington.
One thing Harrington and Sergio can both agree on is that Olazabal will pick whoever he thinks is best for the team. And while it wouldn't guarantee him a spot, a win at this year's Barclays -- against a field boasting nine of the world's top 10 -- would certainly help Harrington's cause. That sentiment was echoed by world No. 1 Rory McIlroy who said a win this week would make the choice obvious. "Of course, you'd have to [pick Harrington]."
Either way, Harrington needs to do his own part here at Bethpage if he plans on making his seventh consecutive Ryder Cup team.
"I'm sitting here after shooting 64 around Bethpage leading the tournament, and we're spending 90 percent of the time talking about [the Ryder Cup]," Harrington joked, knowing full well his performance throughout the tournament will be put under the microscope. If Thursday was any indication of how well he handles the pressure, Harrington should have little to worry about.