The Loop
Owning a piece of history, if only for a moment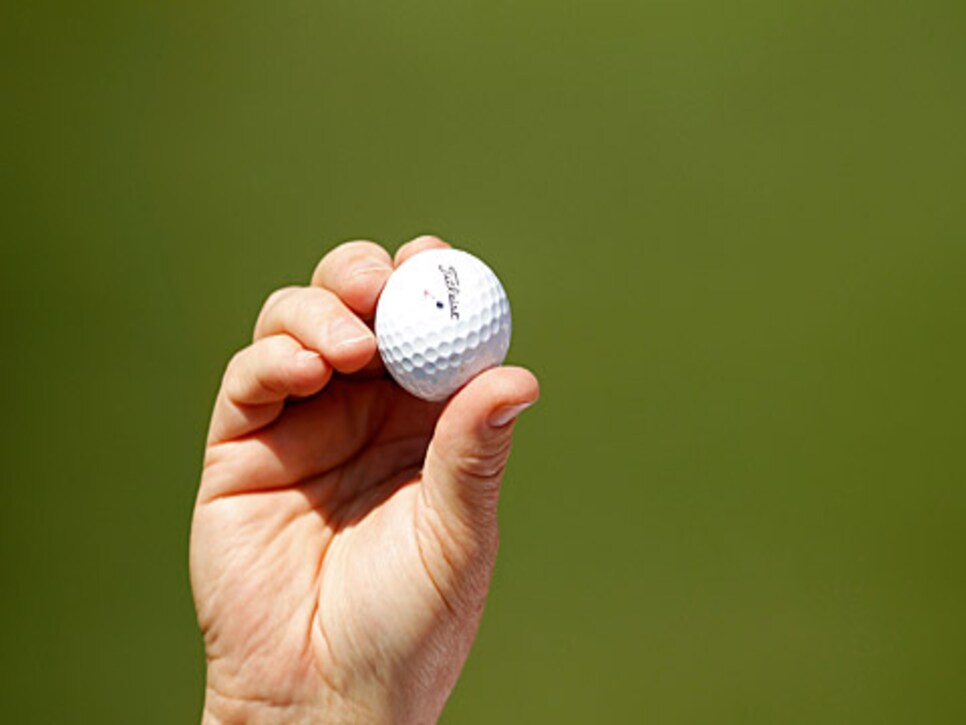 (Louis Oosthuizen's ball moments after he picked it out of the cup. Photo by Streeter Lecka/Getty Images)
AUGUSTA, Ga. -- Like everyone else behind the second green, Wayne Mitchell rose in applause for Louis Oosthuizen's double-eagle Sunday afternoon. But only Mitchell left the green as the owner of a Titleist Pro V1X golf ball that is part of Masters history.
"He caught my eye, and threw it straight to me," Mitchell said of Oosthuizen. "My fear was that I'd drop it."
About 10:30 Sunday morning, Mitchell put down his folding chair against the gallery rope maybe 35 feet from the flagstick, which stood in the far right corner of the green. Mitchell is 59 years old, an industrial gasket company executive from New Tripoli, Pa. Some time that morning, he said, he told a friend, "It'd be kind of neat to see an eagle."
About 2:55 Sunday afternoon, Oosthuizen, from the crest of the hill in the second fairway, cut a 4-iron to the green, 253 yards away. The ball landed near the green's center and began a long, looping roll toward the flagstick. Quickly, the customers recognized a good thing. With seemingly each roll, the murmurings became encouragements on their way to shouted urgings that wound up as pleadings, "Go IN, GO IN!"
"Maybe 55 feet," a fan said.
"A big right turn," another said.
"It landed on the bottom," Mitchell said, "and it looked like it had everything it needed to go in."
And it did go in. It was the fourth double-eagle in a Masters. The most famous was Gene Sarazen's on a Sunday in 1935, a 4-wood on the 15th that helped him win. Bruce Devlin did it on the 8th in 1967, Jeff Maggert on the 13th in 1994.
Oosthuizen's shot set off gallery thunder that moved up the hill to him. In acknowledgement of the message, he raised both arms in celebration. His playing partner, Bubba Watson, backed away from preparation for his own second shot and pointed to the moment's hero. Oosthuizen had become the leader of a tournament that had been all but conceded to Phil Mickelson, if not Peter Hanson. With the one shot, the South African passed both of them.
If Wayne Mitchell didn't immediately understand the historic significance of owning the double-eagle ball -- he seemed never to have heard of Sarazen -- he might have caught on when he was surrounded by men in green jackets identifying themselves as Augusta National Golf Club members. They were eager to whisk him away, perhaps for negotiations about the ball. Notthat Mitchell suspected any pick-pocketry on the hallowed grounds of Augusta, but he did, in the presence of the green jackets, allow that the ball was "safe in my pocket."
"The left. With a zip." And he patted the zipped-up zipper.
Mitchell said he hadn't thought of the ball's value, not even in an eBay way. But, when asked if he'd return the ball back to Oosthuizen, he said, "If he wants it back, absolutely." One can imagine, depending on events of the day, Mitchell coming away from his moment of serendipity with a lifetime badge to the Masters.
At the least, he's now a footnote in Masters history. As he spoke to a handful of reporters, with the green jackets lurking anxiously, Mitchell said, "I came here anonymous, but I don't feel like I'm anonymous anymore."
Two hours later, Augusta National had the ball.
"A nice guy, he gave it to us," said Craig Heatley, chairman of the club's media committee.
Not that Heatley knew of.