News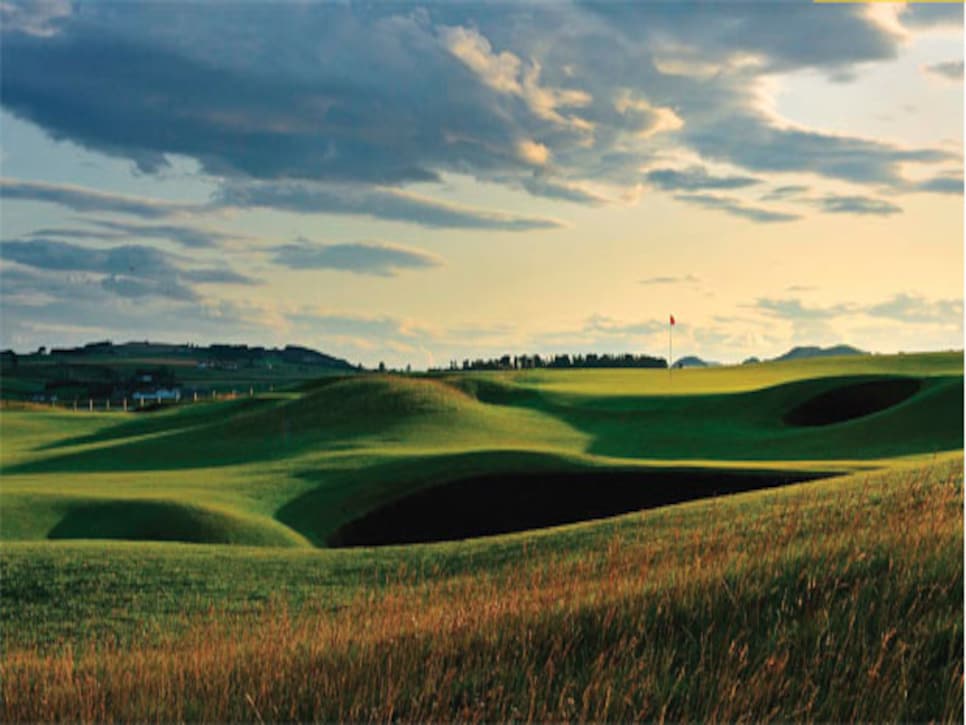 The third open stop (of 14) on the tour: The Old Course, and the par-3 11th hole.
In the century and a half since it began, the British Open has been played on just 14 courses: seven in Scotland, six in England and one in Northern Ireland. That list seems so modest that an ambitious golfer might be tempted to try to play them all, like a birder crossing warblers off a life list. I know that's possible because last spring -- in anticipation of the Open's sesquicentennial, which will be celebrated at St. Andrews in July -- I tackled the lot, in a single, two-week trip.
My Open tour was infinitely easier to execute than any equivalent American pilgrimage would have been. The geographical area bounded by the British rota would fit inside Texas, and all 14 courses -- unlike most of the 51 that have hosted the U.S. Open -- are accessible to unaccompanied strangers. Still, the logistics were more than I thought I could handle on my own, so I got help from Joe Dwyer, of Celtic Golf, who planned my itinerary. I wouldn't recommend my Open tour as a model for leisurely golf travel, because I put more than a thousand miles on three rental cars, lugged my clubs back and forth across the Irish Sea and stayed in eight hotels. But I had an unforgettable trip, and I even managed to squeeze in a few bonus rounds, off the books.
My tour began at Musselburgh's Old Course, less than 20 miles from Edinburgh Airport. Musselburgh has just nine holes, and the Open hasn't been played there since 1889, and most of the course is contained within an active horse racetrack (which dates to the early 1800s). But there are excellent reasons to visit, among them the fact that last year Guinness World Records named Musselburgh the oldest continuously played golf course in the world. The Guinness citation is based on a written record kept by an Edinburgh lawyer named Sir John Foulis, who played on March 2, 1672, and lost three pounds, five shillings -- a significant sum at the time, even for a lawyer -- in a match with several "golfe" buddies. (No one doubts that the game is centuries older than that, but Foulis' ledger page is the oldest known document that places a specific player at a specific time on a course that still exists.) I played with Allan Minto, who is the golf development officer of the East Lothian Council, and a young mom named Ruth Carroll. Minto held the course record, 64 -- a remarkable score, made more remarkable by the fact that he shot it with hickory-shafted clubs. I borrowed a hickory set from the secretary-manager and did not threaten Minto's record. My favorite hole was the fourth (originally the third), a long par 4 called Mrs. Forman's. It plays alongside and across the racetrack, and it was named for a pub that stands just beyond the green. There used to be a window through which a golfer could order a pint before teeing off on the following hole, a par 3; now you have go around to the front door. Old Tom Morris once angrily disappeared into the bar during a match with Willie Park Sr. -- who won the first Open, in 1860, with a 36-hole score of 174, in a field that consisted of just eight competitors -- after becoming fed up with the spectators, who were vocal Park partisans. Golf was so popular in Musselburgh in those days that townspeople sometimes teed off 12 at a time.
Between 1836 and 1891, Musselburgh was the headquarters of the Honourable Company of Edinburgh Golfers, the world's oldest golf organization. (Its members created the game's first written rules, in 1744, when the group was based in Leith.) In 1891, the Honourable Company moved from Musselburgh to Muirfield, a dozen miles to the east, and hired Old Tom Morris to create a private course. Today, Muirfield has an undeserved reputation for hostility to outsiders. It's true that visitors are limited to specific tee times on Tuesdays and Thursdays, but the club welcomes thousands of unaccompanied nonmembers every year, and you can make your reservations online, at muirfield.org.uk.
The golf course -- which is mostly the work of Harry S. Colt, who reshaped and enlarged Morris' original layout in 1928, and Tom Simpson, who removed a hundred of Colt's bunkers a few years later -- is every bit as good as people say it is, although the most appealing activity on the grounds might be hanging around the clubhouse. Alastair Brown, the secretary, described Muirfield to me (over lunch) as "a lunching club with a golf course attached to it." An ideal day at Muirfield, he said, was once described as "two-and-a-half, two-and-a-half, two-and-a-half": a brisk 18-hole foursomes match in the morning, followed by a 2½-hour lunch, followed by a brisk 18-hole foursomes match in the afternoon. In the United States, foursomes is usually known as Scotch foursomes or alternate shot; it's the No. 1 game at Muirfield. The club has its own handicapping system, named after C.J.Y. Dallmeyer, a club captain in the 1950s, who invented it: If you go 3 up in a match, you give strokes to your opponents until you're back to 1 up.
You have to wear a jacket and tie in the Muirfield dining room, but the atmosphere is seductively informal, and even visitors are encouraged to linger. No table has fewer than six chairs, an arrangement that forces groups of golfers to mix, and the food is served cafeteria-style. Diners who don't live in fear of their cardiologists sometimes bypass lunch and move straight from the bar to the dessert table, where the specialties include rhubarb crumble, sticky toffee pudding, and ice cream from S. Luca of Musselburgh, a locally famous dairy. Muirfield's locker room has modern, car-wash-caliber showers, like the ones at Merion and Pine Valley, but the other amenities are distinctly old school, among them a pair of wood dressing tables, each furnished with a shaving mirror, a nail file on a chain, and a single hairbrush and comb (but no beaker of blue Barbicide).
In the mid-19th century, the only major Scottish golf organization that wasn't based in Musselburgh was the Royal and Ancient Golf Club of St. Andrews. The R&A is less ancient than the Honourable Company, but it now rules the game everywhere in the world except the United States and Mexico. It's the outfit that puts on the Open, and its clubhouse is the bank-shaped hunk of stone and glass that looms above the first tee of the Old Course -- which I played the next day. My group included an American university student from St. Louis, whose name was Walker. He had transferred to St. Andrews from Duke -- with the enthusiastic approval of his father, a member at Bellerive -- and had been pursuing an unofficial year-long elective in the Old Course, as a supplement to his thesis research on David Hume. At the beginning of the school year, he said, he had paid £170 for a student golf ticket, which allowed him to play any Links Trust course whenever he felt like it, ho-hum. As we stood on the first tee, the wind was blowing so hard from the left that the starter advised a petite woman in the group ahead of ours to aim her tee shot well into the 18th fairway, so that the gale and her presumed slice would bring her ball safely back into play; she aimed where he pointed, then power-hooked her drive very nearly onto Old Station Road.
The next day, in spectacular weather, I played Carnoustie, on the other side of the Firth of Tay, an hour's drive from St. Andrews. I joined two other Americans: Robert, who was about 50, and David, who was 20 years older and had been Robert's high school principal. Both had lost their wives a couple of years before and had consoled each other partly by taking golf trips together. The three of us had met (we realized) in the dining room at Muirfield two days before, so we shared an interest in sticky toffee pudding.
Carnoustie is probably associated most closely with Ben Hogan, who won by four strokes there in 1953, in the only Open he ever entered. In that era, the Open was a three-day tournament, with a 36-hole finish. Hogan birdied the sixth hole, a par 5, twice on the final day, after taking an aggressive line between a pair of fairway bunkers and a boundary fence -- a route that has been known ever since as Hogan's Alley. I first played Carnoustie in 1992 -- at which point it hadn't hosted an Open for 17 years, primarily because the course and the town were unequipped to handle modern tournament crowds. The course got the Open again in 1999 after the construction of the phenomenally unattractive Carnoustie Golf Hotel, which stands like the Hoover Dam directly behind the 18th green. The food in the hotel is worse than the service, and vice versa, but the course is one of the world's greatest, and returning it to the rota was one of the best decisions ever made by the R&A. On the day we played, the gorse bushes were covered with electric-yellow blossoms, and the clouds looked as though they had been brought over for the afternoon from Paris, and nobody cared what anybody shot.
The drive from Carnoustie to Royal Troon, my next destination, is 130 miles. I didn't get started until after 8 in the evening, and British roads are highly nonlinear and are marked irregularly, and even major routes are seldom identified by direction (so that to stay on course you have to know the names of the hamlets and micro-suburbs between wherever you are and wherever you want to go). But I made it to Troon eventually, and, the next morning, teed off with two members, Des and John, and with the superintendent, Billy. The wind was strong and out of the north -- a great help initially, because seven of Troon's first nine holes march down the coast in a straightish, southerly line. Des said that the wind sometimes blows in the other direction and then makes the turn when you do -- and he had fortified himself against that possibility by learning to hit his driver off the fairways. Troon's first nine includes the par-5 sixth, which is a little more than 600 yards, and the par-3 eighth -- known as the Postage Stamp -- which is less than 125 but is so treacherous that it often generates bigger numbers than the sixth. Billy had recently performed reconstructive surgery on the Postage Stamp, by restoring putting contours that had been obliterated by sand thrown up during decades of futile slashing in one of the greenside bunkers. The southernmost end of the course abuts a trailer park. (In the United Kingdom, a surprising amount of what looks to an American like prime seaside real estate is occupied by mobile homes and RVs.) John said that a club member, while traveling, overheard some other diners in a restaurant discussing a recent tournament at Troon and eagerly went over to introduce himself. It turned out that the tournament they were discussing was an event conducted surreptitiously by golf-playing residents of the trailer park, on the Troon holes nearest their caravans.
Also abutting the southern end of Royal Troon is Prestwick, the site of the first 12 Open Championships plus 12 subsequent ones (but none since 1925). Every year, members of the two clubs play a cross-country foursomes match over both courses. Half the field starts on the first tee at Prestwick, and half starts on the first tee at Troon. Everyone plays to the 18th green on the other course, breaks for lunch, and then plays all the way back. Des and John told me that, usually, a team scores better if it starts at Prestwick, because a typical Prestwick lunch includes so much alcohol that golfers who make the turn there sometimes have trouble finding their way home. After our round, we relaxed for a while in Troon's Smoke Room, where, needless to say, smoking is no longer allowed.
I stayed that night in the North Beach Hotel, directly across Links Road from the Prestwick clubhouse, and in the morning I played with David Fleming, Prestwick's head pro. (Fleming got his job in 2004, and is just the sixth person other than Old Tom Morris to hold the position. How cool is that?) It was raining when we teed off, and the wind was blowing hard, and no one else was anywhere near the course. Fleming hit booming draw after booming draw, directly into the gale, but I had so much trouble advancing my ball that I occasionally wondered whether I wouldn't be better off throwing it, or even kicking it. Only four holes at Prestwick remain from Old Tom's 12-hole layout. (The original Open format at Prestwick was three times around, in one day.) One of the surviving holes is the wonderfully quirky 17th, a par 4 on which the second shot -- or, in my case, the third -- is blind. After our round, Fleming gave me a tour of the clubhouse. The parts that visitors usually see -- including the airlock-like cylindrical entrance door, which resembles a surplus prop from a "Star Trek" set -- are cheesy and depressing. But the older parts, where the members hang out, are filled with primordial golf stuff. Best feature: the members' wooden lockers, 90 of which date to 1882. They look like Queequeg's coffin.
Under ordinary circumstances, my next round would have been on the Ailsa Course, at Turnberry, just 20 miles farther down the coast. But the course was being renovated for the 2009 Open, which was then a couple of months away, and nobody was allowed to play it. I drove down anyway, hoping against hope, but saw that even the hotel (which overlooks the course from the top of a coastal ridge and is one of my favorite places to wake up) was off-limits. In fact, it was covered with scaffolding. Turnberry was the first Open course I ever played, back in 1992. It was my introduction to links golf, and it will always be a sentimental favorite. For an hour or so, I walked over the dunes, in rain, and mentally replayed past personal triumphs on the holes I could see -- the best I could manage, under the circumstances. The weather was so foul that I couldn't make out Ailsa Craig, a knob of granite 11 miles off the coast.
I then got back in my car and headed south, to Southport, England -- the longest driving leg of my tour. I made it considerably longer by sticking as close as I could to the coast for much of the trip (nearly 300 meandering miles), instead of working my way inland and catching the motorway (more like 200 miles). But what a drive! Long stretches are veer-off-the-road beautiful, and no traveling golfer ever goes that way. As a result, I was happy but tired when I arrived in Southport -- a seaside resort town in which some of the biggest houses were built by Victorian-era golf-playing cotton barons from Liverpool -- and couldn't think of anything to do except find a hotel and fall into bed.
The next morning, I played Royal Liverpool, 25 miles farther along. I had been expecting to be joined by Ian Brown, a retired surveyor and member for 40 years, but he had placed himself (and his 6-handicap) on injured waivers. We met for coffee in the clubhouse, and he told me a little about himself, including the fact that he caddied for Sam Snead at a charity event at the club in 2000. Snead, Brown said, "was the most terrible fellow I've ever met." (He ran over Brown's foot with a golf cart several times and was rude to Sandy Lyle, among other offenses, Brown told me. Roberto De Vicenzo, who was also in the group, took Brown aside on the 11th tee and said, "Do not worry about him. I have suffered him for 40 years.") After a tour of the clubhouse, I tackled Hoylake -- as the course is known to friends -- on my own, in sporadically insistent rain. The routing at Hoylake was modified slightly for the Open in 2006 (the club's first since 1967): Competitors that year played the 17th and 18th holes first, a change that allowed them to finish on the insidiously challenging 16th, whose green is directly in front of the clubhouse. That change also resolved a design issue that was identified many years ago by Bernard Darwin: Hoylake's first hole, Darwin believed, is too good to waste on players who aren't warmed up. I played the holes in their normal sequence, had the place almost entirely to myself, and finished with a birdie.
The next morning, I played__ Royal Birkdale__, just a couple of miles down the road from the center of town. Most of the golf courses in the stretch of linksland between Liverpool and Southport were built in the late 19th or early 20th century, either just before or just after the establishment of a rail line running up the coast. Trains and golf have a symbiotic relationship in the U.K.: Rail companies often built courses to lure travelers (as at Turnberry), and rail cars served as rolling clubhouses for golfers as they traveled to and from their weekend games. Even today, there's a railway station within bag-lugging distance of courses all over the country. (Golfers at Prestwick often begin their rounds under the gaze of commuters waiting on a train platform just 50 feet from the first tee.) Birkdale doesn't abut the rail line, but the clubhouse is less than half a mile from the nearest station.
Before I played, I chatted with Mike Gilyeat, Birkdale's secretary, in the club's Art Deco clubhouse, which was designed to resemble an ocean liner. (The only missing touch is lifeboats.) Heavy, foam-covered waves were crashing just beyond the dunes to the west, and the wind, as we talked, sometimes seemed to have figured out how to penetrate window glass. Birkdale has hosted the Open nine times, and Gilyeat told me the club is hoping to get the tournament again in 2017 or so. Hosting an Open isn't necessarily a short-term bonanza for a golf club, because the club usually incurs expenses that aren't covered by the R&A. Nevertheless, Gilyeat said, each Open is worth tens of millions of pounds to the local economy, and for years afterward it boosts a club's revenues from visitors' green fees. (Eight friends and I did our bit by returning to Southport this spring. We played a dozen links courses along the coast -- a terrific golf trip, and one that Americans seldom think of taking.) The holes at Birkdale take what feels like a random walk through the dunes, so that you constantly turn in relation to the wind. I quickly lost track of exactly where the clubhouse was, then regained my bearings, briefly, when I reached the sixth and seventh holes and could hear traffic on the Coastal Road, just out of sight to the west. That road is worth a detour during any golf trip to the area. Most of the linksland through which it passes is now protected from development, and as you drive along the beach you can see what the entire coast must have looked like to the pioneering, train-riding golfers who created so many great courses there, more than a century ago.
The next morning, I drove north, then east, then west, to Royal Lytham & St. Annes. The straight-line distance is seven miles, but the trip takes more than an hour because you have to skirt the estuary of the River Ribble, which empties into the Irish Sea just north of Southport. I played with Ben Squires, a young assistant pro. Lytham is the only Open course that begins with a par 3, a 200-plus-yarder with a circular green surrounded by ravenous bunkers. My favorite hole on the course is another par 3, the ninth, which looks like a golf hole in a dream: The green is elevated and undulating, like a graduate-level problem in topology. It's tucked into the farthest corner of the course, and a cluster of redbrick buildings rises directly behind it, and if you flub your tee shot, Squires said, you can easily make 10. (We both got pars, of course.) A local man in the group ahead of us was wearing shorts -- a great rarity on golf courses almost anywhere in the British Isles. A sign at Hillside Golf Club -- a fantastic non-Open course, next door to Birkdale, where I'd played a bonus round the afternoon before -- warns golfers that shorts are permitted only if they are "tailored" and worn with "tall hose." Lytham used to have a similar rule, but relaxed it after a busload of barelegged Americans arrived and the golf shop ran out of tall hose.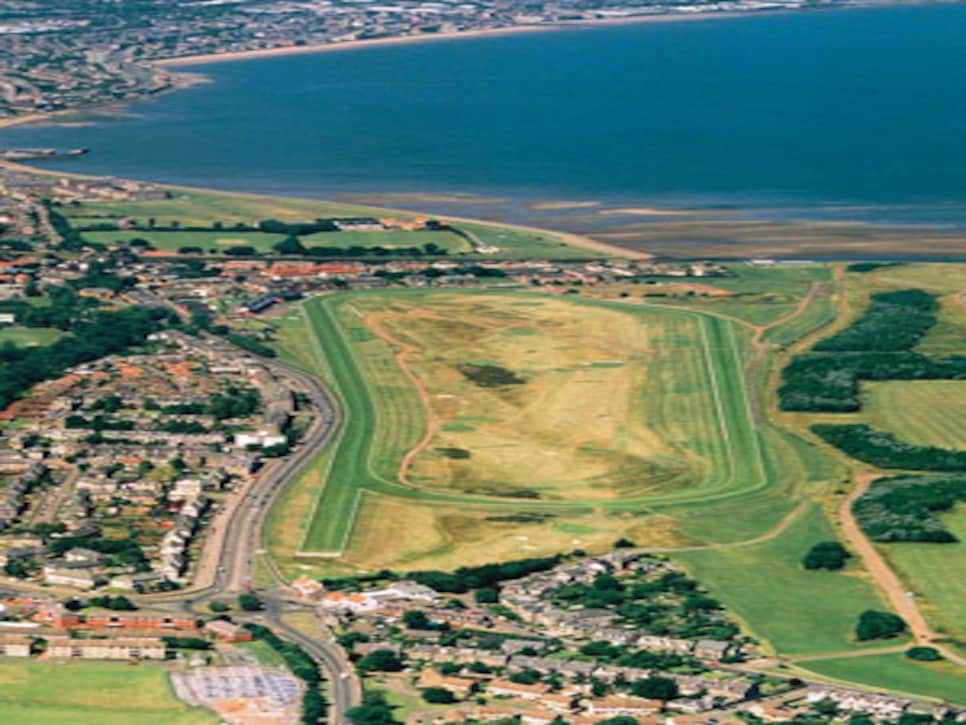 The best way to visit Lytham is to book a room in the club's Dormy House. For £238 -- less than $400 -- you get lodging, three meals (including dinner in the clubhouse dining room) and two rounds of golf. And after dinner you can drive a few miles up the coast and ride the big wood roller coaster at Pleasure Beach in Blackpool.
After my round at Lytham, I flew from Manchester to Belfast, then drove to Portrush, on the spectacularly beautiful northern coast of Northern Ireland. As I rounded the final turn toward town, I encountered what amounts to an aerial view of Royal Portrush -- a great rarity in links country. I stayed at the Royal Court Hotel, on top of the cliffs just east of town, and kept being drawn to my window. There had been a storm the night before, and huge waves were smashing into the mountainous dunes that separate Portrush from the sea. I noticed tiny black shapes among the waves and laughed because they looked almost like swimmers -- and then I realized that's what they were. The next morning, I played Portrush's championship course, called the Dunluce, with Gary McNeill, the head professional, in occasionally heavy rain and in wind that McNeill estimated at 35 miles an hour. On my drive into town the day before, I'd passed some cows that had flattened themselves against a hedge, for protection from the weather, and on one hole McNeill and I had to do the same thing against a bank of Rosa rugosa. (On the counter in McNeill's golf shop is a bowl of biodegradable tee-size stakes, for pinning divots to the ground, to secure them from the wind and from hungry crows, which flip them over while searching for grubs.) On the 210-yard 14th -- called Calamity, playing straight into the wind -- I hit driver and got about halfway to the green. Portrush has been an Open site only once, in 1951, and the club, McNeill told me, would love to have it again. Ireland's internal strife has made that unthinkable. But who knows?
The final leg of my Open odyssey began that afternoon, with a flight from Belfast to London's Gatwick Airport and a late- evening drive to Sandwich, on England's southeastern coast. Three Open courses -- Prince's,Royal St. George's and Cinque Ports -- are laid out virtually end to end along a five-mile stretch of shoreline. (On a clear day, you can see France from any of them.) I found my hotel by calling from two blocks away and then following the noise blasting from the hotel's bar, in which a local band was playing inept covers of rock classics.
The next morning, I drove to Prince's, which hosted the Open once, in 1932. While I waited for my tee time, I studied a local-history exhibit in the lobby of the clubhouse. "The ninth and 10th centuries," one of the displays said, "were unhappy years for the inhabitants of East Kent." (The main problem: Vikings.) I played with two local members: Lawrence, who, with his wife, runs a home-nursing service, and Jeff, who works for Pfizer. Both hit the ball miles -- Lawrence while swinging cross-handed. As we approached the southern end of the course, they made various negative remarks about what Lawrence said were "soulless" recent course changes at Royal St. George's, which is next door and is the only one of the three courses that's still on the rota. Lawrence caddied at St. George's as a teenager, in the 1970s, after inheriting an older brother's client list. The first bag he carried was that of Wing Commander H.D. Nicholson, who was the club's secretary and an occasional playing partner of Ian Fleming, the creator of 007 and a fellow member. Nicholson paid £4 a loop, Lawrence said, less 50 pence for each lost ball.
Royal St. George's was Fleming's model for Royal St. Marks, the golf club where James Bond plays a match with Auric Goldfinger. (The match in the movie was filmed at Stoke Park Club, in Buckinghamshire, a parkland course a couple of hours away.) I played at Royal St. George's the next day with another redoubtable J.B.: John Barton, who lives in London and is a contributing editor of this magazine. The sun was bright, but the wind was blowing so hard that walking into it felt like wading in chest-high water. As we were playing one hole, a red plastic bucket flew past us, having been ripped, moments earlier, from the hands of a child playing on a beach in Calais, perhaps. On the 11th -- which measures 202 yards from the regular tees (and 242 from the Open tees) -- I hit driver, then most of a 9-iron. On the 14th, a par 5 playing straight downwind, Barton hit 3-wood, followed by a 200-yard 7-iron just short of the green. Back in the clubhouse, we warmed up with tea and studied various artifacts of the Whiting family, which provided three generations of professionals at St. George's. (The pro in "Goldfinger" is called Blacking.)
The final round of my tour was at Royal Cinque Ports, the Open course most likely to draw blank looks from American golfers, even when (as is often the case) it's referred to as Deal, the name of the nearest town. The club was an Open site twice, in 1909 and 1920. It was supposed to have the championship on three additional occasions but lost one chance to World War I and two others to flooded fairways. I played with David L. Dobby, the club's historian and the author of several books about golf, among them Golf on the Kent Coast, in which Deal figures prominently. Dobby told me that, in his opinion, Cinque Ports is the only Open course, other than the Old Course, that truly retains something like its original character -- which the club is enhancing by eliminating some changes made during previous administrations. The fairways on the oldest holes are wonderfully irregular -- Dobby described them as "crumpled" -- and there are dips, bumps, plateaus and valleys everywhere, including the greens. We stopped for lunch at a shed near the ninth green, and I had a sausage sandwich that I've been thinking about ever since.
I've also been thinking about the club. If someone offered to give me a cottage next to any of the courses I played during my two-week adventure, I would have a hard time deciding. The Old Course, of course. And Portrush, which might be the best of the 14. But in the end I might choose Cinque Ports. I loved the course. And the clubhouse -- which is entirely unpretentious, and has a broad balcony that overlooks the course and the English Channel -- comes close to my ideal. (In 1898, a member named Freddie Tait, a two-time British Amateur champion, played from St. George's clubhouse to Cinque Ports in 32 shots, the last of which went through a clubhouse window.) Cinque Ports is unlikely to make its way back onto the rota, but that's not necessarily a bad thing. The members have a full calendar of competitions, several of which are multi-day extravaganzas, and some of which date to the founding of the club, in 1892. And did I mention the sausages at the turn?