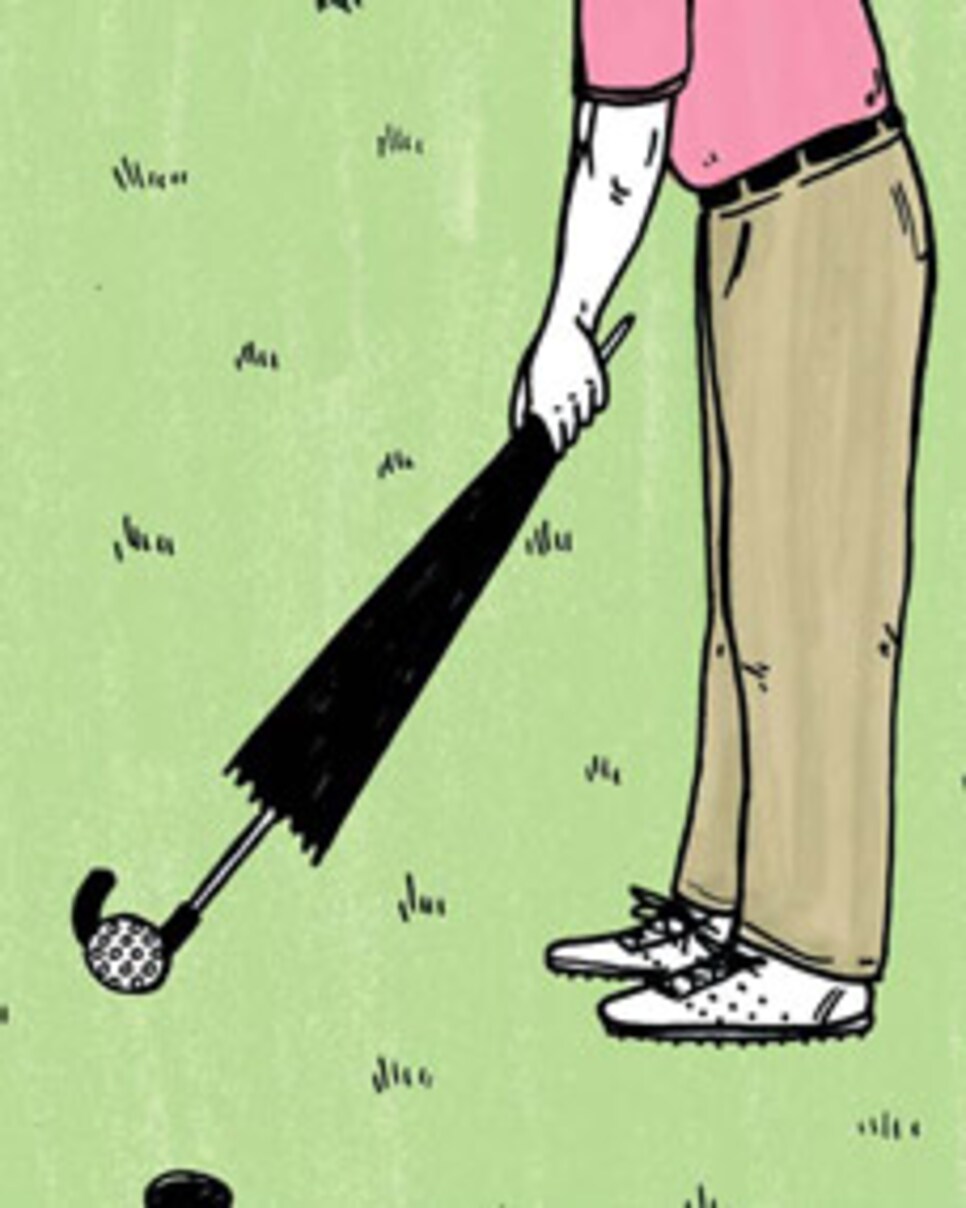 Ten days before a recent golf trip to Scotland, my friends and I made a big mistake: We began checking the long-term forecast for Edinburgh.
At first, everything looked great: mild temperatures, intermittent sunshine, little or no rain. As our departure approached, however, the predictions turned ugly. The expected daily highs and lows dropped, and scattered clouds turned into light rain, then into heavy rain.
"It wouldn't be Scottish golf without gale-force winds, lashing sleet and near-freezing temperatures," I said cheerfully, trying to keep even my spirits up. At home alone, though, I studied the weather icons used by the British website I'd been following, hoping to find a loophole. One raindrop signified "light rain," and two signified "heavy rain," but surely the global-precipitation gradient is more complicated than that. Nevertheless, a few minutes before leaving for the airport, I packed a second rainsuit, a second pair of long johns and a third sweater.
As it happened, what I needed was sunscreen.
We had eight days of mostly terrific weather, and we got truly wet during only one of our 16 rounds. After the first day -- which was windy but dry -- we made a rule for the rest of the trip: Ignorant speculation about future weather would be permitted, as always, but no one would be allowed to cite any prediction from a newspaper, website or TV program. Stanley tried to violate the rule on the day before we played the Old Course, after seeing something disturbing on TV, but I shouted him down, and I'm glad I did: The two days we spent in St. Andrews were practically Floridian, in terms of sunshine, and I wished I'd remembered my sunglasses.
Weather forecasts create more problems for golfers than they solve. Cable TV and the Internet have made it possible to find an authoritative-sounding prediction anytime, anywhere, but they haven't done anything to enhance the reliability of meteorology, and the main effect is often just to raise anxieties unnecessarily. On several occasions last year, friends of mine, citing nasty forecasts, made nongolf plans for the coming weekend and missed out on what turned out to be terrific golf days and on other occasions bad weather arrived unexpectedly but wasn't bad enough to make anyone decide to go home and do chores.
As long as there's no lightning, you're probably going to play anyway, so why make yourself miserable by worrying? Besides, the money you spent on that fancy rainsuit would be wasted if you never used it.