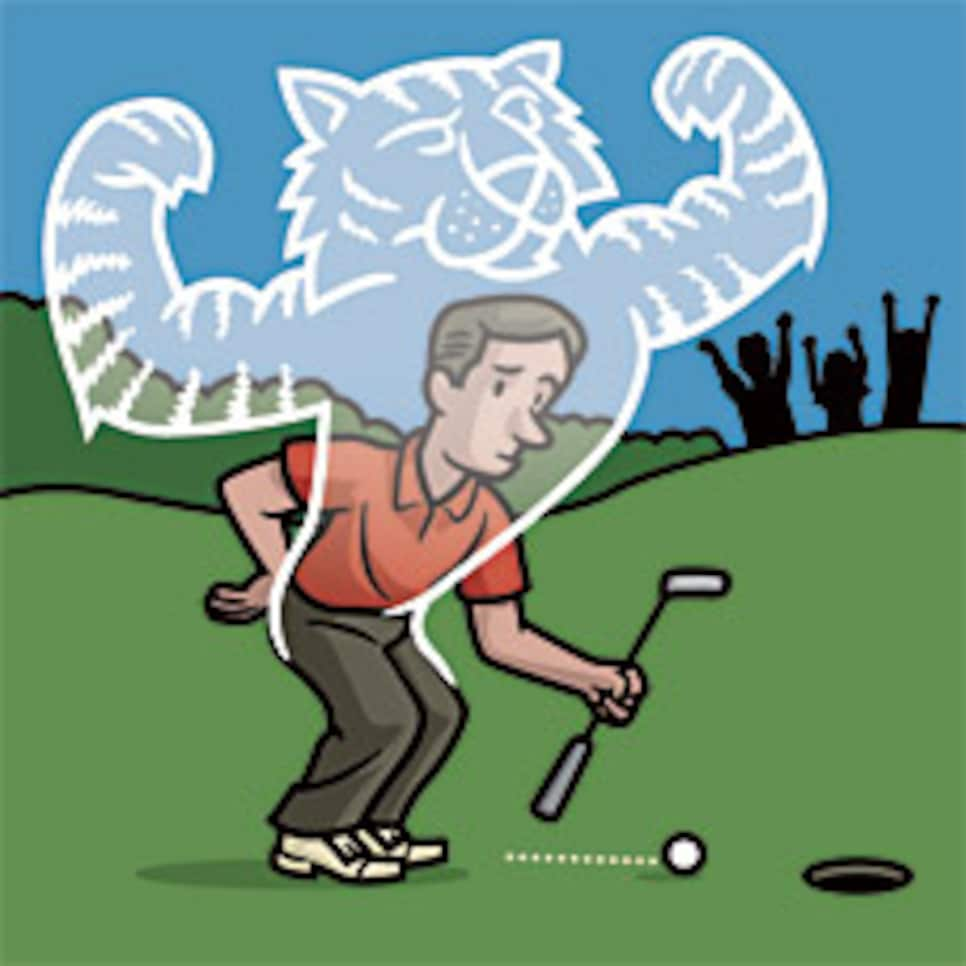 We hold a shootout to determine the overall champions of our member-guest tournament. The winners of the five flights tee off together, and one team is eliminated on each hole, with ties settled by chip-offs. This year it came down to the fourth-flight winners, Bill and Tyler (combined handicaps: 34), and the fifth-flight winners, Jim and Rob (combined: 44).
Many casual golfers never compete in tournaments, and, as a consequence, deny themselves the possibility of a thrill that is essentially unavailable in ordinary life, except when doing things like rescuing babies from burning buildings.
Bill, Tyler, Jim and Rob hit plenty of bad shots, but they also hit brilliant ones when it mattered most. And they held the attention of a large gallery for a solid three hours. Their shootout was more exciting than the final round of the U.S. Open.
The two teams halved the final shootout hole and prepared for the chip-off, but the crowd roared, "Back to the tee! Back to the tee!" So they did. Amazingly, they ended up playing that hole five times, once halving it with birdies. None of the spectators went home, not even the wives. My buddy Nick, who was on the range, half a mile away, heard the roars and thought the world was coming to an end.
Watching Tiger win in sudden death is no more thrilling than watching Jim fan his tee shot into the trees, gouge a 9-iron into a deep greenside bunker, hit a sand shot to six feet and make a curling putt to keep the shootout going.
Jim later said, "I started in sheer terror. I could barely put the ball on the tee. But by the time we got to the last hole, I had developed this incredible concentration. The fear was gone. It's like I was someone else."
This, incidentally, is what pretty much happens to Tiger during the closing holes of a major. It's golf's equivalent of an out-of-body experience, and it's available even to guys like us, if the conditions are just so.
Jim continued, "This sounds really stupid, but I will have that with me until the day I die."