Making a case for fewer golf holes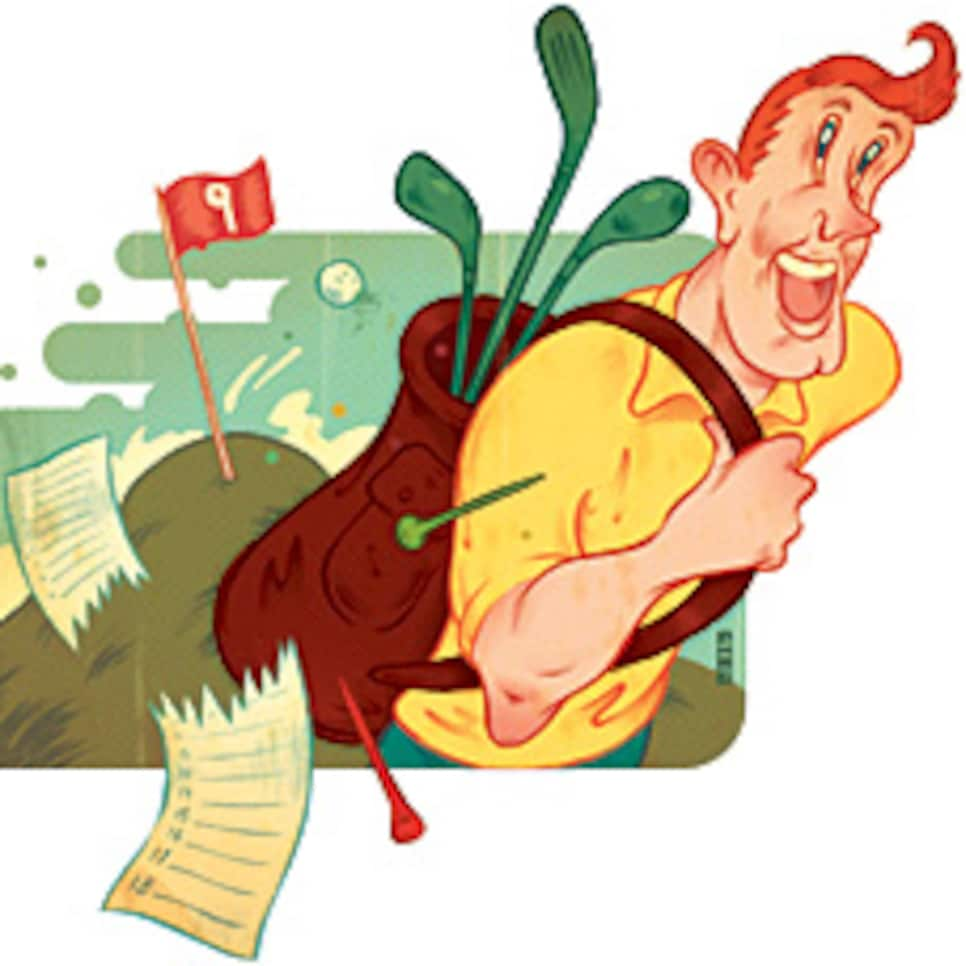 Golf courses have 18 holes because the Old Course at St. Andrews accidentally ended up with that many in 1764 -- not a a bottle of scotch contains 18 shots (as is sometimes claimed) or because the basket on a golf cart holds 18 beers. There's nothing inevitable about the number. If the rules of the game had been written by guys on the other side of Scotland, courses today might have 12 holes, as Prestwick did when it hosted the first 12 British Opens, beginning in 1860.
If the rules had been written by guys at my club, courses might have fewer still. To make an 18-hole round, we have to complete our loop twice -- the second time from tees that range from somewhat different to nearly the same. Our sixth hole is a 390-yard par 4 the first time we play it and a 450-yard par 5 the second, and the third hole, a par 3, is about a club and a half longer when we play it again, as the 12th. Other than that, the two nines are pretty hard to tell apart -- except mentally, that is. People who regularly play nine-hole courses develop a compressed sense of geography, the way people who live on islands or in apartment buildings do. The two teeing areas on our second hole are only three or four paces apart, but I often hit 4-wood on the front nine (to keep my ball out of the creek) and driver on the back (to make up for the additional yardage).
Nine-hole courses played an important part in American golf history'
Golf might be more popular if more courses were half the size, because people's main complaint about the game is that it takes too long to play. Golf would also be less expensive, because nine-hole courses have half as many greens to mow and half as many bunkers to rake. They also require less real estate and have room for only a half-complement of insufferable members.
Nine-hole courses played an important part in American golf history: Three early U.S. Open courses -- Newport Country Club, Myopia Hunt Club and Shinnecock Hills -- all started as nine-holers. Anthony Pioppi, author of the new book To the Nines, wrote that America's greatest half-course was probably Ocean Links in Rhode Island. It was designed by C.B. Macdonald and Seth Raynor in 1921, and it had one official member, Thomas Suffern Tailer, who built it mainly to prove to the members of Newport, which was next door, that they needed a serious renovation. Tailer succeeded -- Newport was expanded by Donald Ross in 1915 and brilliantly remodeled by A.W. Tillinghast in 1924 -- but Tailer died (at Christmas dinner in 1928), and his son later sold the property. Today, Pioppi writes, "only a handful of artifacts remain to stimulate the imagination of what once was" -- including his book, which will stimulate the imagination of any golfer who doesn't believe that bigger is necessarily better.