The Loop
Overton defies expectations with hot start
NEWPORT, Wales -- Strange.
That was the first impression of European captain Colin Montgomerie when seeing rookies Jeff Overton and Bubba Watson residing in the final four-ball pairing for the U.S. against his veteran wildcard picks, Luke Donald and three-time major champion Padraig Harrington.
"Strange to ... I wouldn't say strange decision, don't get me wrong. Sort of, I don't know, Luke Donald and Padraig Harrington would not expect to play two rookies in the last game," Montgomerie said Thursday night. "They wouldn't have expected that."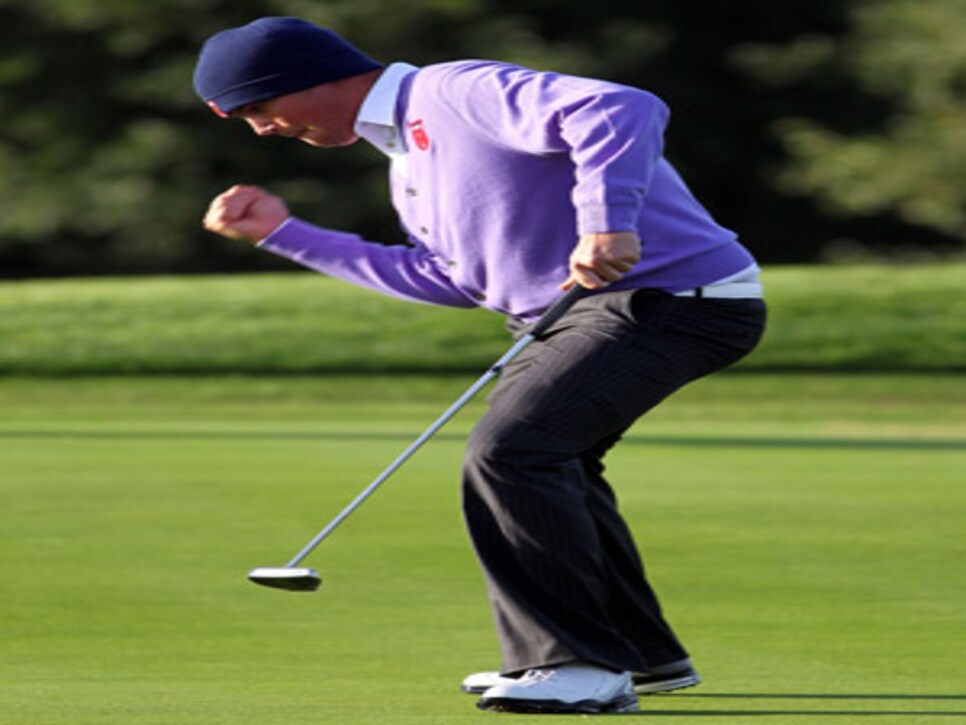 Implicit in that remark was that neither Montgomerie nor his charges expected to lose, let alone lose convincingly. But that's what transpired when the Americans, propelled by Overton's six birdies, posted a 3 and 2 decision Saturday morning at Celtic Manor Resort to give the U.S. squad a 2 1/2 - 1 1/2 edge -- the first time America has led after the opening session in Europe since they went 3-1 in foursomes to begin the 1985 Ryder Cup at The Belfry.
The long-hitting Watson birdied only one hole on the Twenty Ten Course, the par-5 second on Friday morning, but that was one more than Harrington, who struggled both days. That left Donald to counter Overton, and it proved to be a futile exercise.
The Ryder Cup rookie from Bloomington, Ind., the first American to qualify for the team on points without a PGA Tour victory on his resume, was brilliant Saturday, converting birdies on his first four holes starting at the par-5 ninth. Donald birdied two of the four, but that only prevented Europe from falling farther behind.
As he continued to pour in putts, even U.S. swing instructor Butch Harmon, working for the BBC this week, remarked how surprised he was by the American effort.
When Overton's run ended, the U.S. was 3 up. Another birdie to match Donald's at the 15th preserved that advantage and the Americans ran out the clock to become the first rookie pair to win an opening match since Andy Bean and Lee Elder in 1979 at The Greenbrier.
Safe to say that not many folks would have bet on the Americans. "A lot of my buddies did, I'm sure," said Overton, 27, who has nearly two dozen Indiana friends in tow at Celtic Manor. "I just want to thank all of the fellow Hoosiers who flew over from the U.S. to support us this week."
"I don't even like him. Look at him, he's ugly," Watson said jokingly about his partner. "(But) his putter was hot this morning, and I love him as a partner."
Good thing. They partner again this afternoon in foursomes. Given their early success, there's nothing strange about that.