The Loop
Oversize grips have earned the respect of many elite players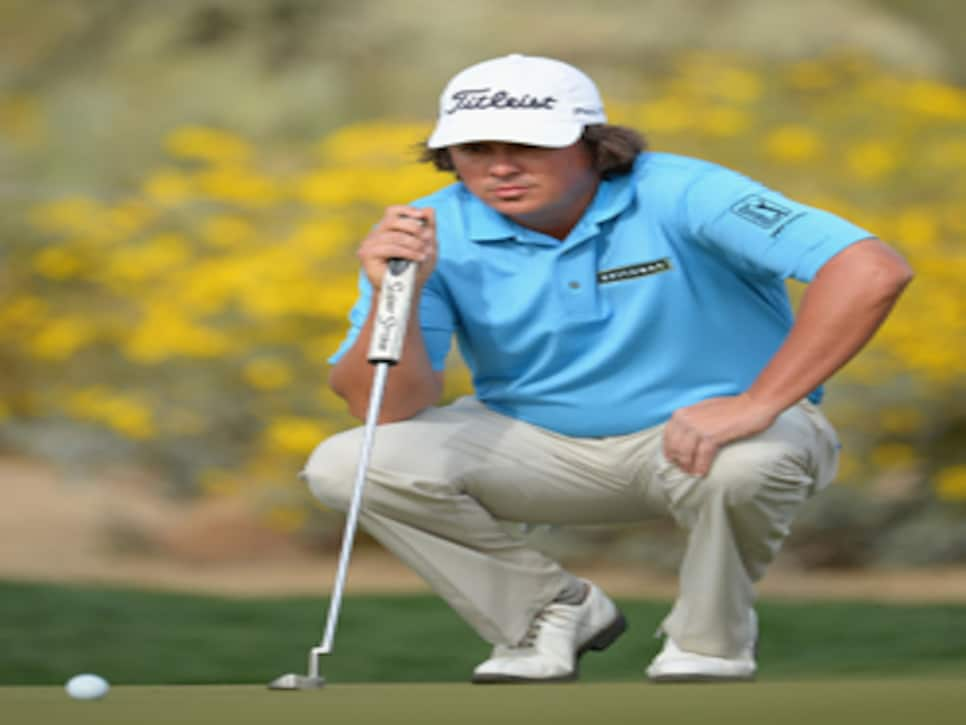 Dubuisson wasn't the only player in the field having success with an oversize putter grip. Jordan Spieth, who uses the SuperStroke Flatso Ultra, reached the quarterfinals. In most weeks on the PGA Tour approximately 30 players use a SuperStroke grip. Such usage is enough to possibly declare it a trend, not merely a fad.
Thank K.J. Choi. Back in 2007 he raised eyebrows and his bank account by using the SuperStroke Fatso -- a beast of a putter grip measuring approximately 1.5 inches in diameter, or roughly twice the size of a conventional putter grip -- to win the AT&T National, just weeks after having won the Memorial using a conventional grip.
Choi discovered the product while watching an infomercial and warmed to the idea of a grip that reduced the amount of wrist movement in the stroke. Still, there was hesitance.
"It was ugly, it was big," he said. "I didn't want to ... but I practiced with it, and it felt good. But I wasn't sure if I could just bring it out on tour. But I kind of gathered the courage to bring it out."
Choi might have gotten on board sooner had he read Paul Runyan's 1979 book The Short Way to Lower Scoring. In it Runyan wrote, "I suggest you avoid grips that seem a bit thin in overall diameter. You will find that a thicker grip encourages a firm-wristed stroke."
Such a philosophy has been employed by numerous players over the years without going to the lengths of using a grip as wide as a golf ball. John Daly, for example, used to put three or four wraps of tape under the grip of his putter to keep his wrists from getting overly active. Bubba Watson is another who uses tape to bulk up the size of his putter grip.
Since Choi's win, more and more players have given the SuperStroke a try. The roll call includes Matt Kuchar, Phil Mickelson and Jason Dufner, who won the PGA Championship last year with a Slim 3.0 on his Scotty Cameron by Titleist putter.
"Several players walked up to me every week with putters in hand wanting a grip to either put into play or to practice with," said Arnie Cunningham, SuperStroke's PGA Tour rep. "A lot of tour players have big hands and it's a good fit. And now that we have more than just the really large grip, more players are open to trying it."
Converting the curiosity to usage has led more than 125 players to use SuperStroke grips across the pro tours since 2009, resulting in more than $105 million dollars in earnings (before Dubuisson's haul of $906,000 at the Match Play) in the last five years, according to the company. That's a far cry from the early days when the grips' packaging read: "If SuperStroke does not eliminate four-putts from your 18-hole score, return SuperStroke within 30 days of purchase for a refund." Four-putts?
Now, instead of a respite for those suffering that kind of struggle on the greens, oversize putter grips are helping elite players win championships, with Sergio Garcia (Ultra Slim 1.0) at the Commercial Bank Qatar Masters and Scott Stallings (also an Ultra Slim 1.0) at the Farmers Insurance Open the most recent. As usual with tour pros, if it brings results it doesn't much matter what it looks like -- something Choi realized during his AT&T win six-plus years ago.
"It's all about business out here," he said. "If you perform well, there's a lot of money involved. I felt like I had to go with my feel and use what I feel confident in. And when I used it, it actually reduces the movement of your wrist, and you just use your shoulders and it makes the ball roll better and it gives me confidence."
And now it's not just Choi displaying that self-assuredness.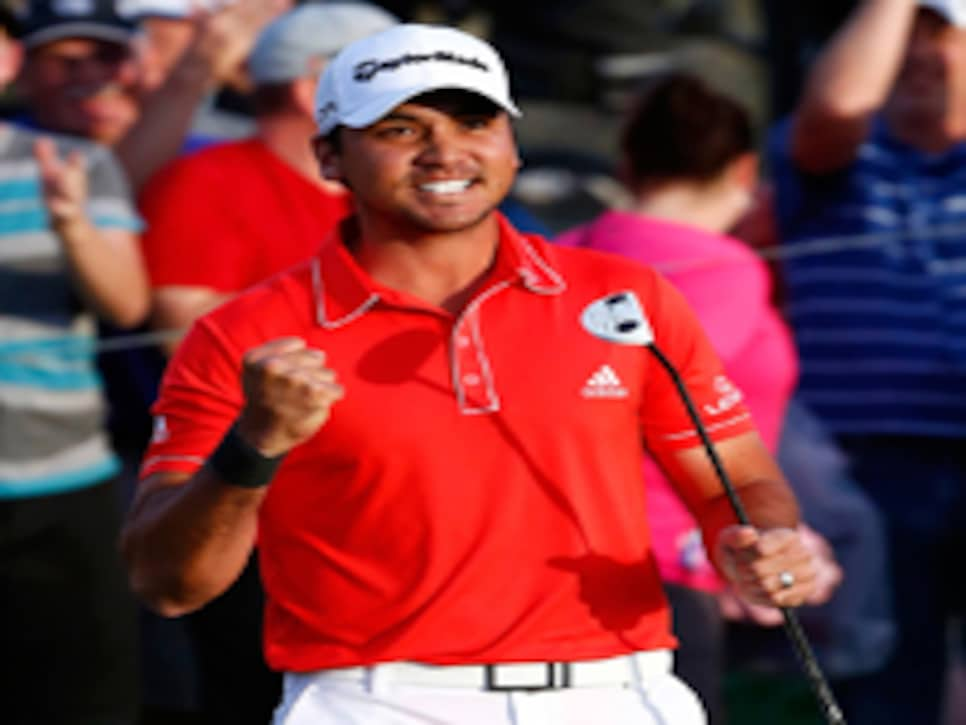 Match Play champ Jason Day's TaylorMade Ghost Monte Carlo putter had a different look in Marana, Ariz. Although the putter has the same grip and black steel shaft as his previous Ghost Monte Carlo, the new model features his son's name (Dash) engraved on the sole and has an additional 10 grams on the bottom that brings the club's overall weight to 360 grams. The extra heft was achieved by using two 25-gram weights instead of a pair of 20-gram ones that had been in the WGC-Accenture Match Play champion's previous gamer.
The most notable change was to the topline. Day's former putter had black alignment lines atop the white head; the current model has no alignment feature, which Day said helps him focus more on the cup than the clubhead.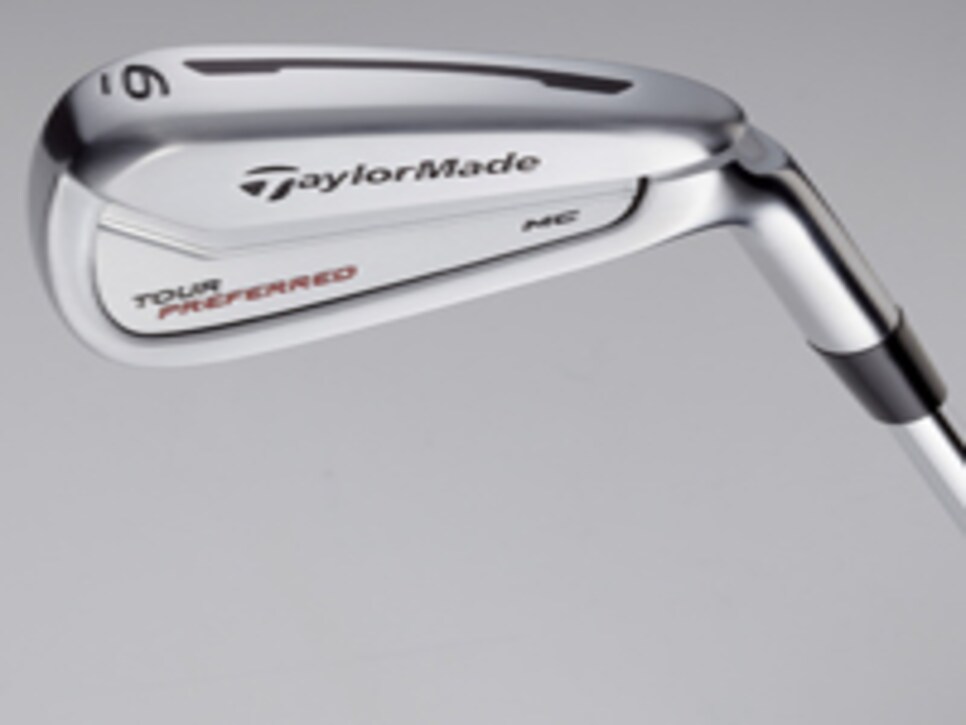 PRICE: $1,000 (set of eight, steel)
Jason Day used these irons, which feature a muscle-cavity design, in winning the WGC-Match Play. A slot in the sole of the 3- through 7-irons boosts ball speed.
Louis Oosthuizen made it to the quarterfinals of the WGC-Accenture Match Play using a new putter, Ping's Ketsch mallet. In addition to a different head shape than he was used to, the 2010 British Open champ had the putter built at 37 inches in length with a 50-gram weight at the butt end of the grip to provide a counterbalanced effect. ... Despite a pair of second-place finishes in his previous two starts, Dustin Johnson employed a new set of TaylorMade Tour Preferred MB irons at the GC at Dove Mountain. D.J. believed the softer leading edge of the new irons would work better for desert golf. ... Jonas Blixt still had a blue Cobra driver in the bag in Arizona, but it was the company's new Bio Cell model. Although Blixt had been working with the 9-degree club since last October, it hadn't seen action until the Match Play. ... Miguel Angel Jiménez has been using Ping's i25 woods and wanted a 7-wood version for the Match Play, but Ping doesn't offer a 7-wood in the i25. Instead, Ping staff adapted an i25 5-wood to 7-wood loft and length. ... Jim Furyk lowered the loft and positioned the sliding weight just toward the toe for a slight fade setting on his Callaway Big Bertha driver.