The Loop
Overheard in the gallery over the weekend at Oak Hill
ROCHESTER, N.Y. -- Welcome to Oak Hill Country Club, where Jason Dufner finally broke through to win his first major, and he did so by a commanding two shots. A complete PGA Championship experience involves eavesdropping on spectator chatter. Below, some of the odd exchanges we overheard in the gallery on Saturday and Sunday.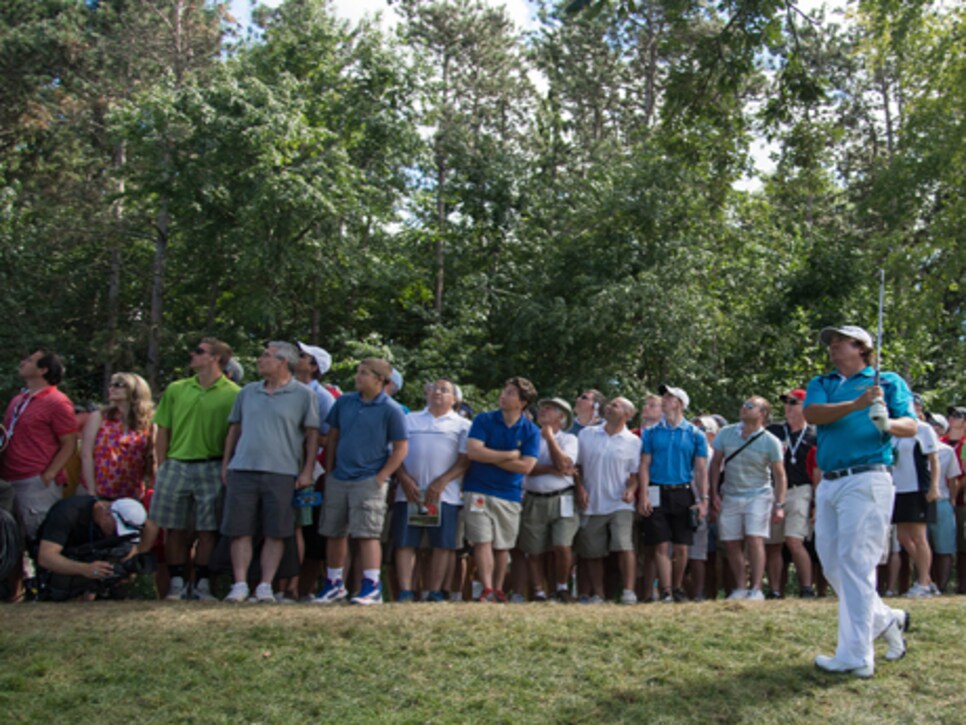 After Englishman David Lynn birdies the 13th on Saturday: "GOD SAVE THE QUEEN!"
Spectator after seeing Furyk's ball settle in the right rough on 18 on Saturday: "What'd he do, whiff? Cue the final-hole blowup."
Spectator, pointing to the manually-updated leader board on the 18th hole: "In this age of electronics, there's something about that original board that gets me jazzed." Man standing next to him: "Oh stop. It sucks."
After Furyk saves par on 18 on Saturday, woman yells: "JIMMMMMYYYYYY! JIMMMMMYYYYY!" She pauses and turns to the man standing next to her: "I got LUNGS."
As Tiger approaches his putt on the eighth hole on Sunday, man whispers: "It's amazing how this many people can be this quiet." Man standing next to him: "Stop talking."
After bottle necking occurs once Tiger walks off the eighth green: "We're trapped in the Tiger Den. I WANT OUT!"
Fan watching Tiger, who was five over through eight holes (14 shots back): "He's gonna have to do something incredible to win this thing."
As Jason Day makes his way to the 14th tee, woman declares, "Oohh. I love him!" Man asks, "You love Day?" She responds: "It's my thing. Back off."
After Rickie Fowler pulls driver on the 14th hole and launches it straight at the green, man yells, "Yeeaaaaa, Rickie! Get outta the bunker!" He pauses and watches Fowler's ball land in the greenside bunker. "Right in the bunker."
Fustrated fan yells through his phone: "Are you on the same 13 I'm on? Like, at Oak Hill?"
As Kiradech Aphibarnrat approaches the 15th green, man asks, "What's that name? Ah-fee-barn... Is it Jewish?"
After marshals finally open the ropes to let hundreds of spectators walk behind the 13th green, fans start mooo-ing because they feel like a herd of cows.
As Day and Luke Guthrie walk off the 18th green, man says, "Alright fellas, your work here is done. Go home and enjoy your millions."