The Loop
Overheard in the gallery on Thursday at Olympic
*SAN FRANCISCO -- Welcome to Olympic Club, where the fairways are hard and Cypress trees are eating golf balls. A complete U.S. Open experience involves eavesdropping on spectator chatter. Below, some of the nutty exchanges we overheard in the gallery on Thursday.
Man watching Dustin Johnson's chip roll on the second green: "Nibble." Johnson's ball stopped about eight feet past the hole. "Didn't nibble."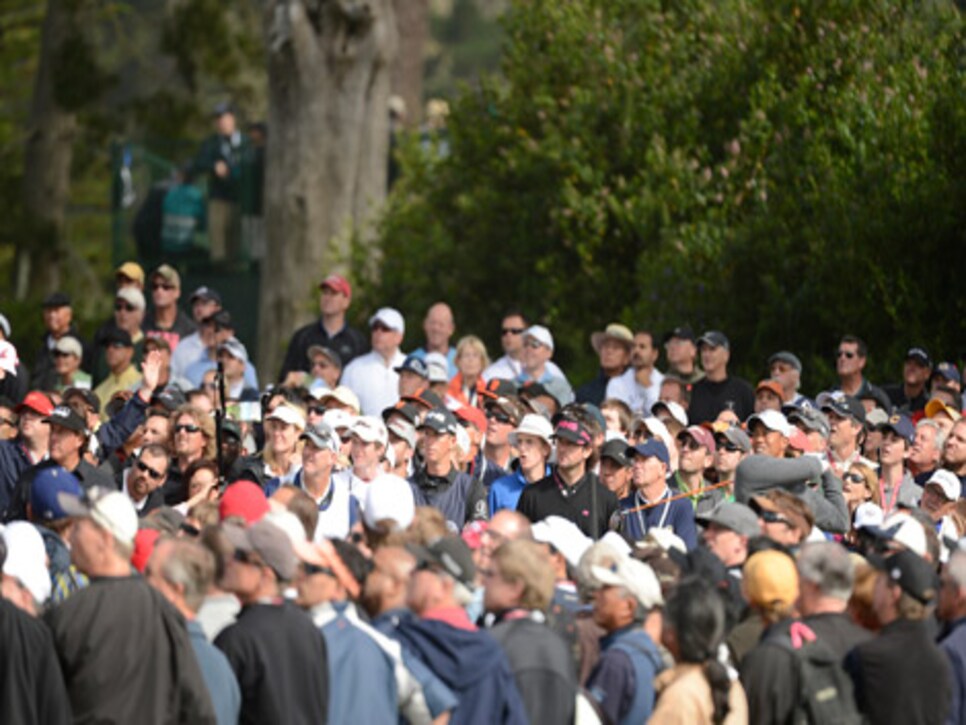 Man to woman: "Who's coming up in this group?" Woman: "Tadahiro Takayama, Lee Slattery and Hunter Haas." "Honey, you mean, Bill Haas." "No, Hunter." "Oh, honey, please. It's Bill." Woman hands man the pairings sheet. "Damn, you're right."
Loud fan, as Rickie approached the first tee: "Rickiiieeee! You're my colorful hero, Ricckkkkiiiee!"
Man after sizing up Tiger Woods' new Nike shoes: "Is there something wrong with Tiger's feet that he has to wear tennis shoes?"
Man noting the afternoon sun. "I wish these guys were playing when it's cold and windy and foggy and crappy. It's too damn nice out. I want them to suffer. To suffer like I do."
Spectator, after Fowler leaves his approach shot to the right of the first green: "Up and down, Rickie. Just keep those wrists firm."
"We've been standing on this hole (the third) for two hours and haven't seen a birdie. We've seen flops, skulls missed putts and lots of sulking. I never want to leave."
Woman, watching Dustin Johnson's approach hit the front of the second green, then roll all the way down, about 15 feet short of the green. "These greens are crazy. Hellish! DIABOLICAL!"
Woman, to man: "I've seen two spectators with the exact outfit Rickie's wearing. Man: "That's just wrong."
Man, to his friend: "How do we get over there," pointing to the other side of the third hole. Friend: "We've gotta walk all the way around." Man: "Uggghhhh. Damn Dan for buying me all those shots last night."