The Loop
Overheard in the gallery on Thursday at Augusta
AUGUSTA, GA. -- Welcome to Augusta National, where three honorary starters (Arnold Palmer, Gary Player and Jack Nicklaus) have kicked off the 77th Masters. The air smells of pine straw and the azaleas are blooming. A complete Masters experience involves eavesdropping on spectator chatter. Below, some of the odd exchanges we overheard in the gallery on Thursday.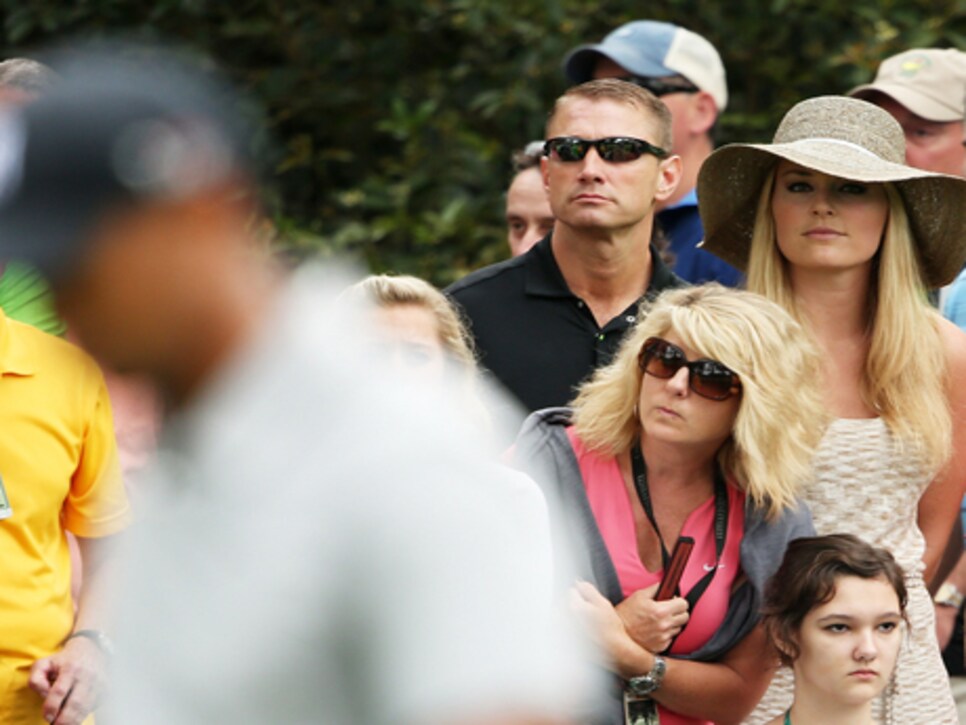 Patrons quickly spotted Lindsey Vonn, Tiger's latest flame. (Photo by Getty Images)
Man, watching honorary starters: "It's funny that the caddies bring the whole bag out. 'Uh, what are ya gonna hit here, Jack? Driver or wedge?'"
Man, after watching 77-year-old Gary Player hit his ceremonial tee shot: "My 16-year-old can't swing it that fast."
Man, walking beside first fairway: __"It's not even 10:30 and every other person is holding a beer. These patrons are wild!"
"I'm glad I didn't buy that shirt. It looked great on the mannequin, but ugh, it looks horrible on an actual man."
Man, looking through binoculars: "Yep, Bubba's using that pink driver." Woman, also looking through binoculars: "And Ian [Poulter] has pink hair." (Poulter is wearing a neon-pink visor.)
Man, after Bubba Watson, Ian Poulter and Steven Fox all missed the first fairway: "I shoulda worn my armor."
Man, after Watson successfully escapes a fairway bunker and hits the first green in regulation: "Oh, good. I didn't wanna see him cry."
Man, after Tiger hits his first drive: "The bird's in the air, the bird's in the air. Here we go, here we go, here we go!"
Patron: "Is that...is that Lindsey Vonn?" His buddy: "Yep." Patron: "Good job, Tiger. Good job."