The Loop
Overheard in the gallery Sunday at Augusta National
AUGUSTA, GA. -- Welcome to Augusta National,* where Bubba Watson demolished his tee shots en route to becoming a two-time Masters champion. A complete Masters experience involves eavesdropping on spectator chatter. Below, some of the odd exchanges we overheard in the gallery during the fourth round.*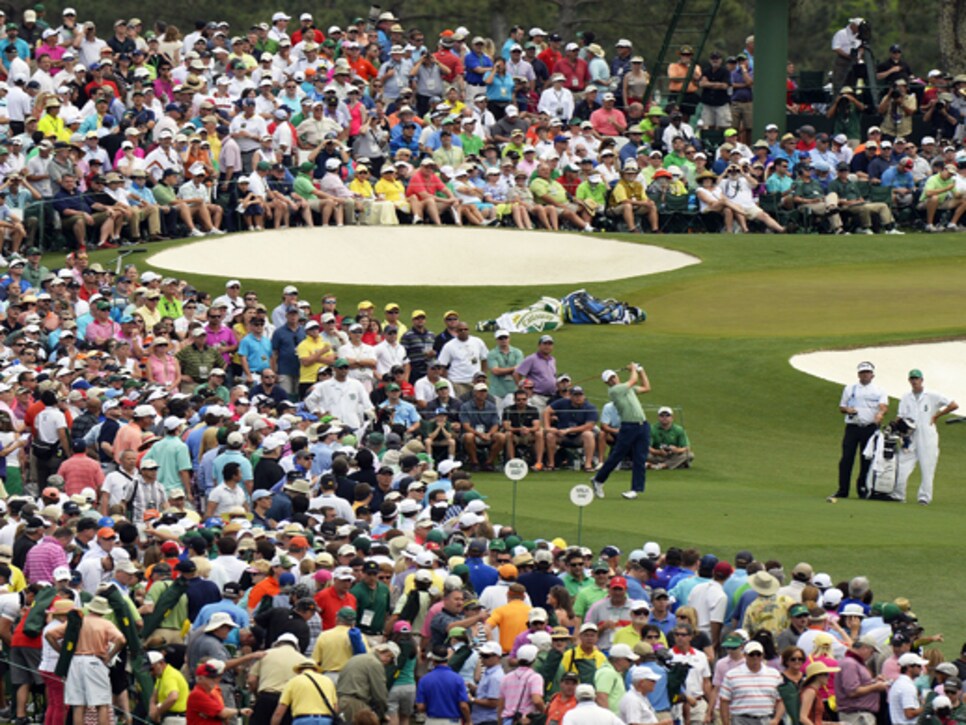 Guy who tripped over a cone as he walked into the gates of Augusta National: "Oops, sorry. ... Man, I just apologized to a cone." His friend: "This place'll do that to ya."
Patron, while watching Sean Foley work with Hunter Mahan on the practice range: "He's so small, but so potent."
Guy standing near the driving range, who noticed a man in a white jumpsuit picking up pieces of grass: "That guy is sweeping the range right now." Guy's friend: "Did you expect anything else?"
Woman, to a guy: "Which one is Freddie, the one in the light blue?" Guy: "Yep." Woman: "Ah, now I get it."
Guy, as Kevin Stadler walks by the first tee: "If Craig is 'Walrus' Kevin should be 'Sea lion.'"
Guy, after explaining the story behind Ike's Tree: "Only Augusta could ever tell a president, 'Thank you, Mr. President, but no."
Patron, to a middle-aged man: "Let's move." Middle-aged man: "No way, Rickie's coming." Patron: "Your obsession with him is troubling."
Woman, as Miguel Angel Jimenez walked onto the first tee: "He's gotta be north of 60." (He just turned 50.)
Teen girl, about Jimenez: "Is he a golfer?"
Loud patron, as Rickie Fowler walked by: "YELLOW BUFFALO! YELLOW BUFFALO! ... He didn't look at me, but it felt good."
One teenage girl from a group of four teenage girls as she waited on the tee to watch Spieth: "I haven't liked golf until now."
Guy, to woman: "But, you're older than Jordan." Woman: "I know, that's alright."
Guy with English accent, to a girl: "Do you know much about these golfers?" Girl: "I know about the Americans." Guy with English accent: "That's the problem with Americans these days."
Female cashier, while watching a few golfers tee off during her lunch break: "I like [Kuchar's] salt-and-peper look." Guy next to her: "I don't think he's here to pick up any cashiers."
Teenage girl: "Do it for me, Jordan. You can do this."
Guy, as Bubba walked up the ninth fairway: "Oh, he birdied the eighth!" Guy next to him: "Of course he did, look at that strut."