The Loop
Overheard in the gallery on Saturday at Olympic
SAN FRANCISCO -- Welcome to Olympic Club, where only two men -- Graeme McDowell and Jim Furyk -- remain under par. A complete U.S. Open experience involves eavesdropping on spectator chatter. Below, some of the nutty exchanges we overheard in the gallery on Sunday.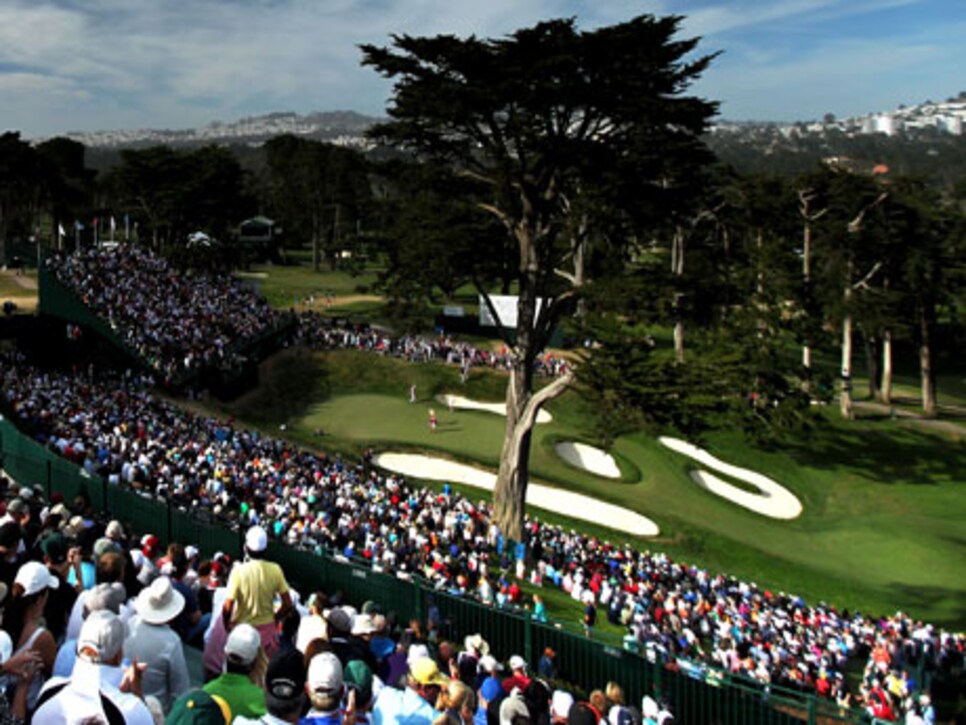 The crowds around the 18th hole were dense all day. (Photograph by Getty Images)
--Spectator, after Nick Watney (who's wearing light blue pants) makes birdie on the first hole: "Baby blue, in da house! FRANK SINATRA!"
--Man: "What's your favorite hole out here?" His buddy: "19th hole, dude. The 19th hole."
--Girl, after cheers near the 11th green: "I'm not even paying attention." Her female friend: "Then why are you here?" Girl: "To look hot. To be seen. To pick up rich golfer guys."
--Sitting by the 18th green, a man looks at the scoreboard and notes that David Toms bogeyed the 14th: "That's a pisser."
--Spectator, to his buddy: "When I stand in the sun, I sweat. When I stand in the shade, I freeze my garbanzo off."
--Guy, who spilled his beer on a woman: "Sorry, didn't mean to douse you there. Just pretend it's Chardonnay."
--Spectator, as Beau Hossler hits his approach to the 18th green: "BEAU! Take me to the prom, BEAU!"
--Man, to his buddy: "I was standing on a long line and a random guy started chatting me up. So I started talking about my garage remodeling. He stopped talking to me."
--Man, after Tiger knocks in a par putt on the 11th hole: "Let's go Bucks!" Another spectator: "He went to Stanford." Man: "Yea, but my dad went to Ohio State. So that's my reaction when I get excited."
--After Tiger hits approach onto the 12th green: "Tiger's a friggin' teacher. He teaches every hole."
--Noting the lack of red numbers on the scoreboard by the 18th green, man says, "Bro, that board needs to start bleeding. Moving day without blood is boring."
-Girl, to her female friend: "What's up with your hat?" Friend: "I just bought it, didn't want my scalp to burn. Do you like it?" Girl: "It's fine." Friend: "FINE?!" Girl: "Chill." Friend: "But this matters to me. This is my fashion show."
--Man watching marshals and police trying to stop spectators from crossing in front of the third green: "Shoot 'em! Shoot 'em all!"