The Loop
Overheard in the gallery on Friday at Augusta
AUGUSTA, GA. -- Welcome to Augusta National, where a 14-year-old and a 53-year-old were providing many of the headlines on Friday. A complete Masters experience involves eavesdropping on spectator chatter. Below, some of the odd exchanges we overheard in the gallery during the second round.
After Fred Couples, Dustin Johnson and Branden Grace walk off the first green: "Go, Freddie! Get 'em, Dustin!" Nearby man: "Nobody's talkin' to the other guy."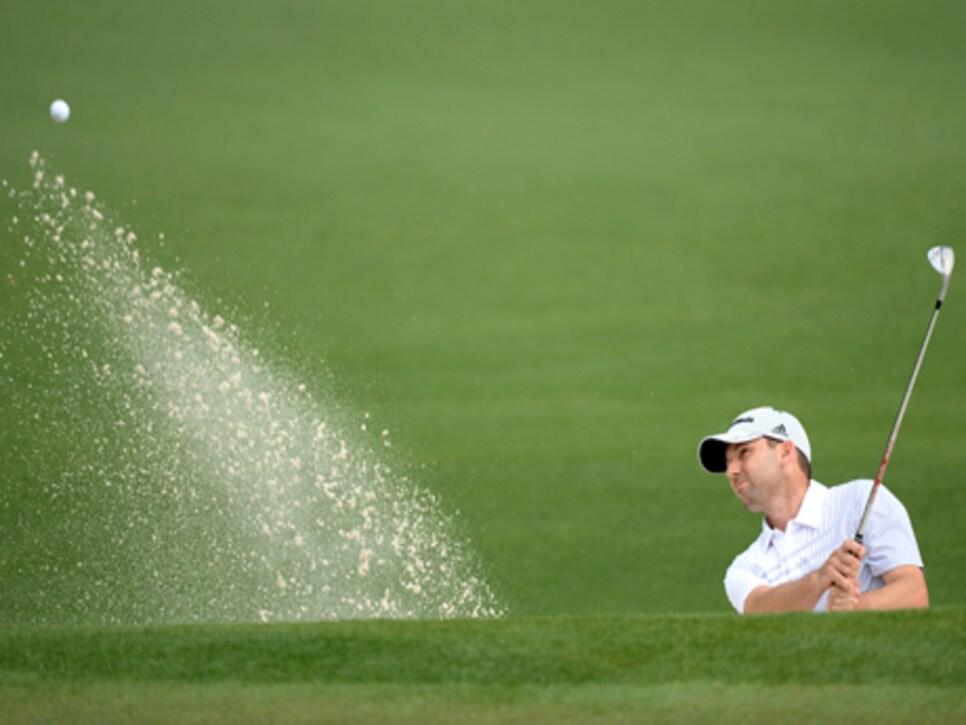 Sergio Garcia escapes a greenside bunker on the second hole. (Photo by Getty Images)
As Sergio Garcia sets up to a greenside bunker shot on the second hole: "You got this, Serg. C'mon, baby." Man next to him: "You know he can't hear you, right?"
After Dustin Johnson slices his second shot on the par-5 second hole: "His girlfriend, Paulina, keeps him up too late at night."
Man, to another, after Johnson hits his approach from the third fairway to the second green: "You would NOT have stood there if I'd been hitting." Other man: "You got that freakin' right."
After Sergio Garcia reacts to a poor shot from the fairway bunker on the par-4 third hole: "Heeeeerrree we go."
One woman, to another, as they watch a bird peck at some pine straws: "Do you think that tiny little thing knows he's at Augusta?"
As Immelman walks off the tenth green: "Maybe we should just follow him through Amen Corner, then stay there. Die there."
Man, to friend: "Ian [Poulter] didn't go with the spiked-hair look today." Friend: "I miss the spikes."
Man: "These are cool trees, Steph. They're Banyons, I think." Steph: "Tiger's about to putt, and you're talking about Banyon trees?"
After Tiger hits it near the gallery ropes on the left side of the tenth hole: "I'm gonna be on TV!"
Guard, to me as I stood just three feet from where Tiger's ball came to rest on the tenth hole: "Wanna know the quickest way to get kicked outta here? Yell, 'You 'da man!' or 'Get in 'da hole!'" Me: "So, you'd really kick me out if I yell that?" Guard: "You're damn right I would."