The Loop
Overheard in the gallery Friday at Augusta National
AUGUSTA, GA. -- Welcome to Augusta National, where Bubba Watson forgot this course is supposed to be difficult. A complete Masters experience involves eavesdropping on spectator chatter. Below, some of the odd exchanges we overheard in the gallery during the second round.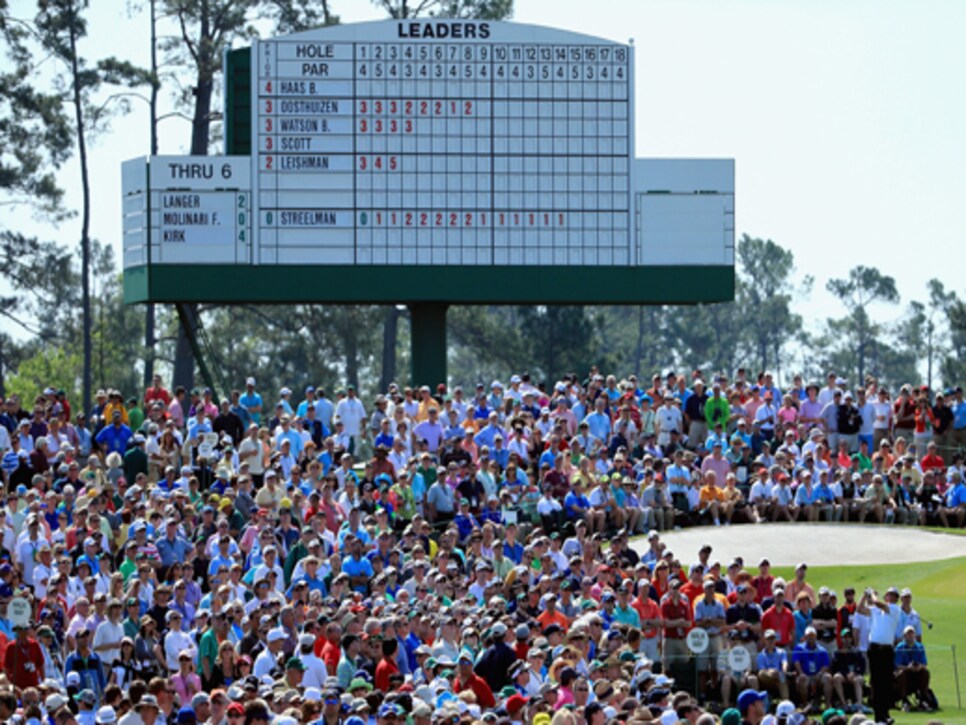 Patron, after watching Phil Mickelson, Ernie Els and Justin Rose tee off: "Well, what now?" Patron's friend: "Sandwiches, beers and cigars."
Guy, while watching Russell Henley swing an iron to loosen up on the first tee: "Hey John, we might wanna tell him to use a driver, this isn't a par 3."
Patron, while watching Lee Westwood prepare to hit his first tee shot: "His spikes match his shirt. Unbelievable."
Guy, about Fred Couples: "Freddie's got a gut goin' on." Guy's friend: "Who cares, I still wanna be him."
Guy who was chasing his egg-salad sandwich with a cold beer: "Hot day-umm, this is one quality breakfast."
Same guy, while pointing out two blondes who'd just walked by: "I'm observant, I take it alllllll in."
Patron, as he arrived on the grounds: "I like following the guys who are all over the joint." Friend: "Sergio's in this group." Patron: "Now that's what I'm talking about!"
Luke Donald's drive heads way into the trees on 10, but kicks out left into the fairway. One patron: "That looks like my drives." His friend: "And it sounds like mine."
Patron, about amateur Chang-woo Lee's pants: "Unless those are parachute-stretchy, they can't be comfortable." Friend: "We're all lucky Stadler isn't in a pair of those."
Patron: "Is he [Chang-woo Lee] an amateur?" "Who?" "Mr. Tight Pants."
Woman, after watching Rickie Fowler step onto the first tee: "He cut his hair. ... I miss his wings."
As Graeme McDowell and Fowler speak on the first tee, patron asked: "I wonder what they're talking about." Friend responded: "Trust me, it's nothing interesting."
"What do I need my cell phone for anyway? It'd either be my wife bugging me or an email from work. It's nice to not deal with either of 'em. I'll be back to it tomorrow."
Guy, watching Garcia play the 18th hole: "Now's the time to take a leak, Sergio's about to hit."
Patron, to me: "Whatcha got in that notebook?" (I didn't tell him the truth.)