The Loop
Overheard in the gallery at the 2016 Open Championship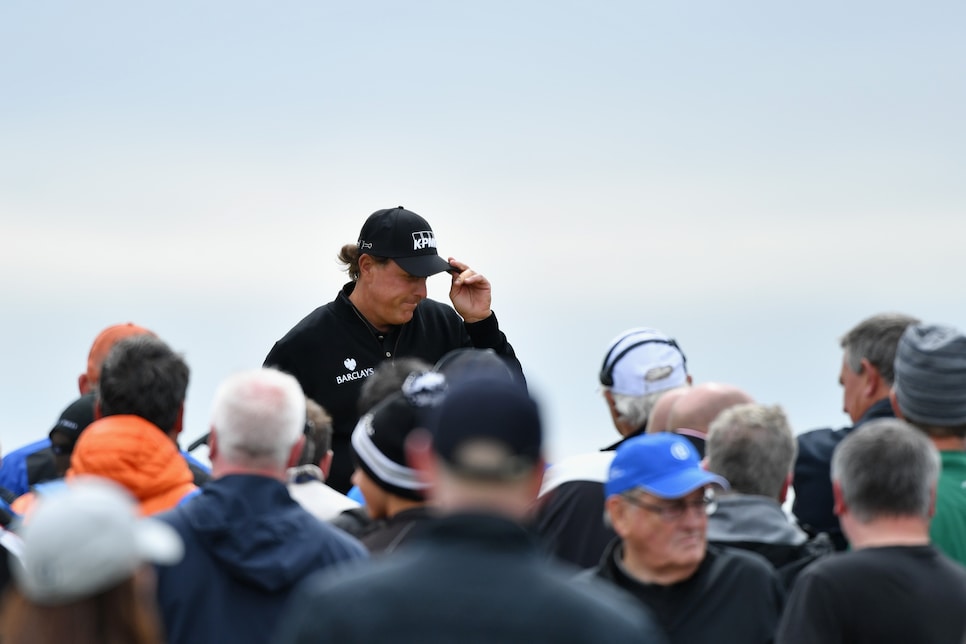 TROON, Scotland -- British Open. Open Championship. The Open. Whatever you call it, we've been all in for this final round turned singles match between Henrik Stenson and Phil Mickelson at Royal Troon.
Some of us are not fluent in the Scottish accents heard over here. So in our pursuit of eavesdropping on spectator chatter, we couldn't understand about half the funny things we heard. The laughter afterward made us wish we could understand. But nonetheless, there was enough amusing chatter following the last couple groups on Sunday at the 2016 Open Championship to amuse us. Here's our top selections.
Guy to friend: "We have to go see the Postage Stamp now that we're here. It'd be like going to China and not seeing the Great Wall." His friend: "You really compared one of man's modern marvels to a golf hole didn't you?"
Guy taking a selfie video as Beef walks past on 2nd fairway: "This video might break social media."
Guy to friend: "You try and anticipate the best place to stand and invariably it still doesn't work out." Friend: "Story of my life, mate."
Before birdie putt at No. 4, fan beckoning to Jim "Bones" Mackay: "C'mon Bloody Bones, just move an inch so I can see your man hole this putt." Promptly, Bones moves just enough distance for the fan to see the hole: "Proper move. I knew I liked that guy."
Guy coming out of the bathroom: "I've perfected the art of peeing and holding my beer with the other hand. Actually that was 20 years ago. They call me a master pisser now."
Guy standing near spectator village: "I recall being here in 2004. Even the smarter of the Americans didn't know Todd Hamilton."
Guy after seeing Phil use the facilities: "Oh, don't take it out on the toilet, Phil. Hope he's quick in there." After Phil comes out 30 seconds later: "There he is. Looking a bit lighter."
Guy, after Paul McGinley walks past a couple, turns around and asks the former Ryder Cup captain to take a photo with him: "I'm too lazy to run back there, sorry babe," his girlfriend yells from 25 feet away. A random person has to snap it.
Fan: "How much you wanna bet Phil has some side action on this match?" His Friend: "I bet he'd bet you on that bet."