The Loop
Overheard in the gallery at Oak Hill
ROCHESTER, N.Y. -- Welcome to Oak Hill Country Club, where guys are taking advantage of a soft, defenseless golf course. A complete PGA Championship  experience involves eavesdropping on spectator chatter. Below, some of the odd exchanges we overheard in the gallery on Thursday and Friday.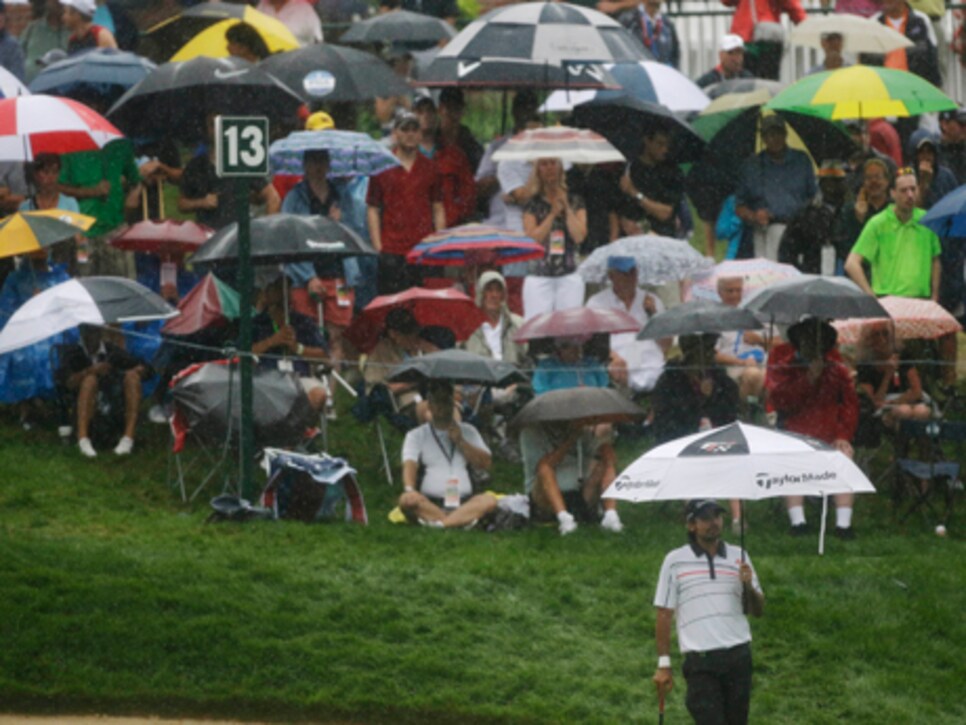 Spectator about Jason Dufner, as Dufner walks up to the 18th green: "I just love how boring he is."
Spectator by 18th green, to Hunter Mahan: "Have you changed many diapers?" Hunter looks at him, nods, and says, "Yes I have."
Man watching Tiger Woods walk up to the 11th tee box: "I can see his abs thru his shirt." Man's buddy: "I have that problem all the time."
Spectator, to Craig Sager, an NBA reporter for TNT: "Little more work than basketball, eh? GOLF IS A SPORT!"
Spectator who notices a gallery forming around a golf ball on the left side of the 18th hole: "That's gotta be Phil. Justin and Adam don't miss it like that."
Spectator, as Phil approaches his ball in the trees, on the left side of the fairway: "We have big trees in Rah-chesta, Phil!"
After Tiger smiles while walking down the fairway, spectator turns to the guy standing next to her and whispers, "Look, look, look...he's smiling."
Frustrated woman, to her two sons: "I'm ready to kill your father. But let's go, boys. Let's have a good day."
Man who probably contradicts himself all the time: "He's probably gonna let it release to the hole, kinda like a flop shot."
Man after watching Dufner leave his birdie putt for a major championship-record 62 two feet short: "Who leaves that short?"