The Loop
Overheard in the gallery at Merion
ARDMORE, Pa. -- Welcome to Merion Golf Club, where the world's greatest golfers are struggling to make pars. A complete U.S. Open experience involves eavesdropping on spectator chatter. Below, some of the odd exchanges we've overheard in the gallery on Thursday and Friday.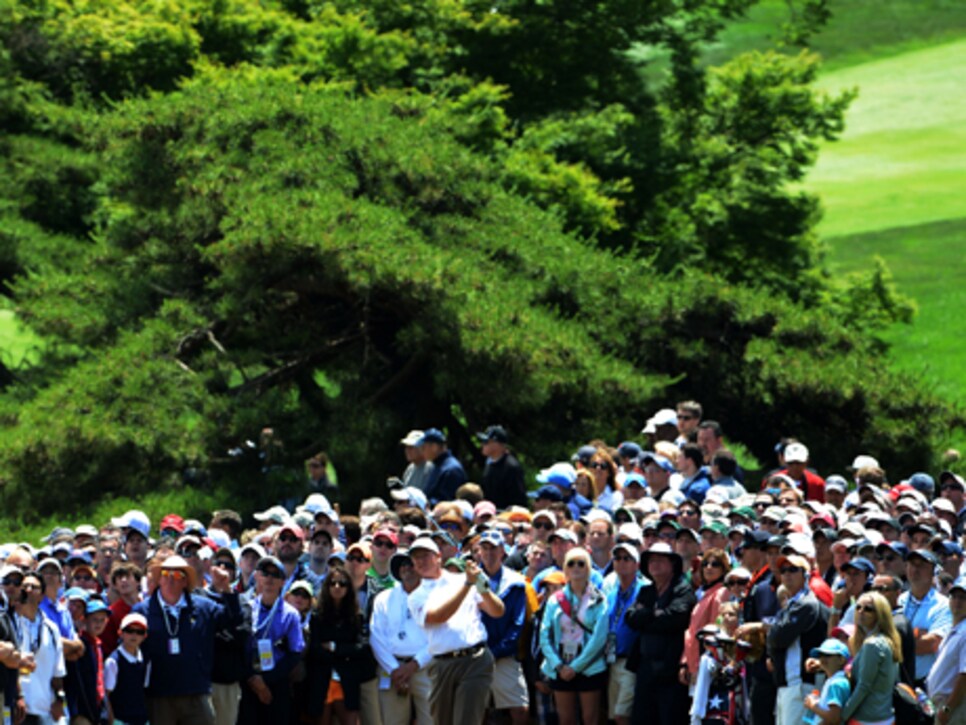 (Photo by David Cannon/Getty Images)
When Sergio pushes his approach on the par-4 15th, spectator yells, "It's Tiger's fault!"
Two golf carts get grounded in the mud by the ninth tee. When the drivers step on the gas pedal, mud splatters up and covers nearby spectators. Woman: "So. Gross."
As Thongchai Jaidee ungracefully steps over muddy crosswalk, spectator says, "He looks like a really bad ballerina."
As a guy runs through mud to watch Tiger, he slips and falls. When he gets up, he says, "Ugh, Tiger won't ever know my sacrifice."
After Tiger hits his approach close on the par-4 16th (first round), guy says, "That looks kinda like my shot." Friend replies, "I think he's been watching your golf."
As spectators get antsy to walk across the 16th fairway, one guy yells, "Who CARES about Thorbjorn Olesen, let the galleries GO! We're the ones who paid to be here, damn it. Everyone should start yelling, aggressively."
Another spectator, during that wait to cross the 16th fairway: "Release the HOUNDS!"
Woman, while trekking through mud: "Flip flops were a bad idea."
Man, analyzing Tiger's 6-footer from very, very far away: "It's a little left to right. If he drips it down he'll make it."
Spectator, noting the gallery has started walking to the next hole: "Yea, these people know Tiger has already sh*t the bed on this hole."
After Adam Scott's approach to the par-4 15th (second round) hit the green, then rolled way down to the fairway, guy says, "That's an 80-yard false front!"
Remarking on Tiger's 166-yard approach shot, spectator says, "That's a soft 8 with my new dy-no-MITE irons."
Man, watching Phil Mickelson walk down the 14th fairway: "Phil, you're taller in person. I dig it."
Spectator, after Mickelson knocks his approach onto the 15th green: "Is Phil not the greatest?" Spectator's buddy: "I actually think I'm in love with that man."