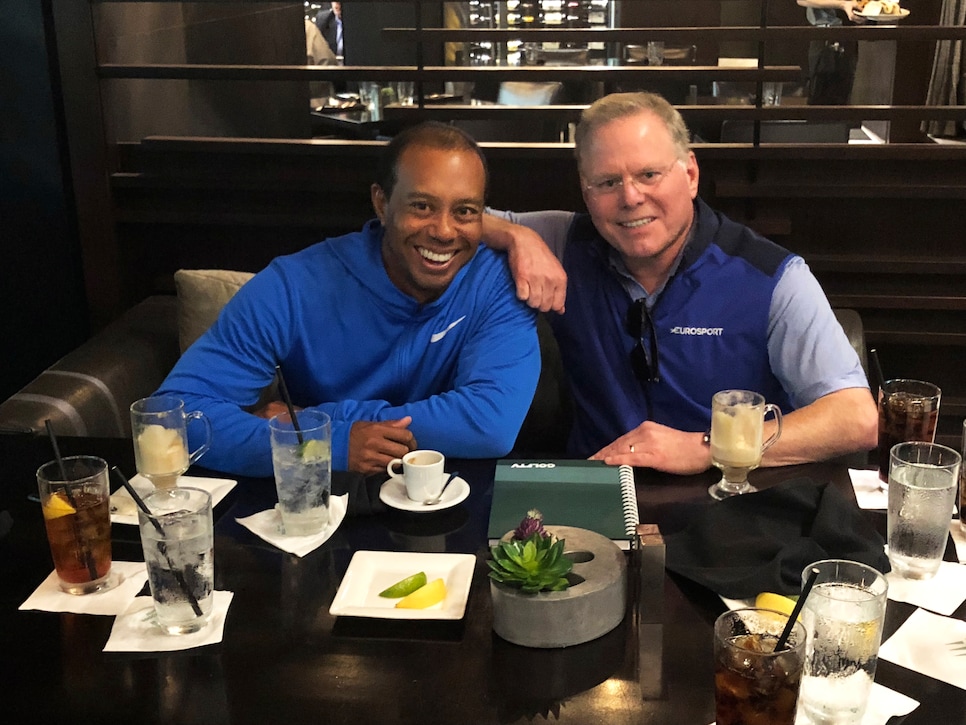 As I sat down to write your letter this morning, my phone pinged with an email from Nick Cutler, the managing director of Australian Golf Digest. "I have fielded calls from all the governing bodies down here. All very positive," he wrote. Ten o'clock last night, our international editor, Ju Kuang Tan, texted from Singapore: "The synergies are mind-boggling!" At 4:59 a.m. ET, Golf Digest Ireland editor Linton Walsh sent: "Outstanding partnership!" Back home in New York yesterday, Graydon Carter emailed: "You lucked out in a big way, Jerry." Our columnist Jim Nantz said it best in an email: "Thrilled to see the future of GD in the hands of some folks with the financial wherewithal and distribution to make it bigger and better than ever."
My favorite headline on the hundreds of stories appearing in newspapers and websites worldwide was written by Digital Editor Sam Weinman: "Golf Digest sold to Discovery, Inc., joins GOLFTV to create global editorial powerhouse."
That's right. The media company that brings you Animal Planet, HGTV, Food Network, Science Channel, Oprah Winfrey Network, MotorTrend and dozens of other outlets for passionate audiences of superfans around the world with content that inspires, informs and entertains now owns Golf Digest.
Maybe not such a surprise, because last year Discovery spent $2 billion to acquire the international rights for the PGA Tour in 220 markets, added the European Tour and the Ladies European Tour, and launched GOLFTV, a streaming service on all devices outside the United States. Discovery signed an exclusive content partnership with Tiger Woods to produce deep-dive instruction and interviews in video before and after his rounds on tour, then added as a contributor Francesco Molinari, the Open champion and 10-time winner from Italy.
Golf Digest became the natural next acquisition for what's called Discovery Golf—we have the strongest and most authoritative content in the U.S., already the largest digital golf audience (nine million unique visitors in April), and 18 licensed partners in almost 70 countries. We give Discovery Golf an American base and the rich content of how to play, what to play and where to play, powering the growing international engine. And we'll partner with the PGA Tour in a broader content and marketing relationship.
"Golf Digest is a world-class brand that has become the 'go-to' authority for millions of golf enthusiasts, professional players and global advertisers," says David Zaslav, president and CEO of Discovery, Inc. "It's a natural strategic fit with Discovery's goal to be the leading golf media platform in the world."
Heading up Discovery Golf as president and general manager is Alex Kaplan, who formerly held senior positions at the National Basketball Association and DirectTV/AT&T and led Eurosport Digital for Discovery. "We're offering something unique, whether you're a fan, player, viewer, brand or advertiser," Kaplan says. "We're using the strengths of Golf Digest and GOLFTV to establish a global editorial powerhouse delivering content across all platforms for millions of golf fans around the world."
So what's it mean to you, our loyal Golf Digest reader? For one thing, your print magazine will continue. The content on all our delivery systems—from GolfDigest.com to the Golf Digest Schools and our social channels—will be enhanced and improved with increased investment. You'll get more for your money: More journalism, great reporting and writing; more access to the game's top players and teachers; and better user experiences as we improve our digital technology and take the game to you on a more personal level. Plus, once again, we bring you Tiger.
"I couldn't be more excited about Discovery's acquisition of Golf Digest," Woods says. "It gives Discovery and GOLFTV an amazing platform in the U.S. for me to tell my story to the fans and make my partnership with Discovery even stronger. The power of Golf Digest combined with Discovery's vision of powering people's passions is great for the game of golf."
And you get the whole Golf Digest editorial team, because we're continuing with the new company and adding to our ranks. I'll also take on responsibilities for global strategy and content for Discovery Golf and GOLFTV, so if you have ideas to grow the game worldwide, join the team and email me your thoughts (editor@golfdigest.com).
We've had a great run of 18 years with Condé Nast, but I knew Golf Digest had found the right new home when David Zaslav told me he made his first hole-in-one the weekend before the Masters—an omen not only for Tiger? But what sealed the deal was when Alex Kaplan called in for his first staff meeting from St. Andrews, where he had shot 92 that day on the Old Course playing with his father (who shot 93) on a buddies trip across Scotland.
It's good to know: We're among friends.