MASTERS OF PATERNITY
The World Invitational Father & Daughter is now a major
There are three steps to a perfect father-daughter golf experience: One, when she's 7, you abandon your dream of her LPGA career. Two, when she's 10, you accept three holes and a cart ride as a complete round of golf. Three, when she's a teenager, you invite her to travel to Ireland to play in the World Invitational Father & Daughter Tournament. Which is when all the toys fall from the tree.
"I remember walking down the fairway at Waterville having just seen Maggie hit a great shot," says Joe Morrison, a West Coast toy-company executive, "and I'm thinking, God, that girl over there that hit that shot is my kid!" Banking executive Haig Ariyan, who has taken two of his four daughters, calls it "one of the top-five experiences in my life."
In the universe of family golf, the 26-year-old World Invitational Father & Son is a major. Its eight-year-old sister, also a best-ball Stableford competition, is close to also being perpetually oversubscribed. It's an opportunity, as one dad puts it, "for a daughter to see her father in his native habitat" and for a daughter to come to love the game he lives for. Cost: about €3,000 per team for air transport, three days of golf, accommodations, a gala dinner and hours of "sing-songs" at the local watering hole.
When Irishman Marty Carr launched the Father & Son to honor his Hall of Fame father, Joe, and to promote the family travel business, heavy hitters like Dan Marino, Dan Quayle, Tom Fazio and a few Hall of Fame cricketers and snooker players made it an early success. A spectacular venue, Waterville Golf Links—and a commitment to genuinely Irish good times—helped. Marty has two daughters and no sons, and a good friend has three daughters and no sons, so they got creative. "I said, 'Marty, you and I are not going to have any sons, and I don't want to wait till my daughters marry, plus I don't know if I'll like the guys they marry,' " says Jim Layden, a West Coast financial exec. "So we started it."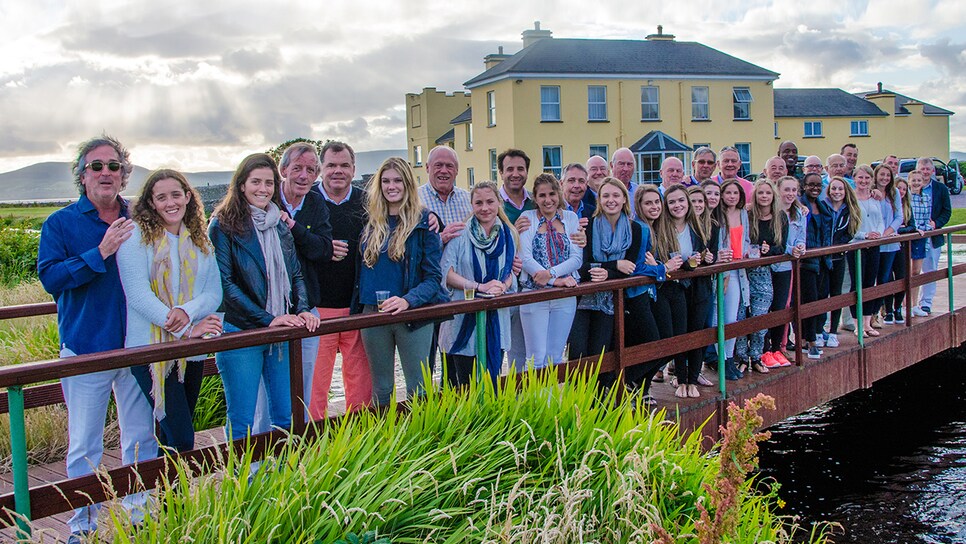 The Father & Daughter has been contested at world-class sites like Doonbeg Golf Club and Old Head Golf Links, and Waterville will host in 2016 (July 25-27).
Morrison has played the tournament twice with Maggie, who had the opportunity to investigate Irish culture and report back.
"At Old Head, one girl was getting married a few weeks later, and she wanted to go out and meet her caddie that night, but the pubs were closed," Maggie says. "There were about seven of us. So we heard this noise and discovered some secret underground club. And when that closed, we went back to the hotel and sang 'Girls Just Want to Have Fun' to all the dads."
Which is the part the dads remember.
MORE FROM THE FAMILY ISSUE
• Just for Fun: Nick Price and son Greg go low-key in a father/son challenge.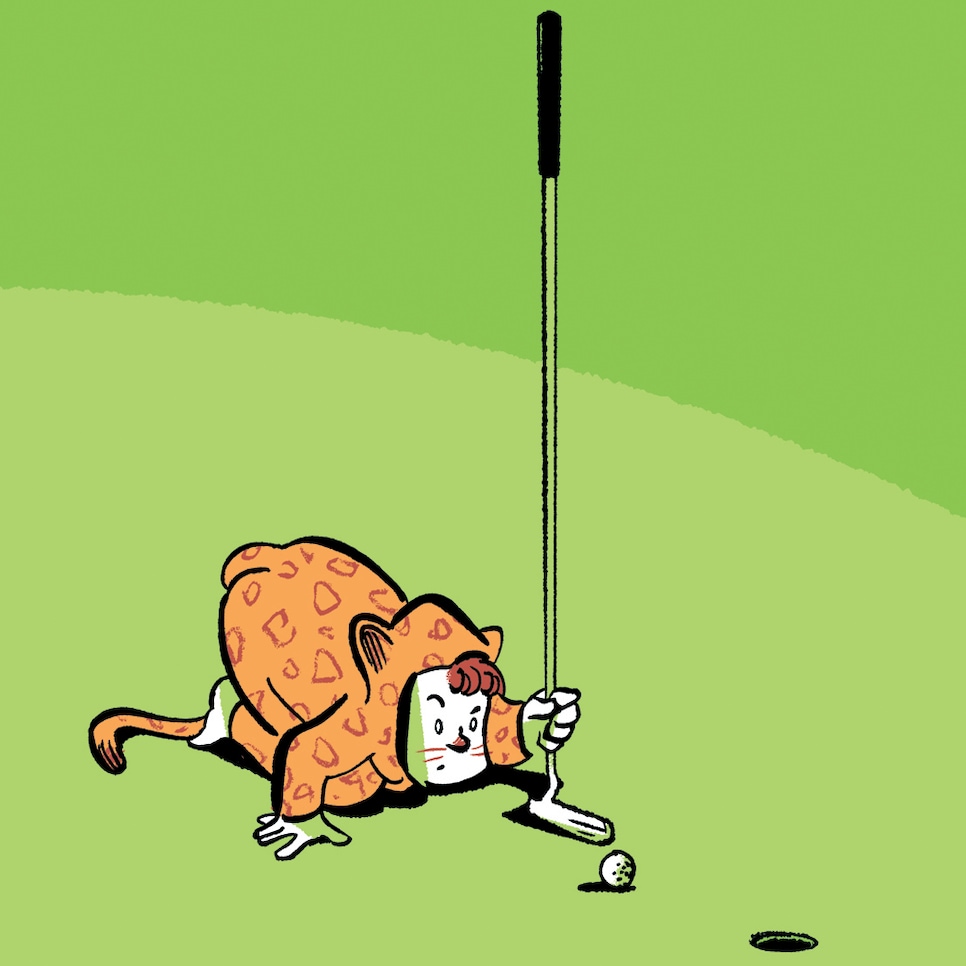 You don't have to be Earl Woods to start your kid early. Plenty of new programs exist for tots who just want to try the game.
Urban Golf Academy runs classes in Manhattan's Central Park for kids as young as 2. "Too much youth coaching gets too serious, too soon," says Kate Tempesta, the founder. "Until age 7, and even later, kids best learn physical skills through play and fantasy." Her students swing at balloons, call putters magic wands and pretend to be lost balls hiding in the rough. "Backswing? Stand sideways to a target? Those can be very overwhelming concepts."
If your kid is mature enough for the classroom, an after-school program like TGA Premier Junior Golf might be a great fit. Kids hit balls indoors if necessary, and delve into the history and science of golf. Enrollees start at 5 but go as high as 13. It's in 19 states.
Want camaraderie? The fast-growing PGA Junior League is like youth baseball. Kids wear team jerseys, and the scramble format keeps all abilities involved. Teams are coed, but your daughter can check out girlsgolf.org for exclusivity.
Why begin a hard sport so early? "Because golf ties into everything you want to nurture," Tempesta says. "It empowers on physical, social, emotional and cognitive levels. It's the fulcrum of the whole person experience." —Max Adler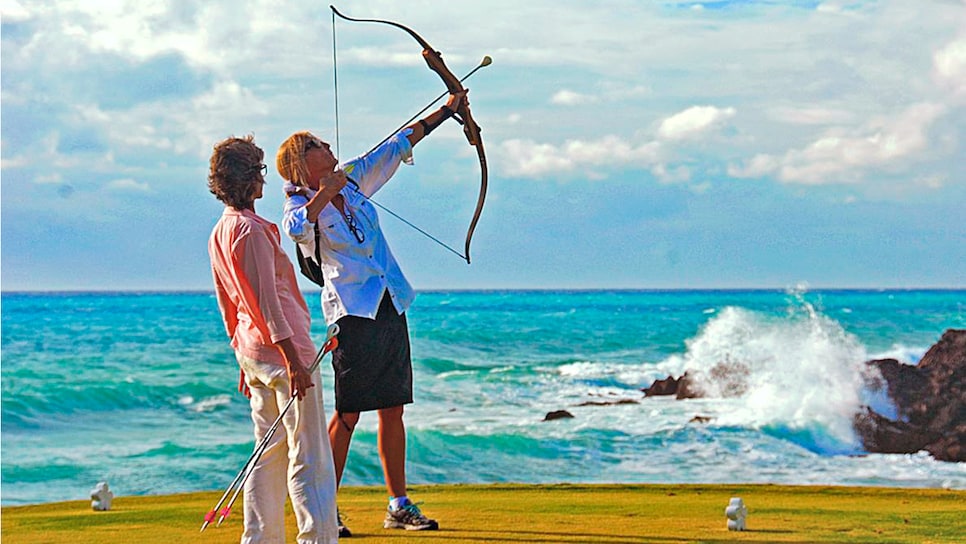 Is there someone in your family you can't convince to try golf? Maybe a different sport will lure him or her to the course.
AeroGolf co-founders Victor Bond and wife Judith Kunzlé offer the thrill of archery with a round-tipped "Aero" that can fly more than 200 yards and won't damage greens. Launch it with any bow­ (except a crossbow), controlling distance by your angle of release and the length of the draw on the bowstring, until you reach the green. There, score according to proximity to the cup, or putt out. There's no hooking or slicing, so pace of play is quick. Mauna Kea Golf Course in Hawaii typically sees nine-hole rounds completed in 90 minutes. On the mainland, GlenArbor Club in Bedford, N.Y., is licensed to offer AeroGolf and has hosted events where the game was required on a designated par 3. "We're always looking for something new to get people fired up about golf," head pro Brian Crowell says.
Another option is FlingGolf. Founder Alex Van Alen was a lacrosse player and thought the throwing motion would be a fun way to move a golf ball around a course. Van Alen says most people are course-ready after 30 minutes. Like AeroGolf, the max distance is around 200 yards, the pace is fast, and there's no bag to lug. Once on the green, roll the ball out of the basket, or use a notch on the side of the stick to glide the ball like a hockey pass. Woodstone Meadows Golf Course in Virginia logged more than 1,500 rounds of FlingGolf in 2015. A word about any alternative golf option: Always check with the golf shop to make sure it's allowed. —Keely Levins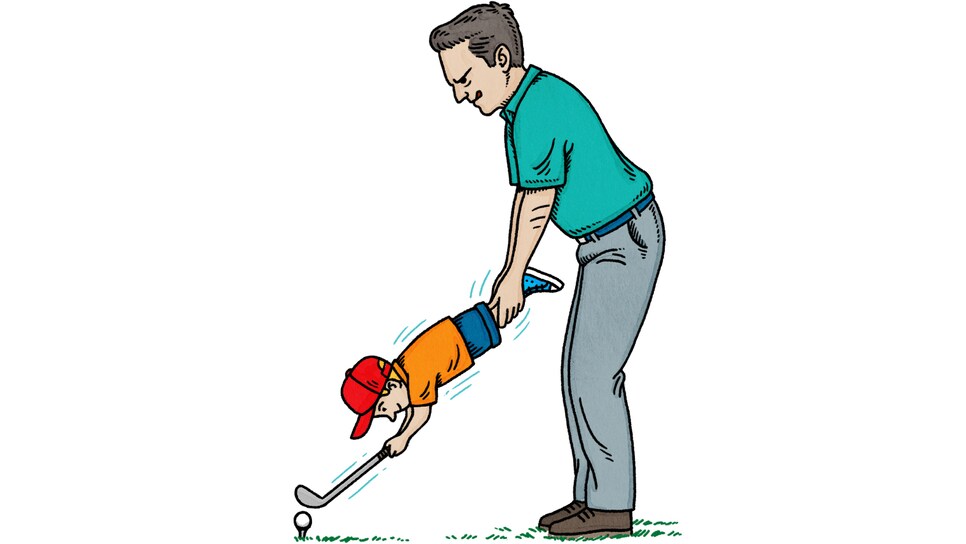 THE SEVEN IMMUTABLE LAWS OF BUYING YOUR KID CLUBS
1) If you do only one thing right, take the time to get junior a decent wedge with a soft flex shaft and proper grip size. Nothing breeds confidence and enjoyment like getting good with the short game. So make sure the putter fits, too.
2) Five clubs is plenty to start. One wood, a high-lofted hybrid (22 degrees or more), a 7-iron, wedge and putter will provide enough distance gaps so your offspring can always take aim at the range picker.
3) Other than the putter, there's no reason for any club with less than 15 degrees of loft. At least until your youngster is reaching greens in regulation. Not a bad rule for you, either.
4) Fit by height, not age. U.S. Kids Golf founder and CEO Dan Van Horn says a driver that stands taller than two inches below the sternum encourages bad swings and less fun. That applies to golfers of any age, so Dad might want to reconsider his 46-inch driver, too.
5) Too heavy is just as harmful as too long. As Ping's Bill Iseri says, "It's better to have your child grow out of clubs than grow into them."
6) If your son's or daughter's first set costs more than a quarter of what you paid for your irons, it's either too much or you need new irons.
7) The brand-name golf balls of their heroes are fine. Get junior a Sharpie pen and have him mark his just like the pros do. But if he starts signing visors, make him weed the garden.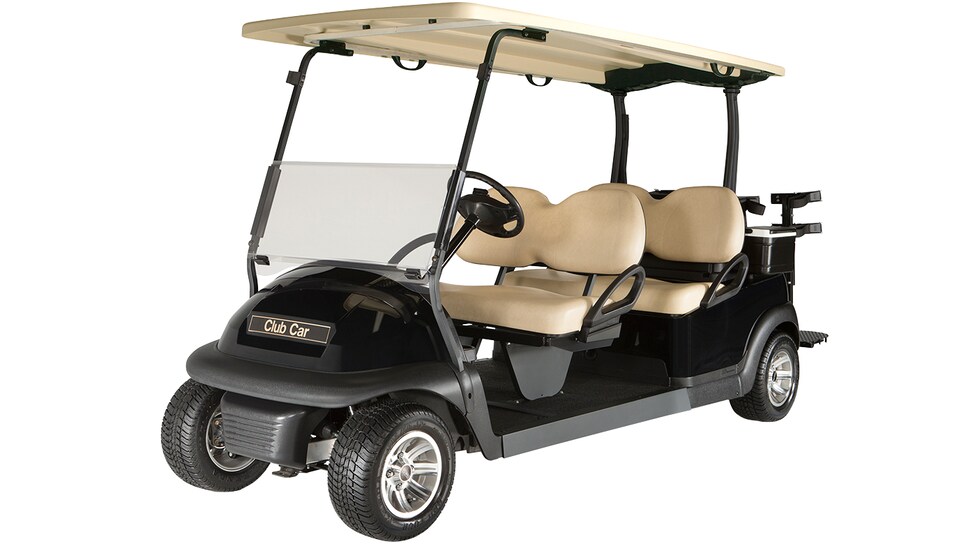 Bringing children to the course seems like a great idea. Until you've got two groups stacked behind watching little Jimmy take his fourth practice swing as baby sister picks dandelions from a bunker. No matter how golf-savvy your kids might be, keeping a group of short-legged humans moving can get difficult, especially on not-so-walker-friendly layouts. A new golf cart from Club Car—the 4Fun (above)—helps streamline family play. Club Car has sold these carts to more than 100 courses­—public, municipal and private—in less than two years. "It's been a tool to engage families to spend more time together at the golf course," says Brian Stewart, head pro at Bright's Creek golf course in Mill Spring, N.C., where families regularly call in advance to reserve the cart. "It's been a home run for us," says Gary Murphy, head pro at Innis Arden Golf Club in Old Greenwich, Conn. "Our members are fighting to sign up and use it." In addition to shepherding little ones, the cart is great for parents of teens who aren't quite old enough to drive, as well as nongolfers. "Even if you're not playing," Stewart says, "you can ride along and be part of the experience." —Stephen Hennessey
KATE TEMPESTA'S BIRDIE-ISMS
MAGIC SHOES: Kid won't keep her feet still? Have her stand on leaves or paper without letting them escape.
TUG OF WAR: Kid holds the club like it's a broom? Grab the clubhead and tell him to pull the other end.
HANDS ARE BEST FRIENDS: Kid still split-gripping like it's a hockey stick? This phrase will move those hands together like Harry Vardon's.
BOW TO THE KING: Posture issue? If your kid has seen "The Lion King," this will get her properly tilting at the waist.
CHEETAHS AREN'T GOOD GOLFERS: Everyone knows cheetahs aren't good golfers because they're too fast.
Golf offers tons of little lessons, but like so many things, you can blow it with a bad presentation. What you say to your child can provide a great start in the game, or lead to a childhood playing Grand Theft Auto with that kid down the block who never comes outside. —Peter Morrice
ETIQUETTE
Say this: Golf is about respect and sportsmanship, so keep quiet when someone's hitting.
Not this: Ask Uncle Joey what happens when some jackass in Myrtle Beach talks in your backswing.
DISAPPOINTMENT
Say this: The good and bad bounces will even out in the end.
Not this: There's no sense getting pissed. The fact is, nobody cares what you shoot.
SAFETY
Say this: Operating the cart requires careful attention and sound judgment.
Not this: Sure, grab the wheel. Dad could use two hands for these drinkies.
HONESTY
Say this: Play the ball as it lies, and count every stroke.
Not this: Roll one damn ball over, and they call you a cheater for life. In the end, the only people who'll play with you are your kids.
We asked 1,200 Golf Digest readers about hitting the road with their kin and clubs, or at least those who lived to tell about it. All in all, good memories. And we'd bet you scored points at home for not making it a buddies trip.