News
Our 8 favorite British Open pairings
The R&A announced the pairings for this week's Open Championship at Royal Birkdale on Monday. And though 156 competitors are teeing it up in Southport, a handful of groups and players stand above the rest. Here are eight interesting pairings to watch on Thursday and Friday.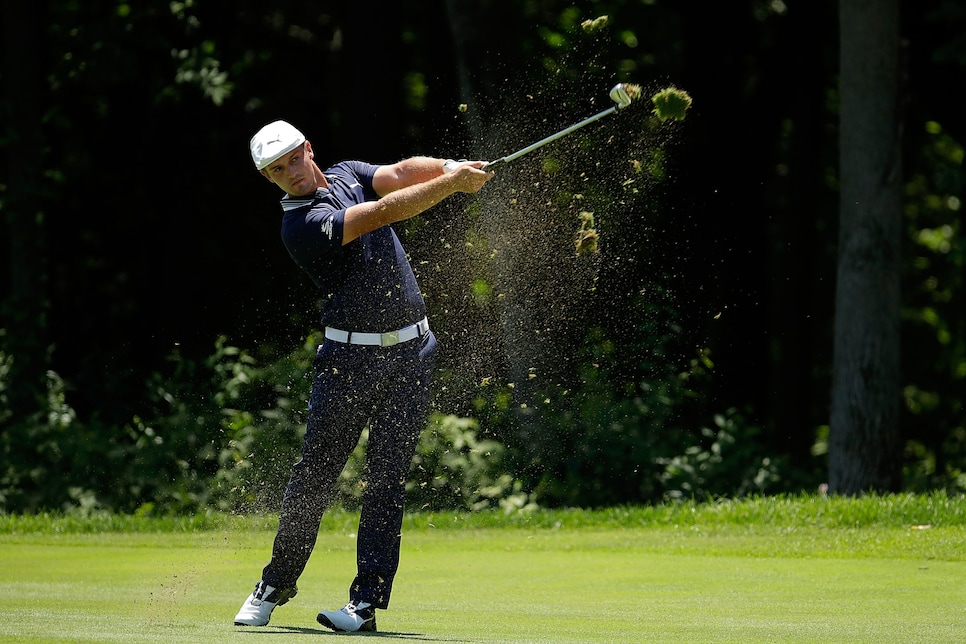 2:52 AM: Jason Dufner, Bryson DeChambeau, Branden Grace
The Duf doesn't have much of an Open track record to speak of, with zero top 20s in seven appearances. But Royal Birkdale is markedly flatter than other venues in the championship's rota, one that has catered to better iron players in the past. Coupled with his sound 2017 campaign, don't be surprised if there's a Dufner score board sighting.
Same goes with Grace. He's seen a precipitous drop in the world rankings since last year's Open (10th to 35th), yet he's shown signs of a turnaround, with four top 15s in his last six outings. Grace has posted four top 5s in majors since 2015, standings spurred by his approach game. While his flatstick continues to give him fits (129th in strokes game: putting), Birkdale's slower, relatively tranquil greens shouldn't pose too much of a problem.
And, for all the varying, fervid opinions on DeChambeau, it's worth remembering that A) 14 months ago it was the Scientist, not Jon Rahm, that was the fledgling superstar receiving hyperbolic praise B) before his breakthrough John Deere Classic win, he turned in a formidable string (T-26/T-17/T-14) of performances C) he's just 23 years old. He likely won't be a contender in his Open debut, but his recent hot streak makes DeChambeau a curious watch this week.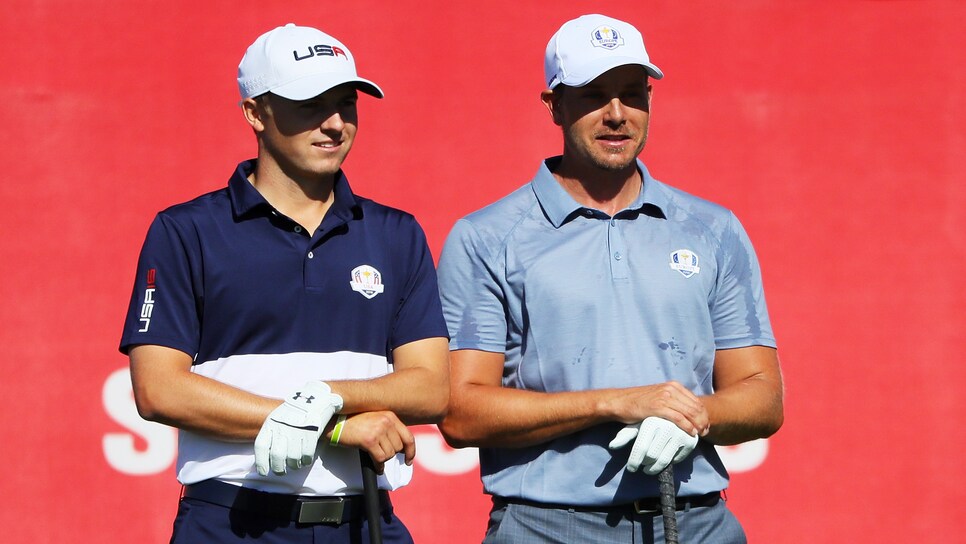 4:47 AM: Jordan Spieth, Henrik Stenson, Si Woo Kim
Because of the aforementioned level terrain, some are tempering Spieth's chances, citing wins at Augusta National and Chambers Bay as proof the Texan plays better on undulated ground. While he does excel in such settings, it's not like Spieth struggles in other environments, evidenced in ranking first in strokes gained: approach this season. For whatever reason, there's been a general overlook -- one could argue disrespect -- towards Spieth the past year, ridiculous given he's won 13 times as a professional at 23. A victory at Birkdale -- a triumph that would edge him oh-so-close to the career Grand Slam -- would take this contempt to the woodshed.
It's been feast or famine for the defending Champion Golfer of the Year: in 13 appearances in 2017, Stenson has five top 10s with four missed cuts and a WD (including no-shows at the Masters and U.S. Open). However, he did finish T-3 the last time Birkdale hosted the Open and showed signs of life last week at Dundonald Links. Though he's flying under the radar heading into Southport, Stenson deserves to be on the short list of contenders, especially if the weather turns rough.
As for Kim, he failed to make the weekend in 11 of his previous 16 tournaments before winning the Players Championship. Since Sawgrass, he's missed the cut or withdrawn in four of five outings. If he grabs the claret jug, it will officially be the weirdest season on record.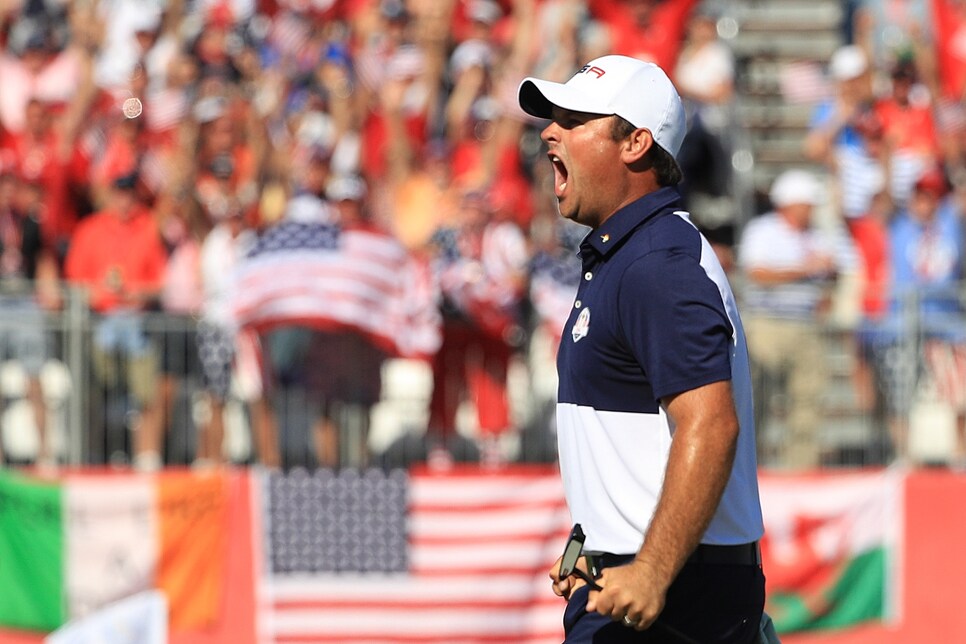 PGA of America via Getty Images
9:59 AM: Jon Rahm, Patrick Reed, Lee Westwood
If Rahm wins, it's a coronation. If Westwood comes on top, he rids himself of the notorious "Best Player to Never Win a Major" label. If Reed is victorious -- and does it in his Ryder Cup gear -- it might re-ignite the American Revolution. Any three of those scenarios come into play Sunday, we got ourselves a helluva tournament.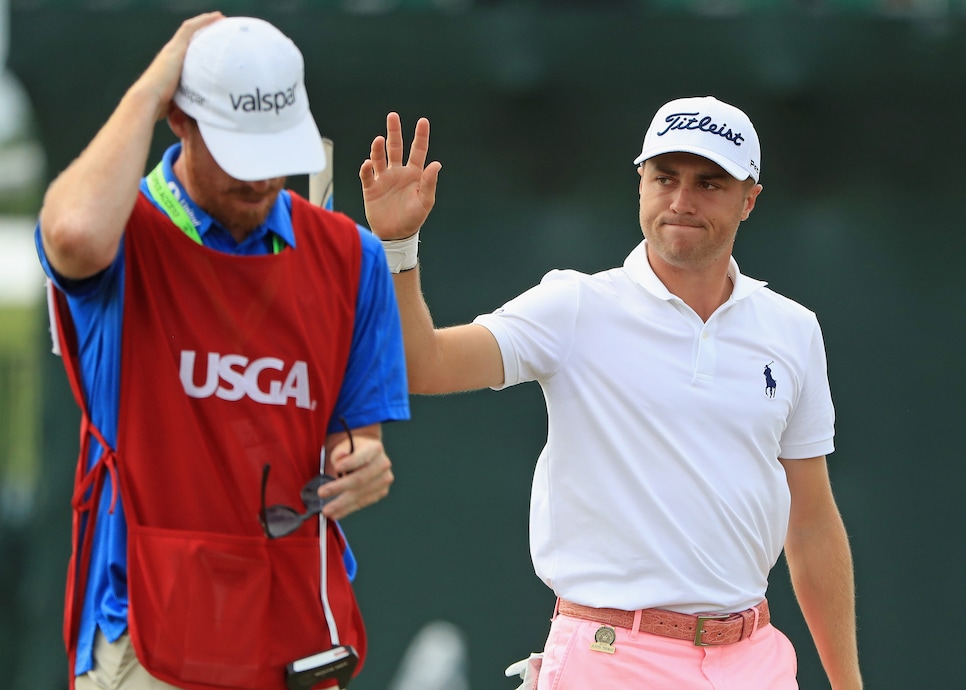 4:58 AM: Justin Rose, Louis Oosthuizen, Justin Thomas
Oosthuizen and Rose have worse Open records than you think. Outside of St. Andrews ('10 win, '15 runner-up), Shrek has been a non-entity (zero top 15s, four MC, WD), while Rose has just a solo top 10 since his legendary showing as a 17-year-old at Birkdale in 1998. They're receiving heavy gambling action, but bettors beware.
Meanwhile, Thomas enters at 40/1 odds, somewhat surprising considering he's won three times this season and was in the final-round hunt at Erin Hills. Though his recent subpar outings at the Travelers and Quicken Loans might give hesitation, both his birdie average (first) and strokes gained (ninth) results show Thomas has the game for an Open setup.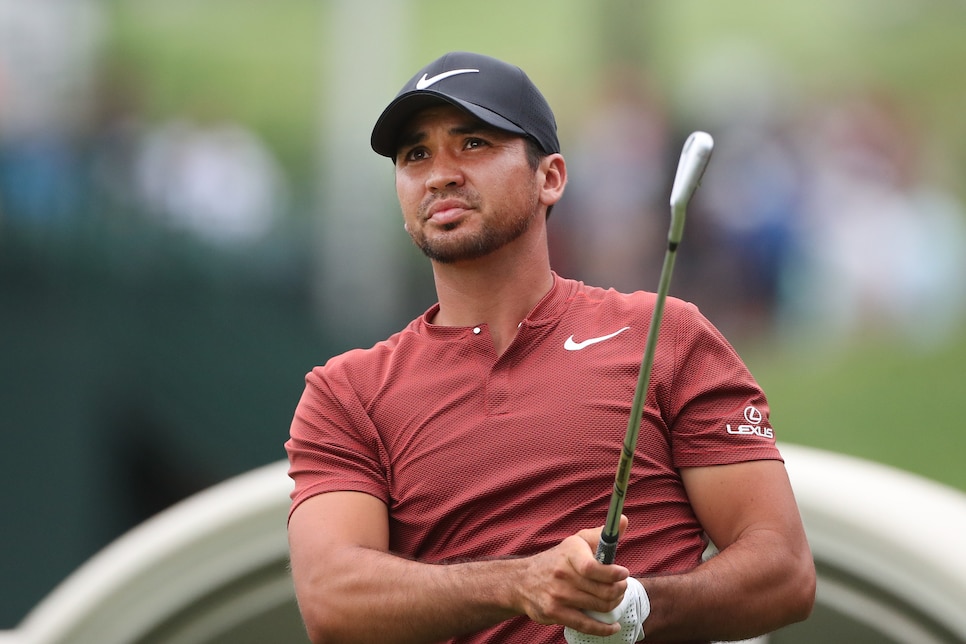 8:04 AM: Zach Johnson, Sergio Garcia, Jason Day
Garcia is getting married in two weeks. We're not worried about divided attention; Garcia's mind is on golf and golf only this week. Rather, if Garcia wins, what do you get that couple for a gift? Fine china doesn't catch the eye when sitting next to a green jacket and claret jug.
Only fools misconstrue Johnson's St. Andrews victory as an aberration: he's finished T-16 or better in five of the last six Opens. Throw in another commendable performance at last week's John Deere Classic -- and the notion that the Open favors veteran players -- Johnson and his 85/1 odds have all the makings of a tempting dark horse pick.
Speaking of dark horse, let's see what fanfare greeted Day upon touching down in Europe:
Day's game hasn't inspired much conviction as of late, and second shots have never been his forte. But if he can keep his tee ball in the short stuff -- an issue that's plagued Day this season (150th in driving accuracy) -- Birkdale shouldn't pose too many problems for the Aussie.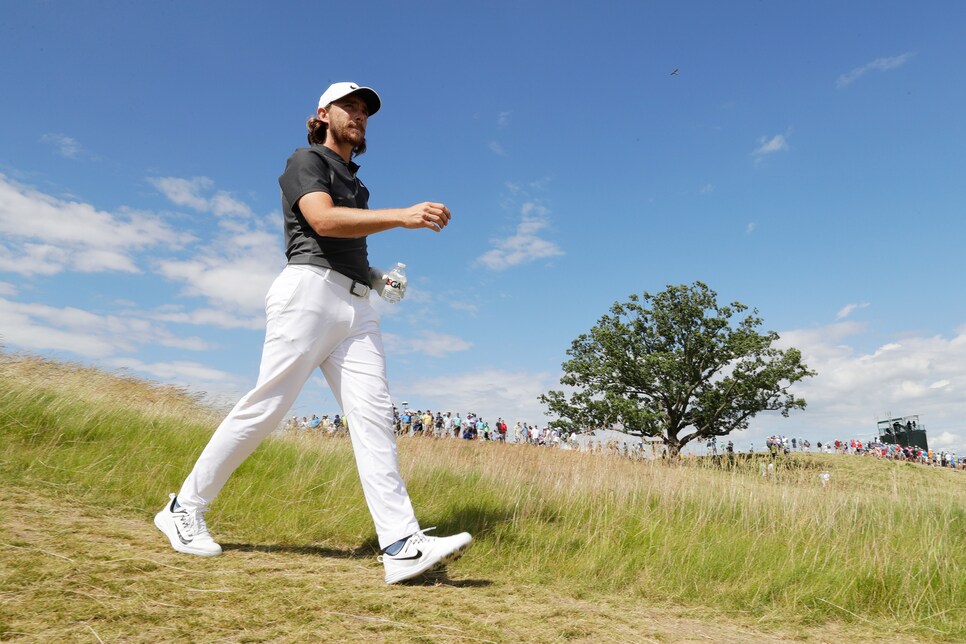 5:09 AM: Brooks Koepka, Tommy Fleetwood, Hideki Matsuyama
All of the Fleetwood love is a tad disconcerting. Yes, he's coming in scorching (top 10s in his last four tournaments, including a win at the Open de France) and it's hard not to root for the hometown storyline, but whenever there's universal buzz for a player outside the top 10 -- remember the Tyrrell Hatton push at Augusta this spring? -- it tends to backfire. Hopefully Fleetwood finds a better fate.
One who's not getting much pub is Matsuyama, bizarre in light of a silver medal at the U.S. Open. If you're flaunting the prospects of Spieth and Grace for their iron work, Matsuyama warrants mention as well (eighth in GIR). More importantly, his shaky, borderline faulty stroke (181st in strokes gained: putting!) should be somewhat neutralized by Birkdale's slower greens. If you're wondering when Japan will get its first major championship, this could be the week.
Koepka missed last year's event due to an ankle injury, but does have an Open top-10 finish on his resume. Moreover, his duel dexterity of power and short-game touch are usually conducive to success at this tournament. Alas, the struggles with his irons (147th in strokes gained: approach) give hesitation. Obviously that facet wasn't an issue at Erin Hills (where he lead the field in approach and GIR) but it's something to keep in mind as he makes his first appearance since his U.S. Open conquest.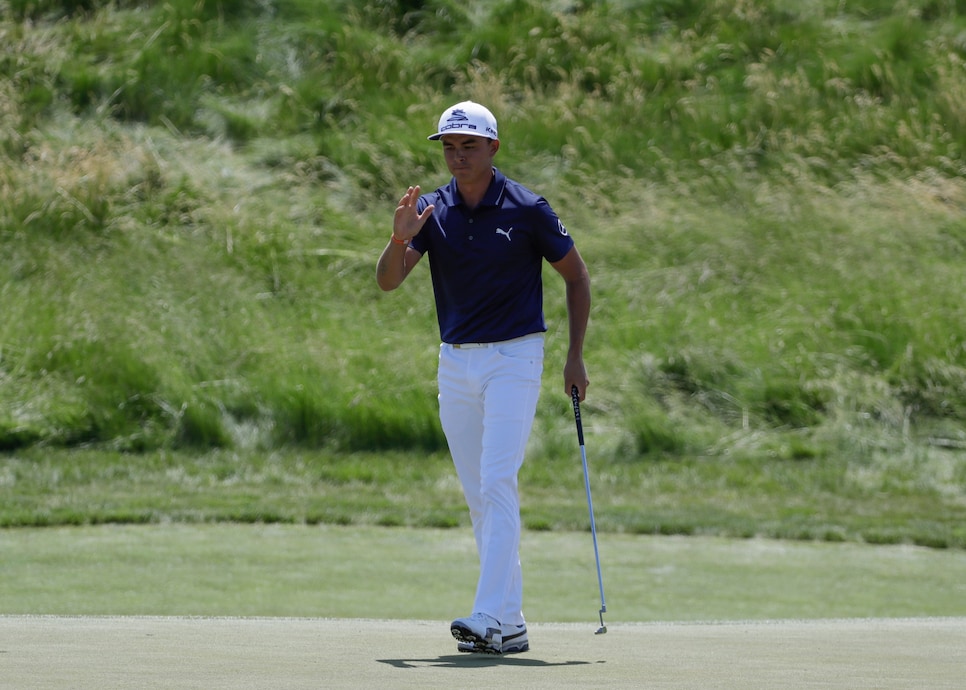 8:26 AM: Rickie Fowler, Paul Casey, Adam Scott
Golf's governing bodies have ruled the seemingly-illegal putting strokes of Bernhard Langer and Scott McCarron are, in fact, within the law. If that's the case, we wholeheartedly hope that Scott dusts off his old long putter and puts it in play this week. The amount of ensuing hot takes would be glorious.
Casey's been consistently solid for 10 months without finding the winner's circle. That's especially true as of late, finishing no worse than T-26 in his last seven tournaments. He doesn't have a ton of hits at the Open, although he did come in T-8 at Birkdale in 2008. Casey's running out of major chances; this might be his best shot to knock that monkey off his back.
How Fowler responds to the media shellacking delivered at Erin Hills could be fascinating. Much of it was gratuitous and unjustified; his Sunday performance wasn't that far off. Likewise, those believing Fowler was satisfied because he didn't wear his frustration on his sleeve is ridiculous and lacks context; Fowler's collected disposition, no matter his play, is rarely altered. Earning his major breakthrough after flirtations at the Masters and U.S. Open would be a nice proverbial "In your face" to his critics.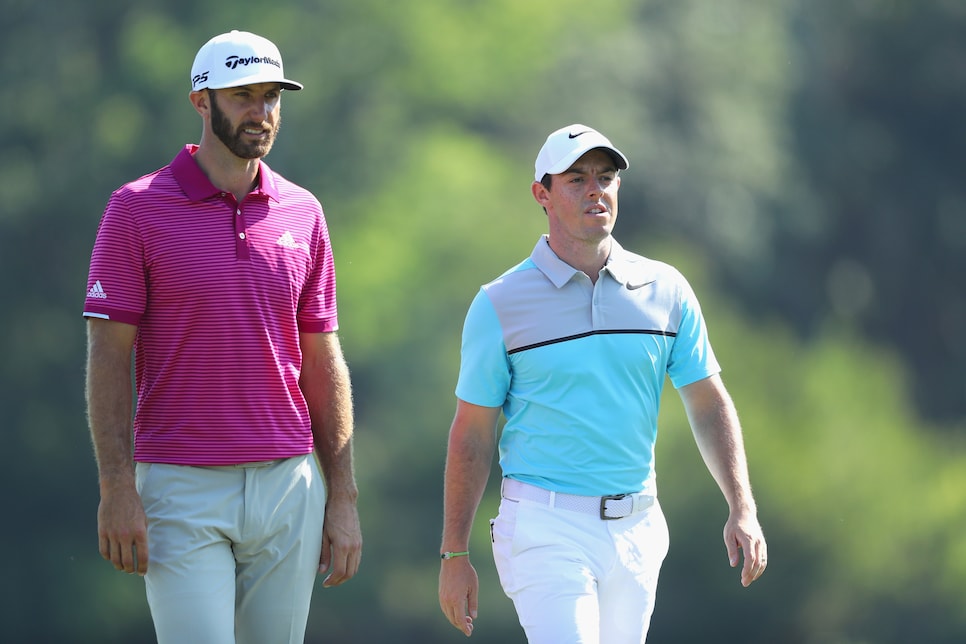 9:48 AM: Dustin Johnson, Rory McIlroy, Charl Schwartzel
Regarding DJ, does he get automatically disqualified from Player of the Year conversation if he misses the cut? Wouldn't it be weird to hand this award to someone who didn't make the weekend in at least three of the year's majors? Or are we the only ones spending time on this hypothetical that likely won't come true? (Silence) Yes, let's move on.
Despite popular belief, momentum does matter in professional golf. Even in this vulnerable state, McIlroy remains one of the most exciting watches in the game, especially at this tournament (2014 win, two other top 5s). Still, be it injury, equipment issues or putting doubt, McIlroy needs to get right, and in a hurry.