Courses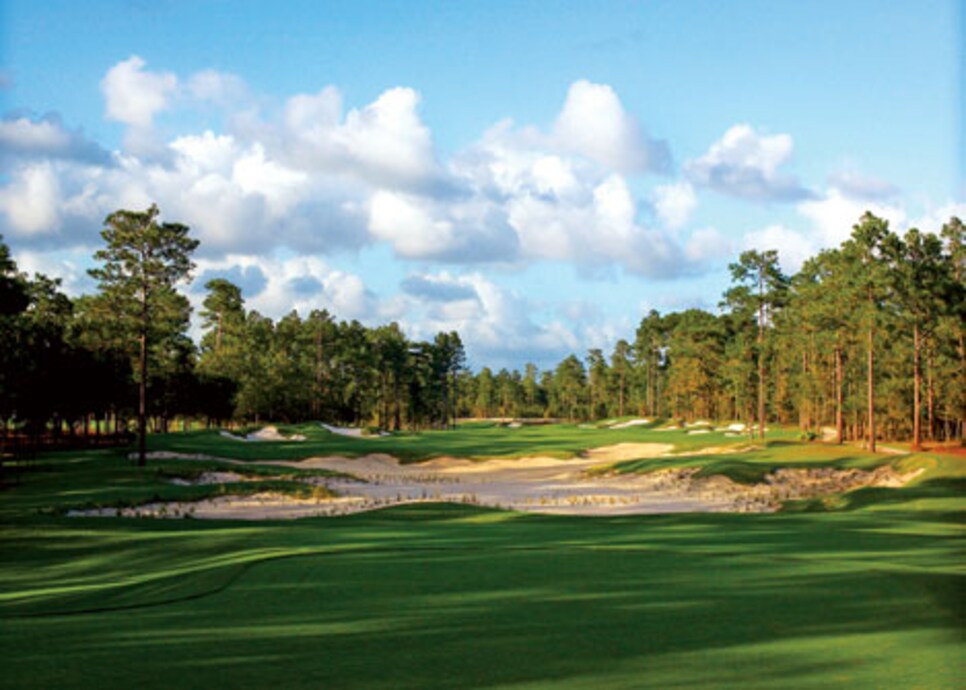 This is Florida? The 18th at Victoria Hills Golf Club, a course with a Carolina accent.
In the home of Tiger and Annika, not to mention Shaq and Shamu, the golf-course development business has been anything but Mickey Mouse lately. There are 123 courses within a 45-minute drive of downtown Orlando. Twenty-five were developed in the past 10 years—and 15 of those in the past five.
The boom in mostly daily-fee and resort courses has made Orlando one of the country's top golf destinations. Many of these new facilities feature residential and rental components, a minimum of 36 holes for the golf enthusiast and other activities such as tennis, water polo, full-service spas and tours for the nongolfer. The variety is clearly aimed at family vacationers and snowbirds who can afford a winter residence in the Sunshine State.
Diversity in design and architects is also a big part of the development. Jack Nicklaus, Greg Norman, Johnny Miller, Tom Watson and Arnold Palmer all have new or fairly new courses nearby, as do Ron Garl and Englishman Howard Swan. Here's a closer look at 10 of Orlando's notable newcomers:
Victoria Hills G.C., DeLand (386-738-6000; $48-$65). Pronounced DEE-land by locals, this town could be considered a bedroom community of Orlando. Like most of the surrounding area, it's rural enough for golf-course developers to take advantage of the natural environment of wetlands and native vegetation in creating typical Florida-style layouts. Instead, Garl created a course reminiscent of those in the sand hills of North Carolina.
Although it's not monstrous by today's standards (6,989 yards from the tips), the course features elevation changes, rolling greens and sloping fairways where uneven lies are common. It's not your ordinary wide-open, grip-it-and-rip-it Florida track. A player who can shape tee shots and approaches has a definite advantage at Victoria Hills.
The Ritz-Carlton G.C. at Grande Lakes, not yet rated, Orlando (407-393-4900; $105-$195). This is easily one of Norman's best routings. It begins by heading into the natural woodlands and returns to the clubhouse only at 9 and 18. There is, however, a spacious flow to its 7,122 yards and a links feel on the closing holes, which are totally exposed to the wind.
The course, which opened in July 2003, has five sets of tees, generous landing areas and greens with subtle breaks. They are among the best-conditioned in the area and also feature chipping areas, giving the player various options. Tiger Woods owns the course record with a 64. If you prefer walking, there are single- and double-bag caddies available for an additional $25 plus gratuity. A "caddie concierge" (forecaddie) is assigned to each group of cart riders. Typically they get a tip of $15 to $20 a player.
Reunion Resort Club Independence/Legacy, not yet rated, Celebration (407-396-3195; $115 for resort guests). This resort opened last November as an upscale facility like the highly regarded Grand Cypress resort, catering to guests who can afford to pamper themselves. The golf is pretty good, too.
As Watson's first Florida course, one might expect Independence to reflect the five-time British Open winner's affection for links golf. Not so. It's closer to the traditional parkland style, with wide fairways and large greens. At 7,147 yards from the back tees, the top challenges are hitting it far and avoiding the numerous fairway bunkers.
Because it runs through pristine natural-preserve areas, Legacy, a 6,876-yard Palmer design, has a little more character and beauty. Both courses are extensively landscaped, detracting a bit from the natural setting.
The resort is another of the new breed of one-stop shopping, self-contained facilities. When completed it will have up to 8,000 varied accommodations, as well as a conference center, playgrounds, parks, horse stables and a restaurant district. Kind of like a Mini-Me version of DisneyWorld.
Harmony Golf Preserve, Harmony (407-891-8525; $35-$135). For a golf course in the center of an 11,000-acre conservation community, Harmony favors the style of aggressive play synonymous with its designer, Johnny Miller.
The course stretches to 7,428 yards from the "Miller'' tees, including a 625-yard par 5, and has a course rating/Slope of 76.1/136. Fortunately for the average hacker, there are four other sets of tees and a great mixture of holes, including the tidy, 160-yard 17th. The hole plays over water to a tricky green with several dangerous pin placements.
Construction on Harmony the town and Harmony the golf course began concurrently a couple of years ago. The community incorporates existing wildlife and wetlands and includes two 500-acre natural lakes with the best bass fishing in the area. The town is "dark-sky'' compliant, meaning the artificial lighting shines downward to avoid attracting migrating birds or those seeking to disturb the peace.
Eagle Creek G.C., not yet rated, Orlando (407-273-4653; $40-$110). From its New England manor clubhouse to its Scottish- style bunkering, Eagle Creek brings a little old-country atmosphere to new-school golf: forced carries, peninsula greens and wide-open fairways. The par-73 course does distinguish itself with Mini-Verde greens (a more vibrant and resilient TifEagle Bermuda hybrid) and five par 5s, but this Garl-Swan collaboration won't be mistaken for Royal Troon.
The 17th, which plays 195 yards from the back tees, features a green with water on three sides and three bunkers (two of the pot variety) just over the bulkhead. The prevailing wind is left to right, a nightmare for slicers, as if they needed another one.
ChampionsGate International/National, not yet rated, ChampionsGate (407-787-4653; $65-$170). Norman designed two distinct courses here. International, site of the Office Depot Father/Son Challenge the past two years, is a links-style layout with deep bunkers, waste areas and mounding on either side of the fairways, and some thick, gnarly rough. National is a traditional American-style parkland layout with native vegetation, rolling fairways and greens. Both have closely shaved areas around the greens and favor bump-and-run shots.
Check out the National's drivable par-4 16th (315 yards from the back, 255 from the blue tees). A risk-reward beauty, it's all hazard from tee to green. The prudent play is a layup to a fairway running parallel to the hazard, then a short-iron approach.
Mystic Dunes G.C., Celebration (407-787-5678; $120-$165). Champions Tour player Gary Koch, who doubles as an on-course television reporter, created this interesting, dramatic layout from native wetlands within a few miles of Disney. "Mystery Greens'' might be a more appropriate name for a course that boasts some of the most treacherous putting surfaces in the state. So extreme is the mounding on the front-right portion of the green at the 379-yard ninth that a pin placement there is impossible. The green at the reachable (510 yards) sixth hole has a six-foot drop from front to back. Less-than-deft putters need not apply.
Shingle Creek G.C., not yet rated, Orlando (407-996-9933; $69-$119). Before Shingle Creek, conventioneers had to mark off an entire day to get in a round at nearby Grande Pines Golf Club and Hawk's Landing on the south end of International Drive. With Shingle Creek conveniently located across Universal Boulevard from the Orange County Convention Center, now they can play 18 holes and be back in time for the buffet lunch before the boss even misses them. Although it's no rival to architect David Harman's 45 holes at Orange County National, Shingle Creek is serviceable, challenging (75.1/139 course rating/Slope) and fairly picturesque.
Everyone knows the tried-and-true Orlando theme parks. If you're looking for something a little out of the ordinary, try The Holy Land Experience (866-872-4659), a living museum that takes visitors back 3,000 years to Jerusalem. The Garden Tomb, Qumran Dead Sea Caves and Wilderness Tabernacle are reconstructed in such intricate detail you'll think you're walking within the "walled city" during biblical times. There's also a theatrical presentation and a restaurant that serves Middle Eastern cuisine. It's a great history lesson for believers and nonbelievers alike. Besides, every golfer could use a little divine intervention.
Course ratings are derived from the exclusive 5-star Golf Digest Places to Play scale. A single star represents "basic golf." Five stars indicates "golf at its absolute best." Golf Digest's Best Places to Play guide, based upon the ratings of tens of thousands of readers, is available for $24.95.
Very good. Tell a friend it's worth getting off the highway to play.
Outstanding. Plan your next vacation around it.
Superb. Golf at its absolute best. Pay any price to play at least once in your life.
The equivalent of one-half star.
If a course has no star rating, it means that the course did not receive a minimum of 10 ballots, either because it is very new or simply was not visited by a sufficient number of Golf Digest readers. If you've played one of these courses and would like to rate it, click here.