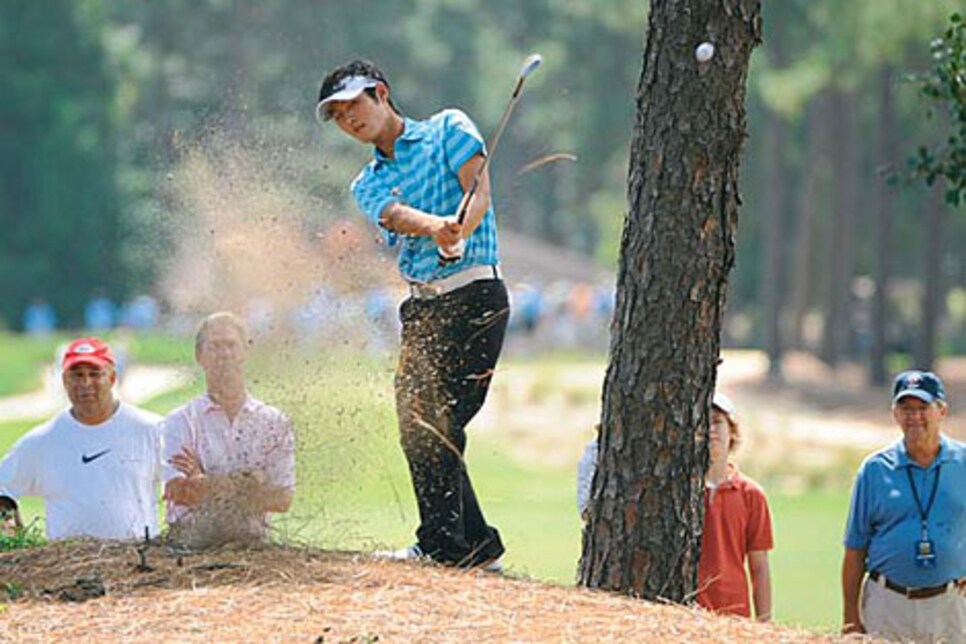 Lee made 13 birdies in the U.S. Amateur final.
Home: Rotorua, New Zealand
He hits towering tee shots and doesn't shy from sucker pins, which makes U.S. Amateur champion Danny Lee fun to watch as he works his way around a golf course, provided you follow one rule: Don't blink or risk missing a potentially memorable shot.
Ask the Golf Channel crews who chased the South Korean-born, New Zealand-raised 18-year-old around Pinehurst No. 2 in August, when Lee became the youngest winner of the Amateur's Havemeyer Trophy, breaking Tiger Woods' record. (Lee was 18 years, one month; Tiger was 18 years, seven months, 29 days.)
"Five Mississippi," said one camera operator on the time he had to sprint from Lee's opponent to Lee to shoot his next swing. "And that's if he's got a bad lie."
Lee's competition also had trouble keeping up with him this summer, the third straight year he traveled from New Zealand to the United States to improve his game. His family moved from Korea to escape its air pollution.
Lee followed top-10s at the Northeast Amateur, Porter Cup and Dogwood Invitational with a victory at the Western Amateur. He then validated it in the North Carolina sandhills, making 13 birdies to beat Drew Kittleson, 5 and 4, in the scheduled 36-hole Amateur final.
"I hoped to improve this summer, but I didn't think I'd do all this," said Lee, whose dry wit and love of cheeseburgers (Steak n Shake and Wendy's are his favorites) helped him fit in with the American players.
So what's with the lickety-split swing? Perhaps it's because Lee's early exposure to golf came not on a course, but at the driving range, taking lessons from his mother, So Jin Seo, a golf instructor.
Thought to be in a hurry to turn pro, too, Lee is slow-playing those plans because he has qualified as an amateur to play in next year's Masters, U.S. Open and British Open. His T-20 at the PGA Tour's Wyndham Championship in August, right before Pinehurst, and his Amateur victory should bring other invitations.