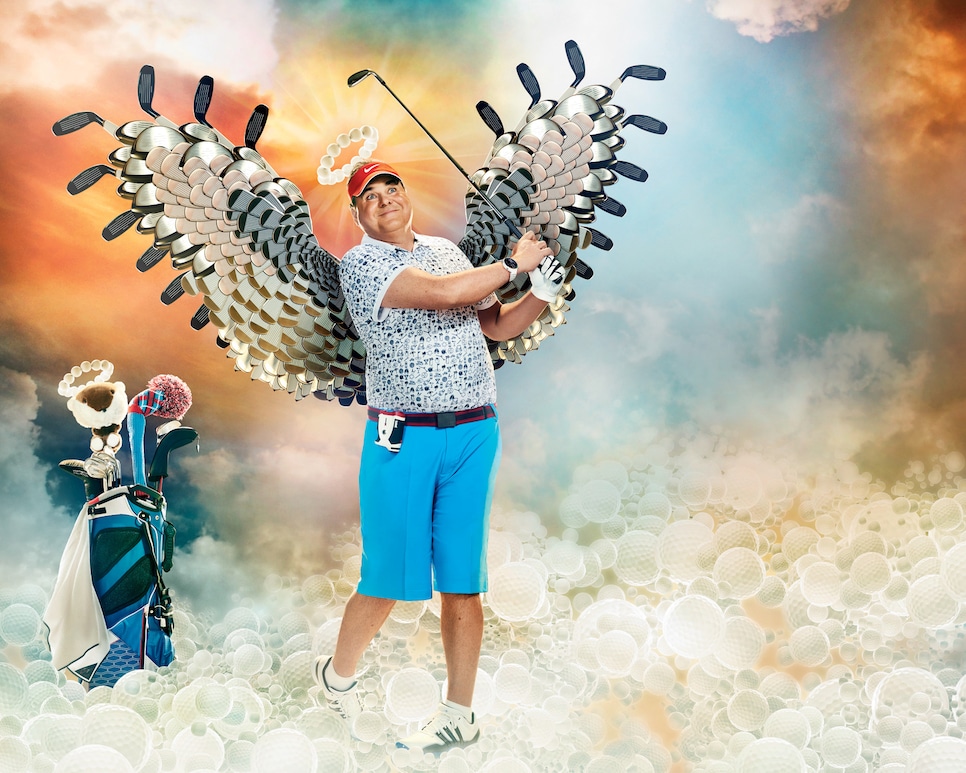 Photo illustration by F. Scott Schafer
It's 9:04 p.m. on a black, black December night in a northeast suburb of Indianapolis. The conditions? Six degrees and windy on the naked expanse of a snow-blown parking lot. Me? Schlepping my golf bag through this arctic mess with a thermos of coffee and a pillow under my other arm.
Ahead, the doors of Golf Galaxy, the 32,000-square-foot superstore, shed a tent of light. The manager, Ryan Foxen, a burly lunk of a guy, was on the lookout for me. I could see him standing silhouetted against the halogen cast.
I crunched toward him, wearing a huge pair of untied farm boots that helped me negotiate the ice. The warm light of the store, the murmurations of color among the racks of microfiber and fleece, felt so inviting that I can only describe the whole place as a giant cup of hot chocolate.
I set down my clubs and shook hands with Foxen. He stuck his key in the lock, looked me up and down, and said: "You ready?" I nodded. He turned the key. Locked in. "Hope you didn't forget anything at home," he said.
I looked myself up and down. Damn it. "I forgot my golf shoes," I said. He thought I meant that I'd left them at home. But they were in my truck. But the doors were bolted and the night had commenced. We both knew I wasn't going back out.
Ten hours by myself in a golf superstore. Ten hours with complete access to every club, ball, simulator, recording device, swing-speed analyzer and accessory in the joint. The full menagerie was mine. Foxen and the store PGA professional, Fred Mattingly, would be on hand, but they vowed to give me plenty of room. And right now, the store was toasty. I rubbed my hands together. This world, that moment, smelled like possibility.
You don't get locked in a store overnight without having some kind of agenda. I'd thought it through for weeks. Test some clubs. Practice. Pause for self-reflection. Switch out shafts on a bunch of different drivers. Hit balls. Drink coffee. Pull irons from 10 different brands. Hit. Set up competitions with myself using my clubs. Hit more balls. Once warm, play a simulated round. Putt like a madman. A thousand putts. Maybe more. Then hit balls again. Try on pants. Maybe a little Mannequin Challenge, and then, hell or high water, find a hat that fits my oversize head.
I spent the first 55 minutes with two Titleist drivers. I hit 94 balls. There's a Titleist driver in my bag, so their latest editions seemed a natural starting point. Perhaps a productive experiment, but it occurred to me that I was ignoring the orgy of privilege my situation offered. I could have taken one swing with every driver in the store and still gone past daybreak. I told myself to get greedy.
At some point, I rigged a one-hole putting contest that went from the front of the store to the back.
The simulator projected a driving range on its screen. Thumping balls into the canvas, like the range dog I am, the mysterious floor-bound machinery recording arc after arc of ball movement on a nearby desktop—this was something like golf. Trying to find a reliable channel through the space ahead. My ball flight is right to left, slightly, before my back gets tight, and my swing gets fast. Then I'm a fader. Sometimes a pretty bad one. Which is how it happened this time, too. Which is probably why they call it a simulator.
Foxen showed me how to change out shafts. The rack in the Titleist bay held 17, all with very automotive-sounding Japanese names. So many choices, one disturbing discovery: I hit the senior flex square on the button. Like a pro. A very, very short pro who eventually started hitting a fade. Now, I'm a 55-year-old guy who can still stack firewood with the best of them. I have a barn! It was too early for one of those whippy senior noodles. I changed shafts three more times in quick succession simply to perish the thought. I wrote it off as an ugly side effect of excess. Or maybe it had something to do with my farm boots.
I hit 80 more balls on 15 combinations, and another 30 minutes dissipated into the night. At 10:55, having brutally swung through the equivalent of two jumbo buckets, I thought: I should try another brand. Fitting bays can be as cozy as a frequent-flier lounge. I'd been sucked in, and there were four more—Callaway, Mizuno, Ping and TaylorMade—all just down the aisle. The possibilities leered. Each space held its own ample rack of heads and bins of shafts. Hundreds of combinations, thousands I suppose. Plus, the floor displays. And eight hours left. I needed to get moving, but I wasn't going anywhere.
That's when I started to treat the night more like, well, golf. Golf is a huge game, played in a massive space, marked by persistent paths, muscular thrusts and purposeful direction. It sometimes feels a bit limitless. By contrast, a golf superstore is a compact paradise of pleasures, built for wandering, browsing, and monkeying around in preparation to buy. I decided that I needed to move with more intention.
But golf, the game, is not limitless, of course. The limit is always time. Ten hours on a summer's day represents 36 holes. It's an ample experience, 10 hours walking the spring-soft turf of a well-maintained piece of earth, but only enough until tomorrow. Consider the disc of the sun, as hypnotic rising as it is receding. There's always an end, a last hole. A full all-nighter had seemed like a lifetime in the planning, but the minute those doors closed, I began feeling time slip away.
I had to get all carpe diem on this thing. If you can call being a pig-in-shit a job, you could say that at 11:30 p.m. I went to work. I putted. In Golf Galaxy, as one might hope of any galaxy, much space is devoted to a putting surface. I chose six holes, 12 balls and 12 putters, ranging from $46 to more than $1,000. And I kept track, to slow myself down, across two hours of contemporary country on the store speakers. Notably, I unboxed a pair of golf shoes about halfway through to give my feet a break. The contest was won by a $325 Italian putter, with which I jammed in 16 one-putts. My own putter came in third by a hair.
At 1:30 a.m., I slipped the shoes off and went about in my socks. A bit too intimate, that. I returned to the fitting bays and tried to slag my way through a complete round on one of the simulated courses. I got through five holes, using two sets of Pings, and the simulator crashed. I set up again and decided to play in a hard rain as punishment for wanting too much. The system crashed again at the fifth.
So: I chipped balls, first in the simulator, then over clothing racks.
I went into the break room and filched a Diet Coke. Sat for 10 minutes of a television documentary on Payne Stewart's plane crash.
I asked the pro if he would re-grip my wedges. It took him less than five minutes, and cost me 11 bucks. I ate somebody's sandwich from the employees' refrigerator.
Just after 3 o'clock, I asked for a clubfitting. Mattingly took me from one bay to the next. By now I had the thermos working. After a mere 40 minutes, I bought a nice set of irons for $890. Normally it takes me two years to buy irons (one to realize how badly I'd failed my current set, another to sniff things out).
But the world of the store seemed so homey and comforting. I fell in love with the idea of simply making good contact. This is where I learned the lesson of QVC shoppers everywhere: The impulse to buy is a creature of the latest late night.
At 3:40 a.m., Mattingly took me back to the putting green, where he tested my stroke using a laser device that sat on the floor at a distance that made me forget what it was. I started putting to it as if it were the target. Mattingly told me three distinct components of correction I needed to undertake on my stroke. It was 4 in the morning, and I cannot remember a single word of what he told me, except that he thought I had the right putter in my bag already. I bragged about the third-place finish in my putting contest against myself.
I then tried on five pairs of pants.
I eyeballed wristwatches. Flasks. Photos of Arnold Palmer.
I tried on 22 hats, only to learn there is n'er a hat in the galaxy (of golf anyway) that sits right on my melon.
I went back to the simulator and hit left-handed. I shoot pool left-handed. I can bowl left-handed. So I had my hopes. But golf is another monster. I comforted myself with the thought that no one had witnessed my festival of whiffs.
At some point, I rigged a one-hole putting contest that went from the front of the store to the back. Initially, it seemed possible that I could get there with one really firm stroke, a little punch with a mallet to lift the ball a couple of inches over the legs of several racks of women's wear and some cardboard displays. Like an epic miniature-golf shot. Terrible miscalculation on my part. The result was a devastated table of energy drinks and a broken thermos.
I got a lesson. Again, I had no memory of it even hours later. Wait, not true: I remember my back. It felt like a suit made of lead. Mattingly is a good teacher, but after 5 in the morning, I just cannot make myself surrender to wisdom. I told the pro then, and I believe it now, that "late-night lessons are really more about the quality of the bourbon."
And along those lines, though sober as a judge, I remember sitting in a folding chair next to the teaching station, asking Mattingly what he usually shot on the store's simulator. He admitted that he'd never played a full round. "I never have the time," he said. It was just after 6 a.m. One hour left. After a night in work boots, borrowed shoes and finally just socks, on a polished concrete floor, my legs refused to let me stand. "Well, you have some time now," I said. "Play a hole or two."
Mattingly parred the first. Bogeyed the second. He urged me to join him. I begged off. He got to the turn at level par and proceeded to shoot a full round in something like 24 minutes. Amazing speed. Compact movement. He never moved more than a few feet from the tee. By the 16th hole, I could see he was having fun. He brought it home with two birdies in the final three holes for a two-under 70.
Somewhere in there, I got my pillow. Eight hundred and thirty full swings, somewhere around 1,200 putts, $901 spent, with 22 minutes remaining. Surely, my time had come.
The doors would soon be open.