The Loop
One man's half-baked prediction: Your PGA champion will be the hero you—and golf—needs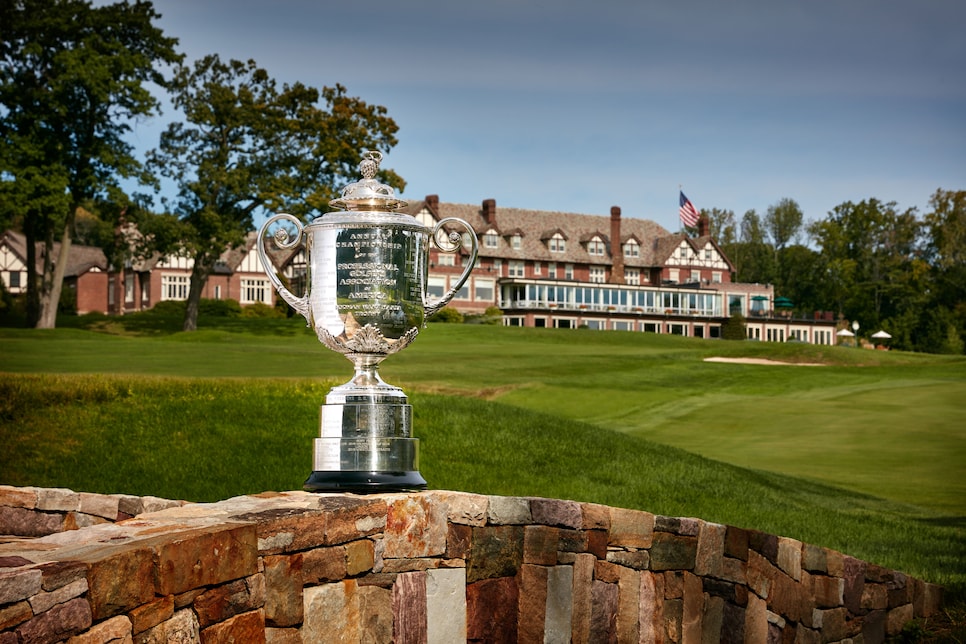 Just as Bonnie Tyler's strained vocal chords once pleaded amid the pounding drum machines and woo-woo-ing backup singers while Kevin Bacon chicken-raced a tractor across the dance-starved Oklahoma farm fields, I, too, need a hero.
Despite the most exciting and engaging phalanx of young golfing talent in the game's recorded history, despite the most intriguing collection of supporting elements in all facets of the industry from interactive television broadcasts to driving ranges that double as singles bars, despite having our national leader embrace the game whole-heartedly, golf seems mired in a malaise of indifference and indecision and inaction. At this very moment, golf is poised to take hold as a global game with its first appearance in the Olympics in more than a century, and yet it remains paralyzed in a rut of ridiculousness and self-righteous point-missing.
At this crucial moment, our would-be heroes in golf are walking away from this once-in-an-epoch opportunity to fundamentally rechart the game's history because they are afraid or selectively fatigued or quite frankly don't give a flying flip (or something similar). And for all their collective brilliance, the young stars that a year ago seemed so clearly ready to take hold of golf's present and future passion, have faded to the distant background in the premier events with opening round 80s, almost forgettably missed cuts and backdoor top 10s.
And then they spout off with the self-important poutiness and teenager-in-instagram-overload ennui that only the overindulged and pampered can provide us, like Rory McIlroy's "I didn't get into golf to try and grow the game."
Please. As Bonnie Tyler belted on the soundtrack for Footloose,
"Where have all the good men gone/And where are all the gods?/Where's the streetwise Hercules to fight the rising odds?"
(Seriously, you can't make up the '80s.)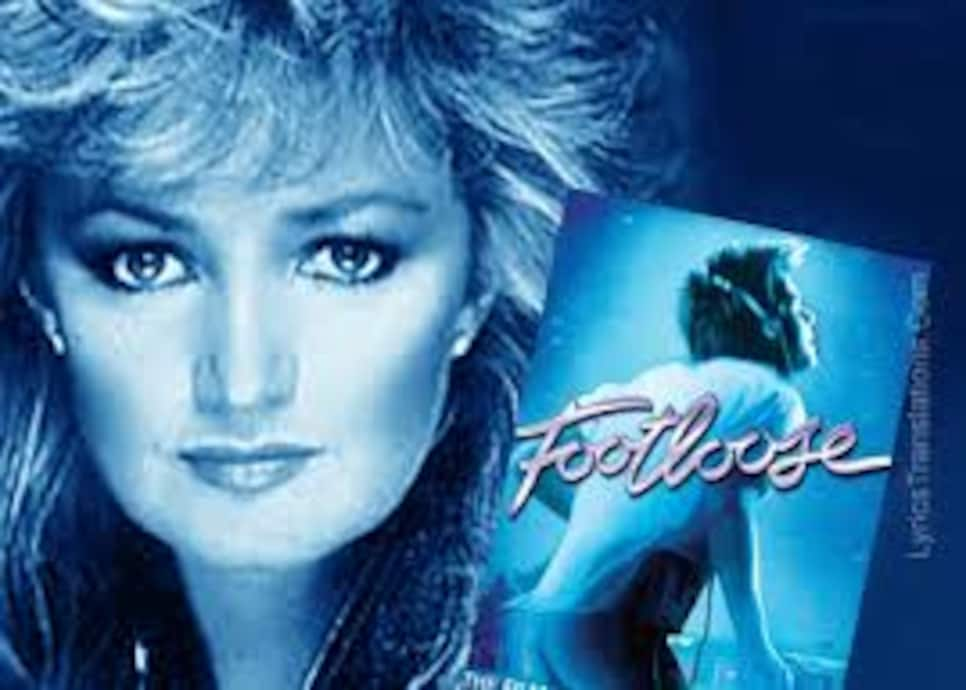 And like I said, I need a hero, too. I haven't picked a winner ever in the majors, despite the best intentions of my algorithms and calculus (calculi?) and statistical probability scenarios using advanced number theory and rhyming iambic pentameter. OK, I don't use iambic pentameter, but I would if I thought it might help my crazy PGA pick. But then "Hero" lyricist Dean Pitchford didn't need iambic pentameter to pen a song that sold millions of records and keyed a box-office smash movie with phrases like:
"Somewhere after midnight/In my wildest fantasy/Somewhere just beyond my reach/There's someone reaching back for me/Racing on the thunder and rising with the heat/It's gonna take a superman to sweep me off my feet."
(Dang, I guess there is a reason this song has become something of a gay anthem. But fact is, it should be everybody's anthem.)
Golf needs a superman to sweep all of us off our feet. And that superman is really the guy all the boys and girls have been wishing for, too. And he just happens to be the guy my numbers say will win this week's PGA Championship, too.
Here's how I figured it all out this time. I went back to the last PGA Championship played at Baltusrol and focused on the statistical profile of Phil Mickelson's winning form in 2005. I chose the unassailable numbers of strokes gained in the six categories now tracked by the PGA Tour: off the tee, approach the green, around the green, putting, tee to green and total.
In 2005, Mickelson's statistics were exceptional and strokes gained shows it clearly. Heading into the PGA he ranked in the top 50 in all six strokes gained criteria and in the top 25 in five of the six. Totaling up all six rankings, Mickelson was at just 107. For perspective, in those same six criteria Tiger Woods, who won six times in 2005, totaled 146.
So to pick the PGA Championship, I looked at this year's strokes gained rankings to find the player with a total that best approached Mickelson's. Dustin Johnson and Jason Day are relatively close, so too, is McIlroy (but, as previously indicated, no thank you). Not surprisingly, perpetual cash machine Matt Kuchar is one of the very best all-around performers, too. And as it so happens, so, too, again is Mickelson. But the man who is actually most Mickelsonian (circa 2005) heading into this year's PGA is precisely the hero the game needs right now, Rickie Fowler.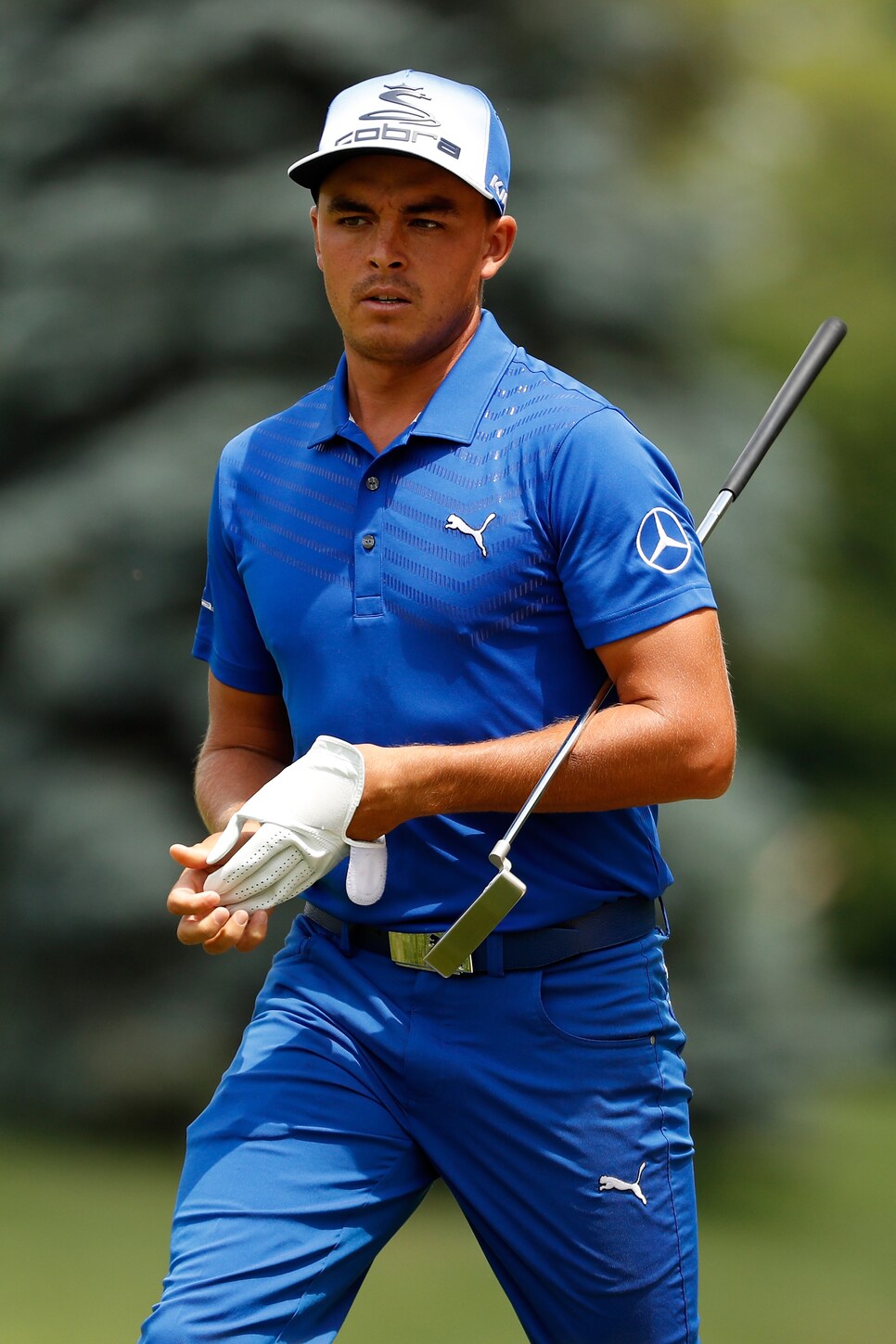 Gregory Shamus/Getty Images
Now I'll admit that Fowler (his overall strokes gained total is 118 and he ranks in the top 12 in four criteria) has had his abysmal moments this year, particularly in the majors (an opening-round 80 at the Masters, a missed cut at the U.S. Open, a T46 at the Open Championship). But he remains a standup guy, he embraces his role as golf's ambassador and he wants the ball in his hands at the end of the game, proverbial and otherwise.
Don't let the pediatric nurse's uniform colors, the stretchy pants and 'shrooms-enfused nightmare shoes fool you. Fowler's the guy who says at the Open, despite getting the raw side of the draw: "You just go out there and try to hold on and fight as much as you can." Fowler's the guy who knows winning a major isn't all that complex: "I've been able to prepare and get myself some solid finishes. Now I've just got to be the one that has the lowest score." And Fowler's the guy who takes responsibility for himself and for the game: "I think it's all part of our job to help grow the game, to all be great role models."
And Fowler's the guy who wants to go to the Olympics, wants to represent his country, wants to win a gold medal. It was Fowler who only half-jokingly responded to McIlroy's back-handed insult that he was only going to watch the Olympic events that mattered with this gem "Maybe I'll cause enough of a stir that Rory'll turn it back over to golf at some point."
A streetwise Hercules, indeed. (Hercules, you'll recall from the myth, is buried at Mount Olympus.)
Golf needs a supercharged superman to be its hero this week at Baltusrol. I need it. I'm holding out for Rickie. He's gotta be strong, and he's gotta be fast and he's gotta be larger than life.
Or at least that's what the song says. My numbers agree.