The Loop
On brink of history, McIlroy leaves his opponents humbled and with little hope
HOYLAKE, England -- From two-tee start through (a brief) three-man race to one-man show: That was the third round of the 143rd Open Championship. With a brace of eagles and a birdie over the last five holes, Rory McIlroy transformed a closely fought contest into what looks like yet another stroll to major victory. Tied with Rickie Fowler after 12 holes, the former U.S. Open and PGA champion will carry a six-shot edge into Sunday's final round.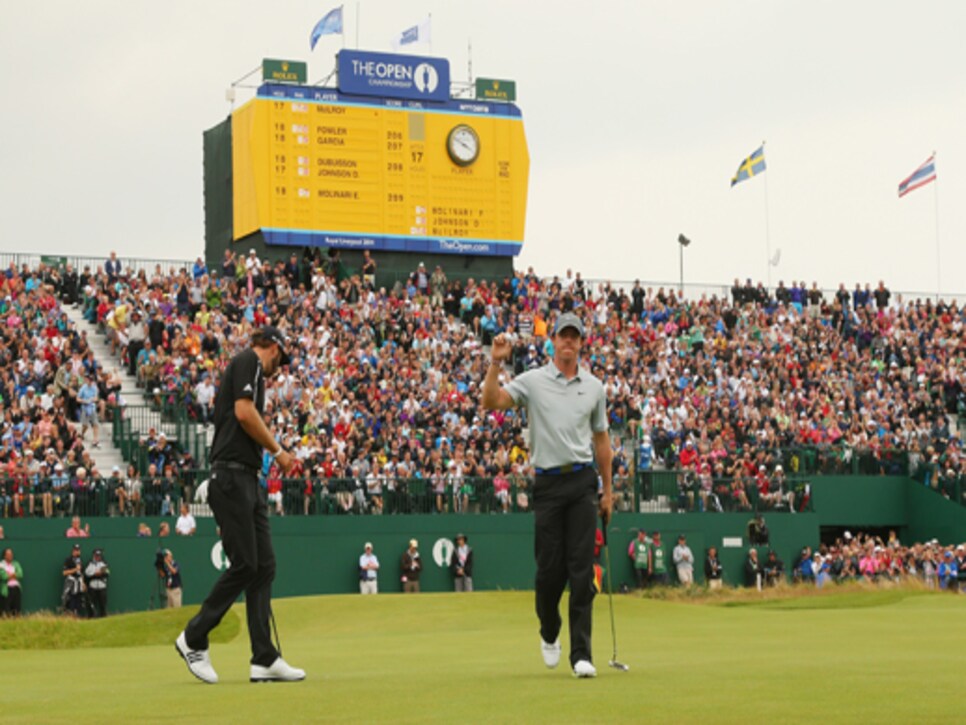 *Two eagles in his final three holes on Saturday have put McIlroy nearly out of reach.*Photo by Getty Images
On past evidence -- see Congressional 2011 and Kiawah 2012 -- McIlroy will soon be three-quarters done with the career Grand Slam. The British bookies certainly agree; the 25-year old Northern Irishman is now a 10-to-1 favorite. Which is not to say he is taking anything for granted.
"I feel like my patience was rewarded today," he said. "I made a big par save on 13 and the birdie on 14 was a bonus. The finish speaks for itself. I was sort of waiting for those two holes. I knew if I could drive it on the fairway on 16 and 18 I'd be hitting irons into the greens. Making two 3s was very important and obviously sets me up for tomorrow."
Not surprisingly, there was a contrastingly resigned air about the nearest "challengers." Third-placed Sergio Garcia began his post-round interview with a puff of the cheeks, a sigh or two and a couple of shrugs. Fowler was saying all the right things, but not with much convincing conviction. Invariably, his responses were prefaced with the words "I hope."
And the rest? Well, they can forget it. Tomorrow, the third major of 2014 has, at most, a four-man field. Only three players -- Garcia, Fowler and Dustin Johnson -- are fewer than eight shots back.
"There's probably a low round in one of the guys up there," said a forlorn sounding world No. 1, Adam Scott, who sits T-7, 10 shots off the pace. "If they want to win it they're going to have to do it. But you never know. We've seen some crazy things happen. I've got to give myself some hope you know."
All of which pretty much summed up the prevailing mood: in this sort of form, Rory is just too good.
"He is just so explosive," said Jim Furyk. "He makes a bunch of birdies. And he obviously has no issue with being a frontrunner or trying to extend a lead, much like Tiger used to. If the weather is benign tomorrow the guys have a chance to shoot 63 or 64. But tough weather puts it in Rory's hands. If he goes out and plays just a solid round it will be tough to catch him."
"If Rory shoots three under, I have to shoot 10," added Garcia. "Nobody has done that before so it cannot be easy to do. All I can do is go out there and play as well as possible and see where that gets me. I will try to put a little pressure on him and see how he reacts to that."
Such talk, of course, cannot be easy for Garcia. Maybe 15 years ago, he was the next great thing, a man who would win multiple times at the highest level. But it hasn't happened, despite a few close calls. In this, his 63rd major championship, he remains without a victory.
"All I can do is keep putting myself in these situations and hope that one day it will be my turn," he concluded. "But when someone plays this well there is nothing you can do. If he plays just as well tomorrow he'll be a more than deserving champion."
Fowler was, as one might expect, a little more disappointed at his overnight position. As McIlroy had kicked on over the last six holes, he had faltered, making three bogeys and only a single birdie. Still, his one dip under par at the 18th means he will accompany the leader in the final round.
"If I'm able to go out and get off to a good start, maybe I can put a little pressure on him," he said, echoing Garcia. "I'm satisfied with where I'm at. But bad swings happen and it's unfortunate that I strung a few of those together and it cost me a couple of shots coming in.
"I'm looking forward to it though. It will be fun to go out and make him earn it a bit. I want to get myself into the mix and throw some blows back and forth."
Fowler, of course, is in position to record a third successive top-five finish in majors this year, a feat that would further underline his status as one of golf's bigger stars. Not the biggest, though. Not right now. Not today. We all know who owns that title.