The Loop
O'Meara on Tiger: 'He doesn't look close to me'
SACRAMENTO, Calif. -- Former Masters and British Open champion Mark O'Meara, who took Tiger Woods under his wing when he turned pro in 1996 and has played hundreds of rounds of golf with the 14-time major champion, has joined Jack Nicklaus, Arnold Palmer and a chorus of others in recommending that the former No. 1 player in the world start from scratch and address the shortcomings in his game on his own.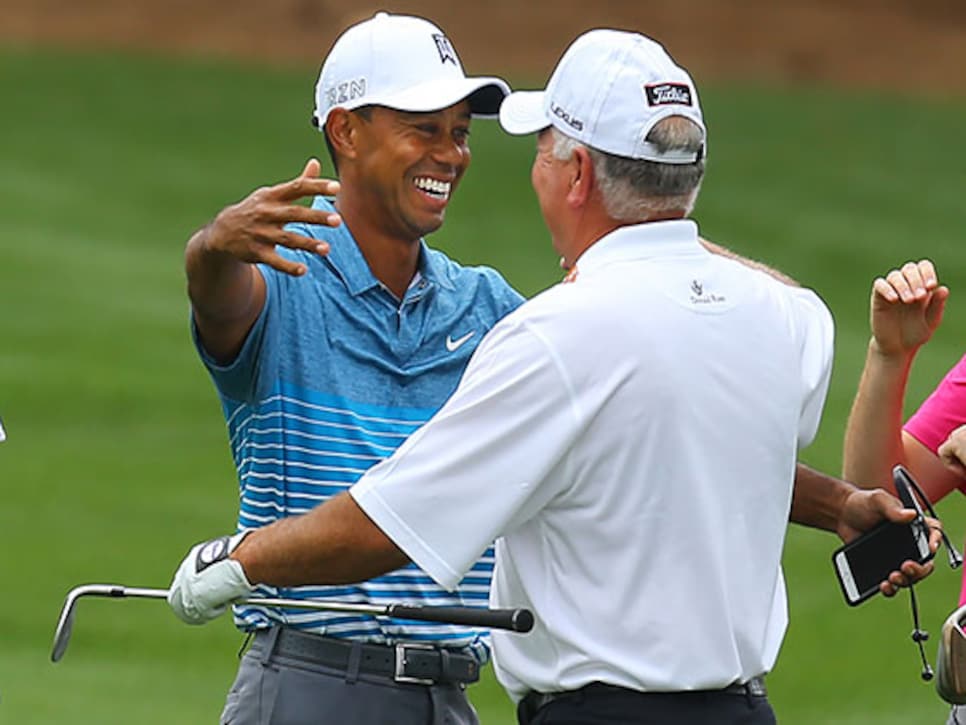 "It's so hard to understand and comprehend what has happened to him," O'Meara said Thursday before withdrawing from the U.S. Senior Open at Del Paso Country Club. "From what I saw last week … he says he's close. He doesn't look close to me. I think there's just too much going on in his head.
"Especially when he's probably the most gifted athlete who has ever played our sport, to have Butch Harmon or Hank Haney or Sean Foley or [current instructor] Chris Como or Mark O'Meara tell him what to do … the time has come for him to just go play golf. Let him take his brain and put it in the washing machine or dishwasher and get all that crap out of his system."
O'Meara eyes glistened slightly as he spoke in the Del Paso clubhouse following a first-round 69, and it wasn't solely because of a painful foot injury that has hobbled him since the Senior PGA Championship. After Woods moved into O'Meara's neighborhood in the exclusive Isleworth community in Orlando, no one was closer to him than O'Meara, who watched while Woods dominated the game and resided atop the world rankings for nearly 700 weeks.
Woods, 39, dropped out of the top 200 in the world after his game cratered at last week's U.S. Open at Chambers Bay. With rounds of 80 and 76, Woods posted his worst score and worst finish in a major championship. Two weeks earlier at the Memorial Tournament, an event he's won five times, Woods posted a third-round 85, his highest score as a pro.
It was not the direction O'Meara expected after Woods finished T-17 at the Masters in his first start following a two-month sabbatical to raise his game to a competitive level.
"I played Monday and Tuesday [practice rounds] with him at Augusta, and I thought he looked better. He had an OK tournament there," said O'Meara, 58. "But I don't know what he's been working on since then. I don't know. I'm not there.
"Look, golf is not a game of perfection. Golf is a game of consistency. Ian Woosnam's swing is the same now as it was when he came on the tour," O'Meara added, pointing to his fellow Masters champion seated next to him. "Yeah, we're not as young, or as in shape, whatever, but it's not really going to change that much. [But] when you're fiddling around and changing this and changing that, all of a sudden you lose your confidence. Lets face it: he's had an incredible run. His confidence was extremely high. I can't read his mind, but I can tell you by what I see having been around him is that for him to say he is close or he just didn't make any putts last week, I don't buy that. He's just too great to be doing this."
With O'Meara moving to Houston and playing the Champions Tour almost exclusively, he and Woods, who lives in Jupiter, Fla., don't interact regularly anymore. But O'Meara said he would be there for him if he asked, and he has his own ideas on how to get his friend back on track.
"If he were to call me tomorrow and asked for help, I would take him to a fairway bunker and I'd have him hit 5-irons and 7-irons from a level lie. He'd have to stay way more level and he wouldn't be able to load like he's doing now. When he's hitting balls on the range he's not doing that. He stays level. He gets under the gun and loads up and the golf ball is going here (points right). And then after you hit eight over there to the right you back off and hit one to the left.
"I can only push the envelope so far [in reaching out]. You can't help somebody unless they ask," O'Meara added. "I love the kid. I love him and respect him, and he's made a big difference in my life. I might not have won those majors at 41 without him around. When you play against him, he elevates your game.
"So watching what has happened to his golf game, it's hard. It's very hard."