Olympics
Heat exhaustion forces Lexi Thompson's caddie to give up her bag late in Round 1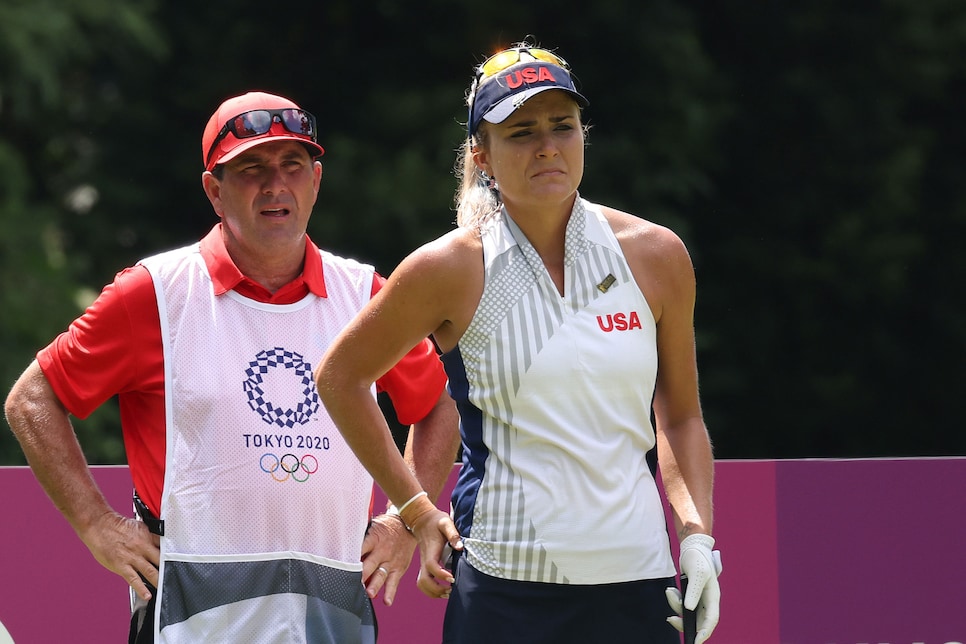 Lexi Thompson and caddie Jack Fulghum wait on the sixth tee during the first round at Kasumigaseki Country Club. On the 15th hole, Fulghum had to give up Thompson's bag after suffering from heat exhaustion.
Chris Trotman
Lexi Thompson grew up in Florida, so the LPGA Tour pro knows from hot. But what she and the rest of the field faced on Wednesday at Kasumigaseki Country Club was a different level of heat.
Temperatures rose into the high 90s and the heat index reached 110 degrees. But the situation grew scary for Thompson on the 15th hole when her caddie, Jack Fulghum, approached her with an unusual question.
"He just asked me, 'Do I look white to you?'" Thompson said. "And I'm like, I didn't really notice, but, he just didn't look good."
Fulghum told Thompson that he felt like he was going to pass out. He took a seat behind the green as volunteers provided him ice packs to help him cool off. He was later treated with IV fluids for dehydration.
With Fulghum unable to continue, Donna Wilkins, LPGA player services director took over Thompson's bag and caddied the last few holes. Thompson wound up birdieing three of her last four holes finish at one-over 72, six back of leader Madelene Sagstrom of Sweden.
"I was so worried about him and, I mean, it's so hot out there. I'm from Florida and I'm still not used to that bad of heat. But I just hope that he's OK and he gets the hydration he needs, the nutrients tonight to go into the next few days. If not, I'll figure something else out. I just want him to be healthy."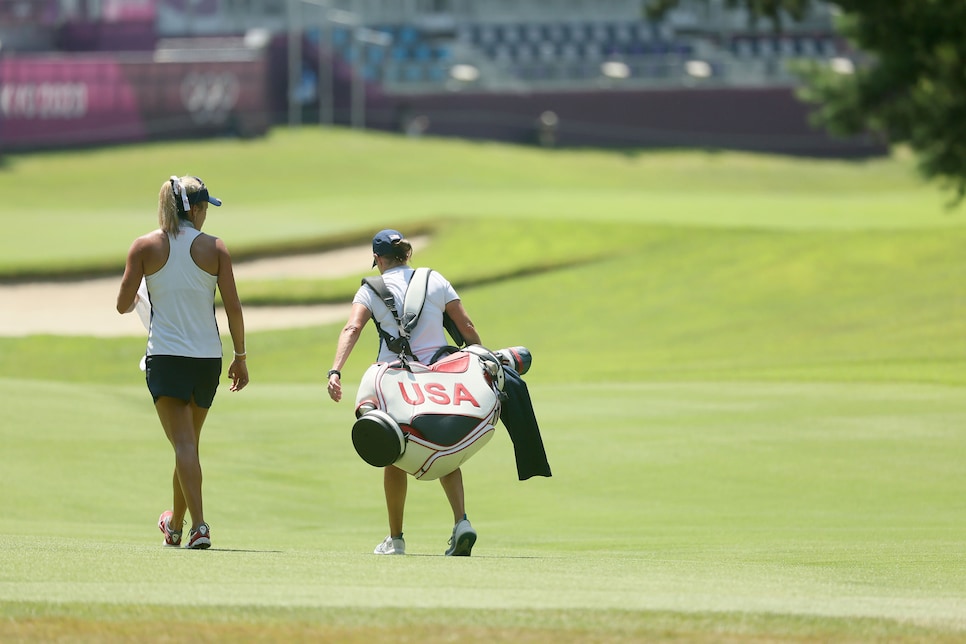 Donna Wilkins, an LPGA official, took over Thompson's bag for the the last three holes of Round 1.
Mike Ehrmann
Officials with Team USA said that Fulghum is re-cooperating well but it's unclear whether when he will return to the bag for Thompson.