News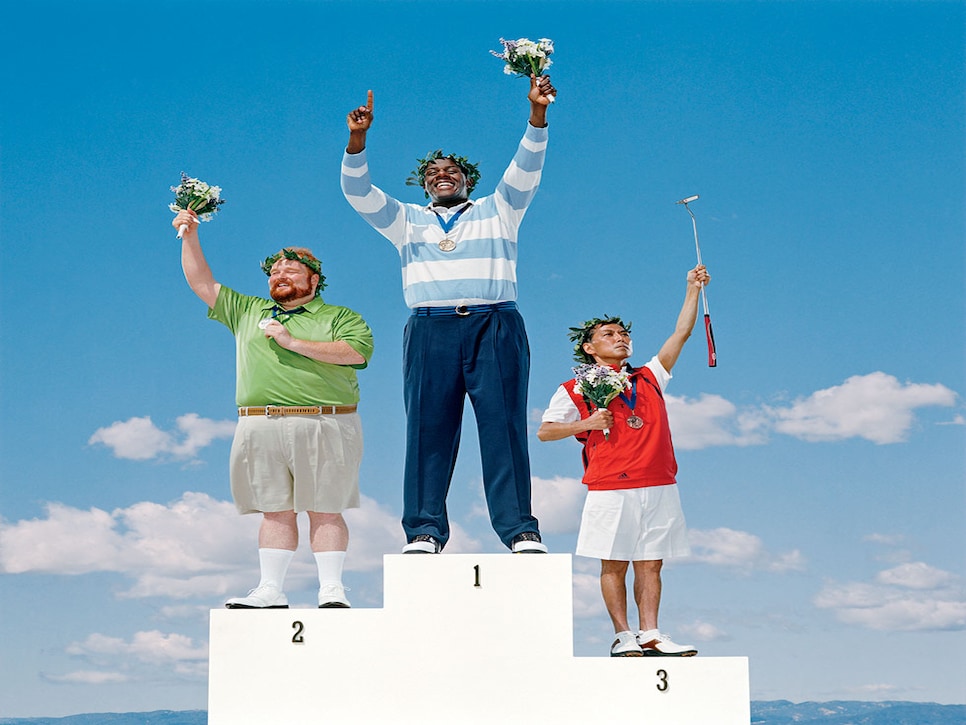 Golf needs to borrow from the success of other events when structuring its 2016 Olympic tournament.
The last time golf made an appearance at the Olympics, it was 1904, and 10 of the 12 nations participating in the St. Louis games decided there wasn't room on the team ship for golfers. I imagine it was a particularly sad scene in Southhampton, when a handful of English and Scottish golfers showed up at the docks with their knickers and clubs, only for the head of the Olympic Committee to pull them aside, shake his head mournfully, and say, "lads ... we've decided to go with Tug-of-War."
(Yes, Tug-of-War was actually an event at the 1904 games. No, the U.K. didn't really send a team. In fact, the only athletes from "Great Britain" were three Irish dudes from the pre-independence era. The point of this parenthetical is that the Olympics used to be really, really bizarre.)
With the rest of the world staying home, it left just the U.S. and Canada to battle it out for golfing gold. If that sounds lame, it's about to get lamer: Canada actually won. It was my understanding that Canada has never defeated the U.S. in anything except hockey, curling and arrests made on horseback, but this is definitive proof that I'm wrong. Even worse, its victory came in the form of a former cricket professional named George Lyon who took up golf at age 38, sauntered down to St. Louis eight years later and whipped the Americans in the match-play rounds to take the gold.
Let me paint a clearer picture of our national disgrace: Of the 75 golfers participating in the men's individual event, 72 were Americans, and we still couldn't win. Worse, the Canadian that humiliated us appears to have been a hobbyist. Needless to say, Olympic golf was summarily consigned to the scrap heap for the next 112 years. (Tug-of-war, for the record, survived until 1920.)
Fast forward to 2009, when the IOC, spurred on by International Golf Federation higher-ups Ty Votaw and Peter Dawson and a group of ambassadors that included Padraig Harrington, Michelle Wie and Matteo Manassero, decided that golf would once more be contested at the 2016 Rio Games. This was terrific news, for which Votaw and Dawson should be lauded, and in the argument that follows, please don't think I'm casting aspersions on them or the concept of Olympic golf in general, both of which I think are great.
As currently constituted, in a format proposed by the IGF, Olympic golf is designed as a four-day, 72-hole stroke-play event, which is notable for the fact that it will feature inferior golfers when compared to every other professional stroke play event in the 2016 season. The first problem is that the IOC—in one of their few bad decisions not motivated by bribery and corruption—"restricted" the field to 60 players, which is unfortunate and a little bit arbitrary in a sport that can handle many more competitors.
On its own, though, the 60-man field isn't a death sentence; just think of it as a condensed WGC event. The real problem comes with the qualification process, which can best be described as a well-meaning but ultimately misguided attempt to forcibly include a diverse array of nations. In the IGF's own words:
"The IGF will utilise the official world golf rankings to create the Olympic golf rankings as a method of determining eligibility. The top-15 world-ranked players will be eligible for the Olympics, with a limit of four players from a given country. Beyond the top-15, players will be eligible based on the world rankings, with a maximum of two eligible players from each country that does not already have two or more players among the top-15."
It sounds nice, but the problem is that although golf's global expansion is something to be praised, the obvious reality is that many of the game's stars are still concentrated in a small set of countries. The practical effect of the qualification process is that when you crunch the numbers, the list of qualifiers has some pretty embarrassing exclusions. Chief among them? Phil Mickelson. And Ian Poulter and Billy Horschel and Marc Leishman and Lee Westwood and Luke Donald. If Rory McIlroy and Graeme McDowell had played for the U.K. instead of Ireland—and last I checked, Northern Ireland is still part of the U.K.—you could cross Ryder Cup heroes McDowell and Jamie Donaldson off that list as well.
As flawed as the exclusions at the top may be, the inclusions at the bottom may be a bigger problem. Due to the fact the IGF instituted a cap of two players per country outside the top 15, you have to go wayyyyy down the world-ranking list, skipping over familiar and not-so-familiar names along the way, to find a new flag that fits the criteria. The result is players like New Zealand's Steven Alker—a 43-year-old career journeyman ranked 250th in the world—making the 60-man field. Are we really prepared to deal with the absurdity of a championship event that shuts the door on Louis Oosthuizen and Ian Poulter, yet welcomes Chile's 36-year-old Mark Tullo (ranked 291st in the world, with three top-10s in 69 career European Tour events)? Will we truly shun five-time major champion Phil Mickelson in favor of 237th-ranked Belgian golfer Thomas Pieters, a former NCAA champion who, however, has never played in a major and made just 10 cuts on the European Tour this season?
If the answer to those questions is yes, wouldn't you at least want to level the playing field by using match play, so that the best players in the world wouldn't totally annihilate the Juvic Pagunsans (Phillippines, ranked 310th, last won four years ago on the minor leagues of the Asian Tour) of the field over four days and 72 holes?
Enough with the rhetorical questions. The truth is this: Golf has backed itself into a corner with a self-defeating format that will almost certainly result in a boring event that enjoys no status in the world of professional golf. All the hard work the IGF has put into the Olympic push will fizzle out. The sport is guaranteed to appear in both the 2016 and 2020 games, but the catch here is that the IOC will vote on whether golf will stick around in 2017... which means everything depends on 2016's first impression. There's a reason that Matt Every—as honest a player as you'll find on the PGA Tour—told me in Akron that golfers don't care about the Olympics. Why would they, when a victory there literally means less, due to the smaller, weaker field, than any other event in the calendar year?
They wouldn't, and they won't. Golf's re-appearance in the Olympics is a momentous event for the sport, and we need a format that won't lead to total disappointment. Which leads us to:
For me, the criteria for a successful international golf event are fairly simple.
1. Make sure the national element *matters. *Golf is an individual sport, so why should we care which country takes the gold?
2. Choose a format designed to heighten the drama, but not one so arbitrary that it fails to honor the best team.
3. Maintain an international field. This is, after all, the Olympics.
Easy to write, difficult to execute. Luckily, we have some incredibly successful models in golf, international sport and the Olympics themselves. By turning to history and heeding their examples, we can create a successful Olympic event that satisfies all three of the above criteria.
Problem No. 1: How do you make anyone care about the national factor in an individual sport?
Here, we don't even have to look outside the sport. The obvious paragon of international competition in golf is the Ryder Cup, arguably the sport's most exciting event. Sure, the Ryder Cup has history on its side, and that would take time for the Olympics to match, but that doesn't mean there aren't good lessons to take from the biannual Europe vs. USA event.
What makes it work? For me, there are two answers: The match-play format, and the team element. The reason many top golfers hate match play is that it institutes a level of drama and unpredictability that can lead to upsets. This is also the reason it makes for such compelling television. If you're trying to make a splash, as the IGF badly needs to do in Rio, why wouldn't you opt for match play? Even in 1904, they seem to have understood the benefits of one-on-one golf.
As for the team element, ask yourself why the Ryder Cup is so much more fun to watch than the Accenture Match Play championship. It's because the golfers are playing for a team, and it creates a unique atmosphere, and a unique kind of pressure—your teammates are counting on you!—that doesn't exist anywhere else. This quality is most apparent on the first two days of competition, when the four-ball and foursomes matches introduce elements of chemistry, momentum and strategy that would otherwise be absent in singles golf.
So why not heed these lessons in Olympic golf?
Solution No. 1: Switch the format to match play—fourball, to be specific—and put the golfers into teams of two.
Problem No. 2: How do you format the event to include multiple teams—and infuse it with a sense of drama—without resorting to an elimination bracket that produces arbitrary results?
Here, we can turn to the biggest international sporting event of all: Soccer's World Cup. Every four years, the nation's 32 best teams are sorted into eight groups of four teams each. The four teams inside the group play round robin against each other—guaranteeing each team at least three matches—and the top two finishers are then placed in a 16-team single elimination "knockout" bracket. It's the perfect model, because 32 teams of golfers would make for a field of 64 players, which is close to the IOC's sweet spot.
Solution No. 2: Duplicate the World Cup format. Put 32 teams—determined by world rankings—into eight groups, play round robin within the groups—18 holes, four-ball, match play—and create a 16-team elimination bracket based on the results. Again, that would remove the arbitrary nature of the one-and-done format and ensure that each team plays at least three times, but still impose an upper limit of seven matches for the teams that make the final. It's a schedule that can easily be completed in the two weeks of an Olympic Games, even alternating days with the women.
Problem No. 3: How do you ensure that there's wide international representation, which is, after all, what the Olympics are supposed to be about?
To answer this question, let me ask another: How do other sports do it? Events like bobsled, or beach volleyball, or boxing pose similar problems, in that the talent is concentrated in a small number of countries. Let's take bobsled as an example. In the 2014 Sochi Olympics, Russia and Germany placed three teams each in the top 15, while Japan, Brazil, South Korea, and Poland—all of whom had just one team in the field—placed in the bottom five. I'm no bobsled expert, but it's likely that if we looked at the teams who didn't qualify from Russia and Germany, many of them would still be far better than Japan, Brazil, South Korea and Poland. The reason Germany's sixth team didn't make the Olympics, though, is that there's a compromise in place. The IOC puts a cap of three teams on each country, but only the countries that excel at the sport, based on world rankings, get to bring the maximum. It guarantees that elite competitors from the dominant nations make the cut, but it doesn't exclude aspiring countries like the four above.
The IGF is attempting something like this in their current qualification system, but, as explained above, it approaches and crosses over the line marked "absurdity."
Solution No. 3: Within the 32-team format, institute a cap of three teams per country, and make a special "Inclusion Rule": In order for a nation to qualify, only one player has to make the world rankings cut. His partner can be far down the list, if that's how it pans out, and in this way non-traditional golf nations can still make the field. To increase diversity, mandate that only nations with at least five players inside the top 50 are allowed three teams, and only nations with at least three players inside the top 75 are allowed two teams.
After seeing a friend and I discuss the format on Twitter, Adam Sarson was kind enough to jump in and figure out how the groups would look if the Olympics began today. After a few tweaks—ensuring that no group had more than one team from each country, splitting up world regions as much as possible and using an online generator to organize the groups and guarantee a diversity of talent in each—he came up with a potential model. Check it out: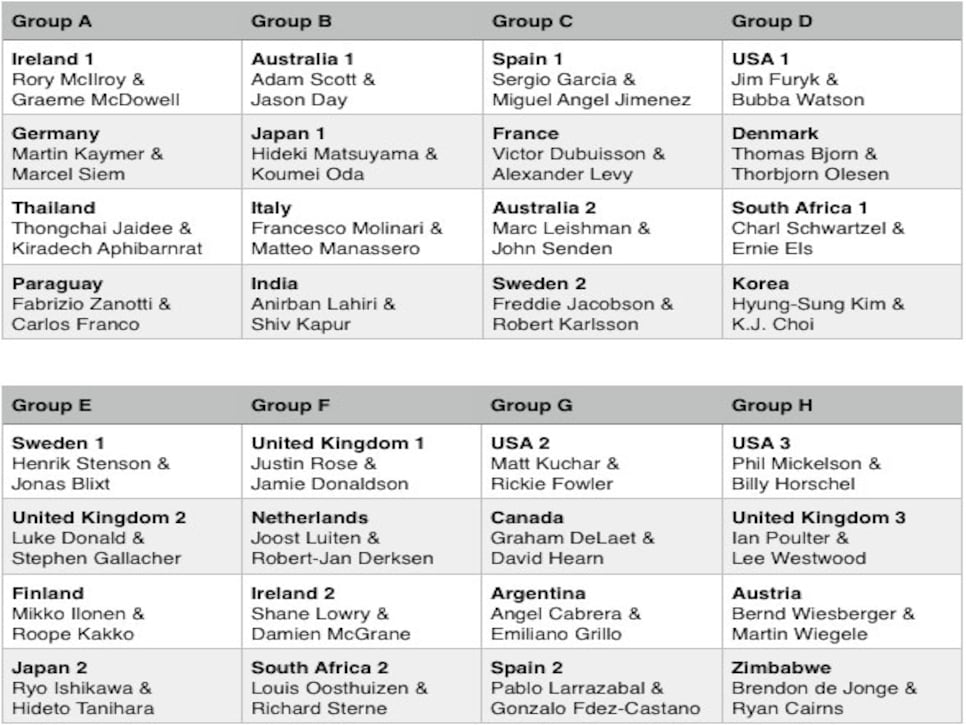 I'm probably biased, but is that fantastic, or what? Just looking at that simple table makes me so excited for Olympic golf that I actually get disappointed when I remember it's not actually happening. How great would it be to watch those round robin matches every day? The group stages alone would produce compelling match-up after compelling match-up, and the drama would only increase as the tournament progressed.
More importantly, the international participation is still very strong, involving 23 different nations, which compares well with other Olympic events of comparable size. Six out of seven continents are represented (let's fact it, golf in Antarctica is dismal), but the "power nations"—in this case the U.S. and Great Britain—have three teams, while minor powers like Spain, Australia, Sweden, South Africa and Ireland have two each.
For comparison's sake, here's a complete list of the 23 players who would make the Olympic field in our format, but would be excluded in the IGF field:
Phil Mickelson, Billy Horschel, Luke Donald, Ian Poulter, Lee Westwood, Stephen Gallacher, Shane Lowry, Damien McGrane, Marc Leishman, John Senden, Pablo Larrazabal, Gonzalo Fernandez-Castano, Marcel Siem, Ryo Ishikawa, Hideto Tanihara, Alexander Levy, Louis Oosthuizen, Richard Sterne, Martin Wiegele, Freddie Jacobson, Robert Karlsson, Carlos Franco, Ryan Cairns.
Meanwhile, here's the reverse situation, with players who make the IGF field, but not ours:
Romain Wattel, Camillo Villegas, Carlos Ortiz, Moritz Lampert, Felipe Aguilar, Antonio Lacuna, WC Liang, Nicolas Colsaerts, Mohd Rahman, Chan Shih-chang, Vijay Singh, Wu Ashun, Danny Lee, Steven Alker, Jhonattan Vegas, Thomas Pieters, Mark Tullo, Juvic Pagunsan, Adilson da Silva.
As you see, the former list includes legends of the game, rising stars and players who otherwise deserve the spot—with three oddballs in Wiegele, Franco, and Cairns due to the Inclusion Rule—while the latter is populated by has-beens and unknowns from the nether regions of the world rankings. In the new system, you lose zero icons and gain many.
There's room for tweaks to the format I've proposed—for instance, allowing the host nation to field a team, or letting national Olympic committees dictate their own teams (I'm sure Luke Donald and Justin Rose would prefer to join forces, and let Jamie Donaldson and Stephen Gallacher take their chances)—but broadly speaking, it creates an exciting, international tournament that dwarfs in every way the boring stroke play event with which we're currently saddled.
Tug-of-War appeared in five Olympic Games, and as much as I enjoy watching hordes of red-faced men fight over a rope, I'd love to see golf eclipse that total one day. Unfortunately, as it stands today, the 2016 Games will be thick with unknown, unloved golfers who are doomed to play the sport straight into Olympic irrelevance.