If Olympic golf were a political candidate this is what the pundits would call a cycle of bad optics. In a stunning series of events, the Rio de Janeiro government declared a state of "public calamity," a Paralympic athlete and her trainer were robbed at gunpoint in Rio, then golf's No. 1 and No. 4 ranked men's players, Jason Day and Rory McIlroy, pulled out because of the Zika virus.   While talk of doom and gloom precedes virtually every Olympics—pollution in China, weather in Calgary, cost overruns in Sochi—the Games usually come off with only minor hitches. But Brazil brings more excess baggage than most.   The consensus among governmental agencies, international bodies and independent security experts seems to be this: The Rio Olympics is doable, but not without its risks and the need for prudent precautions.   Political instability, a severe economic downturn, serious environmental issues and the unclear impact of Zika have created a cloud of doubt and fear, some warranted and some not. That makes it all the more important to sort out the reality of the situation, which is, at best, complicated.
With the Olympic field to be finalized July 11, it is still unclear which golfers who qualify will compete. Golf's return to the Olympics for the first time since 1904 was seen as great exposure on the biggest stage in sports, but the chatter going on now is not what organizers had in mind.   The recent uncomfortable series of news events began late at night on June 17— the Friday of the U.S. Open—with the publication on the Rio de Janeiro state website that emergency actions are necessary to avoid a "total collapse in public safety, health, education, transport and environmental management." Essentially, the government said it didn't have the money to pull off the Games—or to simply run the country, for that matter.   Then on June 19, Australian Paralympic athlete Liesl Tesch and her trainer Sarah Ross were biking near their hotel in Rio when two men robbed them at gunpoint in broad daylight.   On June 21, McIlroy, of Northern Ireland, announced he would not compete in Rio, and a week later Day followed. Vijay Singh of Fiji, Australia's Adam Scott and Marc Leishman as well as Charl Schwartzel, Louis Oosthuizen and Branden Grace of South Africa, and Shane Lowry and Graeme McDowell of Ireland have also withdrawn.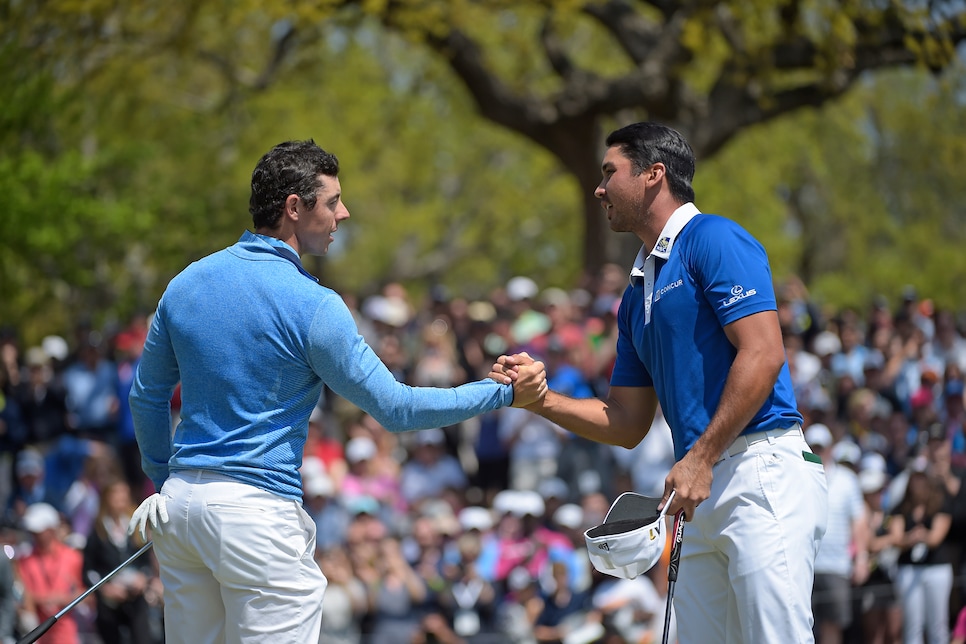 And then there are the undecideds, among them Jordan Spieth, the top American ranked player, who was lukewarm when asked about the Olympics during the U.S. Open, Rickie Fowler and Masters champion Danny Willett.
Until today, the withdrawals among golfers have been exclusively among the sport's top male players. However, South Africa's Lee-Anne Pace became the first female player to withdrawal from the Games, citing Zika and announcing her decision via Twitter.   For the top men there appears to be less to gain from playing in the Olympics given the risks involved. Players such as Day, McIlroy and Scott get all the exposure they need in golf's four majors, and there is no payday in the Olympics for either them or their sponsors.
In fact, it could cost some to go to Rio. While team members stay for free in the Olympic Village, they foot the bill and pay for security if they opt for more luxurious accommodations. Similarly, the U.S. Olympic Committee pays for a commercial flight, but those choosing to fly private pick up that tab, although this varies depending on the national federation. There is not a stipend for the Americans to play.   Also, those logos that earn the players millions in endorsement dollars while competing on tour will not be on display in Rio. Apparel for U.S. team members is provided by TaylorMade/Adidas. American players can wear their own shoes and use their own equipment. Each national federation has made its own clothing deals.   Certainly, the recent wave of negative news has given those who oppose Olympic golf all they need which to further their case. Opinion pieces critical of the situation have not gone unnoticed within the International Olympic Committee.   "These sorts of drive-by attacks are xenophobic and alarmist and a classic U.S.-centric view of the world," says an Olympic official, speaking under the condition of anonymity. "What's going on with the IOC and Russia is a bigger issue for the IOC than whether Rory is going to play," the official says, referring to the IOC ban of Russian athletes over drug testing violations, yet another damaging storyline that's playing out for Rio.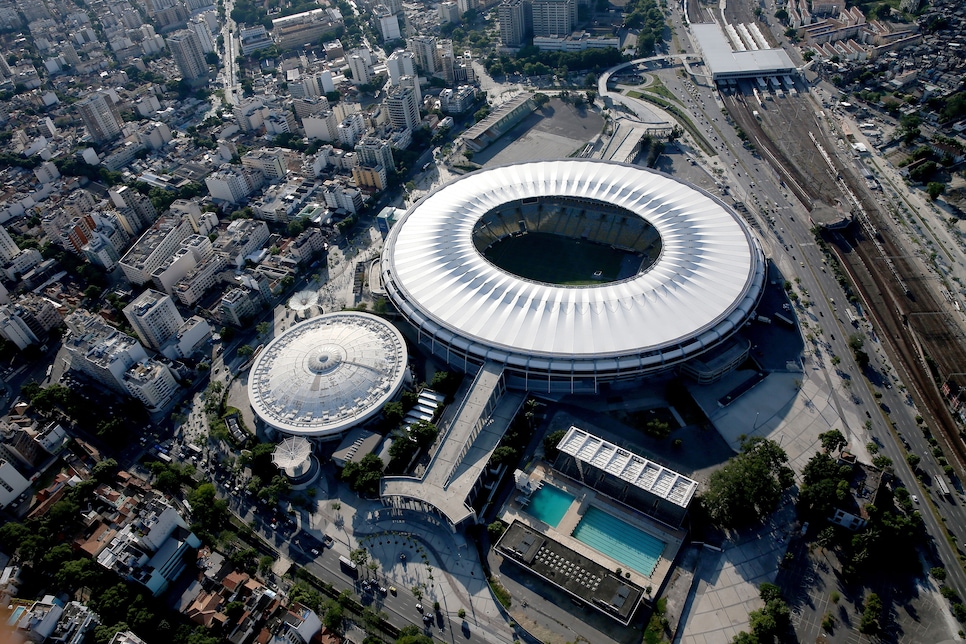 The marquee player dropouts among the male golfers raises concerns about how the vote will go next year when the IOC decides whether golf will stay in the Games beyond 2020. When baseball proved unable to produce its top players, the IOC dropped the sport from the Olympic program.
Perhaps the largest shadow cast over Rio is Zika, a feared but sometimes misunderstood virus. In a fact sheet issued in June, the World Health Organization said Zika is transmitted primarily by mosquitos but also sexually. It says symptoms include mild fever, skin rash, conjunctivitis, muscle and joint pain, malaise or headache that can last two to seven days.   "There is scientific consensus that Zika virus is a cause of microcephaly and Guillain-Barré syndrome," according to the WHO. "Links to other neurological complications are also being investigated."   The WHO says Zika can be prevented by wearing light-colored clothing that covers as much of the body as possible; using window screens, closed doors and windows; sleeping under mosquito nets; and using insect repellent containing DEET, IR3535 or icaridin.   The WHO also recommends that sexual partners of pregnant women use condoms or abstain from sex after returning from a Zika area throughout the pregnancy. The WHO says people returning from Zika areas "should adopt safer sexual practices or abstain from sex for at least eight weeks after their return, even if they don't have symptoms."   The U.S. Center for Disease Control and Prevention (CDC) says even travelers who do not feel sick upon returning from a Zika area "should take steps to prevent mosquito bites for three weeks so that they do not spread Zika to uninfected mosquitos."   How real is the threat of illness from Zika? In May, 238 scientists from 40 countries signed a letter to WHO director-general Dr. Margaret Chan demanding the Games be moved or postponed. The letter said:   "Our greater concern is for global health. The Brazilian strain of Zika virus harms health in ways that science has not observed before. An unnecessary risk is posed when 500,000 foreign tourists from all countries attend the Games, potentially acquire that strain and return home to places where it can become endemic."   Chan responded by saying there is no reason the Games should be moved, canceled or postponed. "The more we learn about Zika, the more worried we get about it," she said. "But you don't want to bring a standstill to the world's movement of people. This is all about risk assessment and risk management."
Chan said she would attend the Games.
A different sort of health risk also hovers over the Olympics—although the impact on the golf competition seems minimal—in the form of contaminated water. One of the things Brazil promised when it made its Olympic bid was to clean up its notoriously polluted waterways contaminated by raw sewage, some of which will be used in sailing and open-water swimming events. But that has not come to be as the country becomes more politically paralyzed and more financially strapped.   Last July, independent tests by The Associated Press showed disease-causing viruses directly linked to human sewage at levels up to 1.7 million times what would be considered highly alarming in the U.S. or Europe. Experts said athletes were competing in the viral equivalent of raw sewage and exposure to dangerous health risks almost certain.
Much has changed since 2009 when Brazil became the first nation in South America chosen to host the Olympics. What was then a thriving economy is in free-fall, the president has been impeached, ocean water used in Olympic events is massively polluted and there is Zika, the virus linked to at least one birth defect and Guillain-Barre syndrome, a temporary paralytic condition.   Brazil hosted what was a mostly successful soccer World Cup in 2014, but conditions have worsened even since then. Olympic organizers say 85,000 security personnel will be used for the Games, which begin Aug. 5, double the number used in London in 2012.   "It would be very strict," a government official told reporters about the use of military troops to maintain order during the Games. "We will have people of state, federal levels in Brazil, so the security will include the armed forces."   Athletes staying in the Olympic Village will have a high level of security. And while it might not create the most joyous atmosphere, the 500,000 spectators hoped for will be protected by those 85,000 military personnel deployed for the Games.   Interestingly, the security of the spectators might be made easier by the fact that ticket sales have lagged, with only half of the tickets sold at the 100-day mark before the Aug. 5 opening ceremony. Brazil's newly installed minister of sports, Ricardo Leyser, told the Brazilian newspaper Folha that the Brazilian government may purchase tickets that will be distributed to public schools.   On June 28, the Rio2016 website had an item with the headline: How to Plan a Last-Minute Trip to the Rio 2016 Olympic and Paralympic Games. The item said: "The ability to still snag tickets to some of the most coveted events have made these Games a procrastinator's dream."   RELATED: The U.S. State Department fact sheet for those traveling to the Olympics
According to the State Department: "Brazilian police and media report that the violent crime rate remains high in most urban centers. Credit-card fraud and ATM scams are endemic in Brazil. Visitors should work closely with their financial institutions to monitor their accounts regularly for undocumented withdrawals or charges."   Specifically regarding Rio de Janiero, a security analysis prepared for LPGA players and obtained from players by GolfDigest.com said: "The city continues to experience high incidences of crime, including armed robberies. Crime can happen at any place or time within Rio. While criminal activity is more frequent in certain areas, there is no area in Rio that is immune. Tourists are particularly vulnerable to street thefts and robberies in the evening and at night, especially in areas adjacent to major tourist attractions."   The analysis advises: "There have been reports of thieves and rapists slipping incapacitating drugs into drinks at bars, hotel rooms and street parties."   The State Department prohibits its personnel from going to Rio's "unpacified" favelas (neighborhoods), but they may visit Rio's pacified favelas after obtaining permission. "Pacification" is a program designed to reduce lawlessness in Rio's favelas, or slums. However, the State Department says even pacified favelas can be unpredictable and dangerous.   The State Department also cautions to be careful driving, noting that "there have been shootings and carjackings on the Linha Vermelha that links the international airport to the popular tourist areas in the city's Southern Zone." It says, "Carjackings and holdups can occur at intersections and in tunnels." It describes crime on public transportation as "frequent" and says "tourists should only use taxis openly displaying company information and phone numbers, as well as red license plates."
Security concerns have not been assuaged amid recent press accounts of local police protest over not being paid for work. Receiving wide coverage were a group protesting at the Rio airport, holding a banner that stated: "Welcome to Hell: Police and Firefighters Don't Get Paid, Whoever Comes To Rio de Janeiro Will Not Be Safe."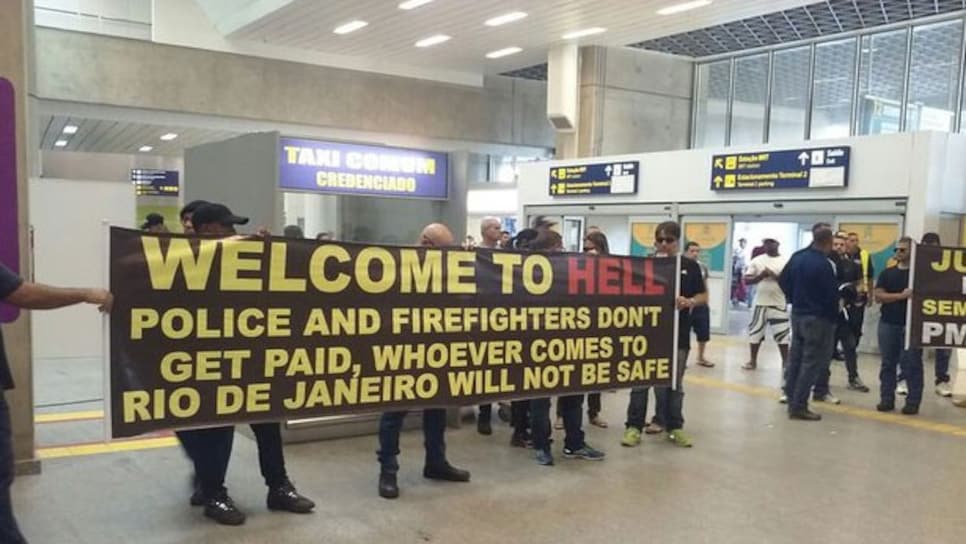 "The concerns relative to safety/security from violent crime are real," said Chuck Tobin, president of the security firm At-Risk International. "I think the banner displayed at the Rio airport further outlines some of those issues that law-enforcement support will likely diminish due to lack of pay."   In a separate assessment prepared for Conde Nast, the owners of Golf Digest, NC4, a California-based specialist in security assessment, rated Brazil a Level 2 risk on a scale where 1 is the safest and 4 the most dangerous.   According to NC4, in Level 2 nations, "the violent crime rate is high enough to frequently impact foreign visitors" and "the fear of crime is a common theme in the country." NC4 advises that in Level 2 nations "increased security precautions are warranted for travel or investment."   Among the other nations listed as Level 2 by NC4 are Cuba, Jordan, Kuwait, North Korea, Panama and Turkey. Iran, Israel and Mexico are among those rated Level 3, or high risk. Level 4, or extreme risk, includes Afghanistan, Congo, Haiti and Iraq. The United States, Australia, Canada, France and Norway are listed as Level 1, or low risk."   While the tenor of the security reports come wrapped in warnings, they are tied with a bow that suggests caution reduces the risks. Security forces will be greatly increased, Olympic organizers say, and since August is a winter month in Brazil the threat of mosquitos will be reduced.   "I believe the players and officials and spectators once they get to the events will be safe," said Joseph Funk, the president of U.S. Safety & Security that is assisting the LPGA with security in Rio. "My concern is what happens until they get there. The security presence will be overwhelming surrounding the Olympic events. You just need to be careful what you do when going out at night or traveling."   Still, influential critics both inside and outside Brazil have hammered the Games. "Things are getting uglier here every day," Brazilian soccer legend Rivaldo posted to his Instagram last month. "I advise everyone with plans to visit Brazil for the Olympics in Rio — to stay home. You'll be putting your life at risk here ... Only God can change the situation in our Brazil."
Officials in the Olympic golf movement say they expect the Games to go smoothly—and safely—as well as to provide massive exposure for the game to a worldwide TV audience.   "Yes, the situation in Rio has deteriorated in terms of the economy and the political situation since 2009 when golf was approved for the Games and it was selected as the host city," say Ty Votaw, executive VP and chief marketing officer of the PGA Tour as well as vice president of the International Golf Federation, which oversees golf in the Olympics. "But as someone who has been down there at least a dozen times since January 2010, I can say I never felt unsafe and I can say that the golf venue is a beacon that probably will be one of he most iconic venues of these Games."   There have been many vocal supporters of Olympic golf, most notably Sergio Garcia of Spain, Martin Kaymer of Germany and American Dustin Johnson, who just won the U.S. Open. Meanwhile, the women have been almost unanimous in their enthusiasm for the Olympics, despite the fact Zika is of particular concern to women of child-bearing age.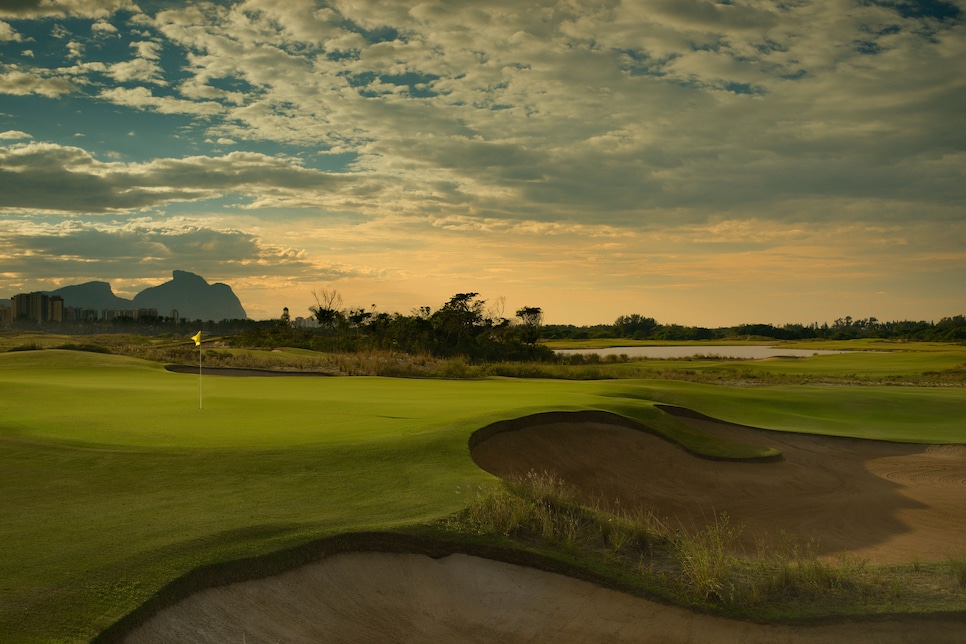 "To be honest I'm more excited about the Olympics, about the ceremony, about just being in that Olympic vibe than worrying about the Zika virus," said Rolex Ranking No. 1 Lydia Ko, 19, who will be in Rio for New Zealand.   Golf waited 112 years to get back in the Olympic Games. And now as the time for that return nears the excitement of 2009 mixes with the fears of 2016.   "Were there frustrations?" Votaw said. "Yes. But at the end of the day we feel the presentation we are going to give of our sport will be spectacular. Once players get down there and experience the goose-bumps moments of the Games, like the opening ceremony and interacting with other Olympic athletes, it will sink in to them how lucky they are to be there."    Golf waited a long time to get back into the Olympics and the hope is that the spirit and passion of the Games will make all the turmoil a forgotten bump in the road. A man and a woman will go home with an Olympic gold medal and for them the rewards will have far outweighed the risks.