News
Ole Miss's Braden Thornberry fends off challengers, takes NCAA men's individual title by four strokes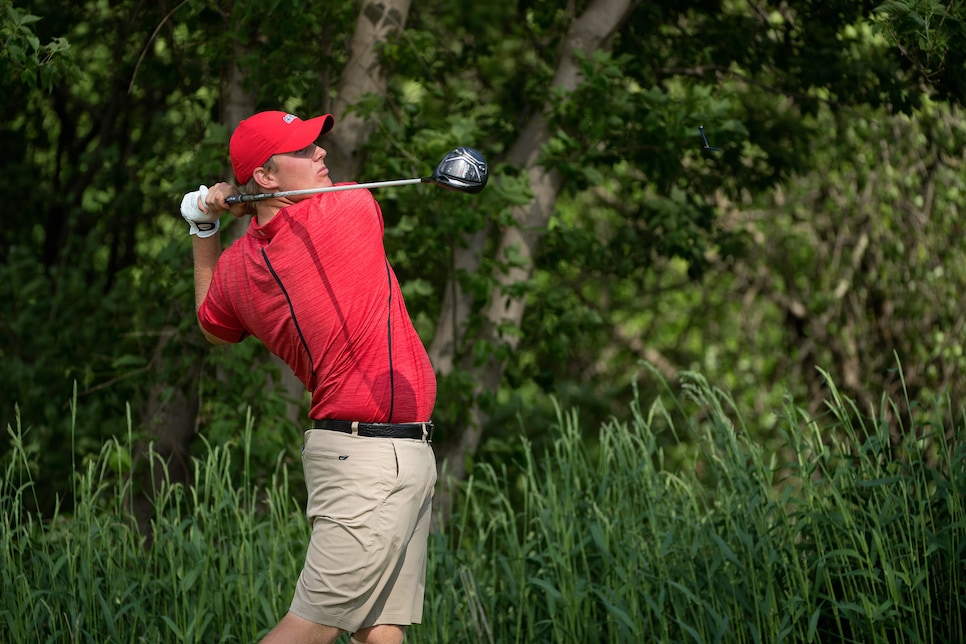 Braden Thornberry's swing is far from textbook, the homemade grip and slingy action at impact something you wouldn't exact teach a beginning golfer. But how do you argue with his results? A four-stroke victory at the NCAA Championship on Monday gave the 20-year-old University of Mississippi sophomore his fifth title of the 2016-'17 season and his seventh victory in his young college career, tying the school's record.
On a day when Rich Harvest Farms got its revenge—Monday's stroke average was 77.25, three strokes higher than Sunday—Thornberry's closing one-under 71 was just one of four sub-par scores on the day. And his 11-under 277 total proved more than good enough to claim the school's first NCAA individual title.
Talk all you want about Thornberry's funky action. In the end, it was his putter that secured the win. It started when Thornberry rolled in a 20-foot eagle putt after driving the green on the reachable par-4 sixth hole. Then there was the 10-foot par saving putt on the 13th, the six-footer for par on the 15th and the six-footer for par on the 16th. Time and time again, Thornberry, with his refreshingly quick pace, made crucial momentum saving putts.
"It was a really special week," said Thornberry. "Really just from the start, got off to a great start, six-under through the first 12 [holes] of the week, and that kind of got me started off on the right foot and really just went from there and tried to stay patient. The lead kept kind of creeping up. I tried to just stay in position until today and play a good round, and I was right there."
Thornberry began the round two strokes back of 54-hole leader Scottie Scheffler of Texas, but when the Ole Miss All-American stepped to the first tee he already had jumped to the top of the leader board. Scheffler, teeing off on the 10th hole 40 minutes earlier, got off to a horrendous start, making a bogey and a triple bogey on his first two holes.
Indeed, while Thornberry's steady play kept him in control, he was helped by the fact that his nearest competitors all seemed to fade at critical moments.
• Scheffler made 11 straight pars after his early miscues, but a bogey on his 14th hole and a double on his 18th resulted in a 78 after three straight 68s to start his tournament.
• Vanderbilt senior Matthias Schwab, a first-team All-American from Austria, was just two strokes back before hitting two balls in the water on the par-4 15th hole to post a triple bogey en route to a closing 75.
• Schwab's teammate, junior Theo Humphrey, was three under on his round and crept into striking distance when Thornberry made bogey on the 14th. Then Humphrey proceeded to make a bogeys on the 15th and 17th holes to end his chase (he'd finish T-3 with Schwab and Scheffler, five back).
• Arkansas' Mason Overstreet, playing in the final threesome with Thornberry, stayed within two strokes but then made bogeys on the 16th and 17th. A birdie on 18 allowed him to secure second place all to himself after he shot his own closing 71.
Thornberry's success since joining the Rebel golf team in the fall of 2015, according to Malloy, largely stems from having the time and facilities to focus on golf. In high school back in Olive Branch, Miss., Thornberry didn't have easy access to a practice range, which kept him from getting a real chance to work regularly on sharpening the homemade swing and the 10-finger grip he learned from his father, a scratch golfer who works for UPS (Thornberry's mom, interestingly enough, works for FedEx). Able to devote more time to his game since arriving in Oxford—not to mention being fit for clubs for the first time—Thornberry has seen his ball-striking get progressively better. In turn, his stroke average dropped more than 2½ shots since he started at Ole Miss, finishing the 2016-'17 season with an NCAA-best 69.57 stroke average.
"I think for Braden, the confidence piece is huge," Malloy said. "That's been the difference."
His wins in college were validated earlier this year by a convincing five-stroke victory at the Jones Cup in February, a title that greatly improved his chances of making this year's U.S. Walker Cup team. Thornberry will also get to test his game at the next level as he'll compete on a sponsor's exemption at next week's FedEx St. Jude Classic on the PGA Tour.