College Golf
Ole Miss delivers on last of senior Julia Johnson's goals and wins an NCAA championship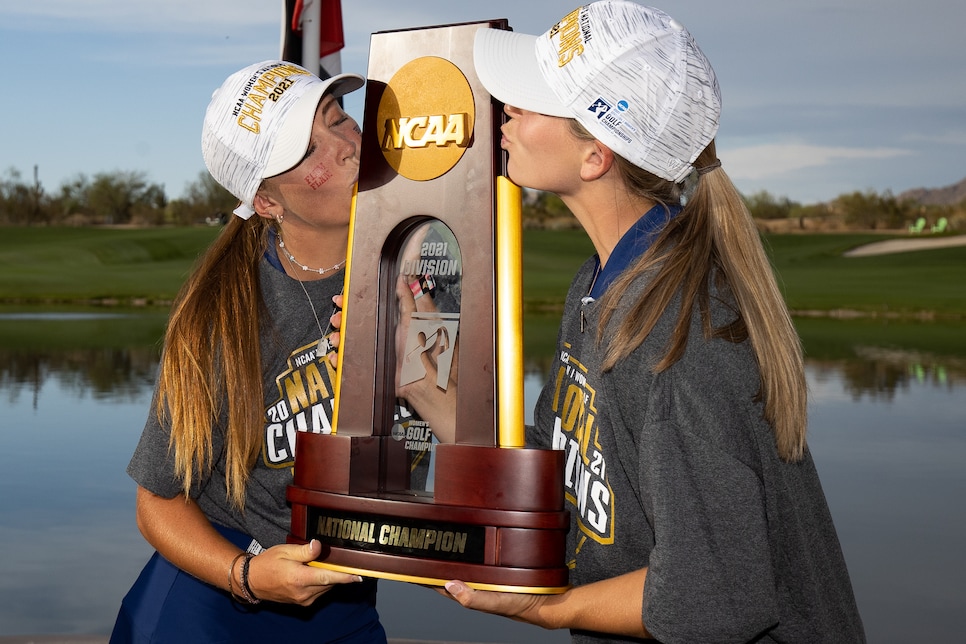 Julia Johnson and Kennedy Swann of the Ole Miss Rebels celebrates after winning the Division I Women's Golf Championship.
Justin Tafoya
It is a cliché in sports, the best team on paper, but in the case of the NCAA Women's Golf Championship that Mississippi won on Wednesday, the paper proved to be prescient. It was written by Ole Miss's Julia Johnson in advance of her freshman year in 2017.
Her written goals were to become the Southeastern Conference freshman of the year, to win the SEC team championship, to be the SEC player of the year, to be a first-team All-American and for Ole Miss to win the national championship.
It all unfolded as Johnson had written, notably the final point, when the Rebels defeated Oklahoma State, four matches to one, in the NCAA final at Grayhawk Golf Club in Scottsdale, Ariz.
For either school, it would have been the first women's sports national champion, and Ole Miss coach Kory Henkes noted the importance of Johnson helping establish the foundation.
"Our first one here, Julia Johnson, she had no business committing to us when we weren't very good, to be honest," Henkes said. "She was really the turnaround player for us, to totally buy in and set goals early on. I think they all just saw the vision of what could be accomplished at Ole Miss."
Johnson, a St. Gabriel, La., native, won her match, 4 and 3, over OSU's Rina Tatematsu. Chiara Tamburlini put the Rebels on the board first with a 6-and-5 victory over Lianna Bailey, the largest margin in a championship match since the inception of team match play in 2015.
In an upset, Mississippi's Kennedy Swann defeated Maja Stark, No. 7 in the World Amateur Golf Ranking, 2 and 1. And Ole Miss' Andrea Lingell defeated Isabella Fierro, 2 and 1. The only Oklahoma State victory was delivered by Maddison Hinson-Tolchard, 4 and 3, over Smilla Sonderby.
"I believed it when a lot of people didn't," Johnson said, explaining her decision to go to Oxford, Miss. "It took one meeting with Coach Kory to understand her vision. It's just been a blessing. I basically begged her to let me come to Ole Miss, just because I wanted to be there, be there with her so much. It's just unreal."
Swann's victory over a world-class amateur, as well as her contributions leading to this moment, were critical.
"When I came into this program a couple of years ago, we were nowhere close, but we worked our tails off to get to the point where we're at now," she said. "I think it's great that we've finally proven we belong here. We've just won a national championship. Ole Miss is a good team that is here to stay, a team that will be around here a long time."
As for Oklahoma State, it has a rich tradition on the men's golf side, much of it overseen by former coach Mike Holder, now the university's athletic director, who was in attendance on Wednesday. For the women's program, this was a start.
"I just told them to keep their heads up," coach Greg Robertson, in his second season, told them. "I'm so proud of them."