Courses
Old-Fashioned Service with a Modern Twist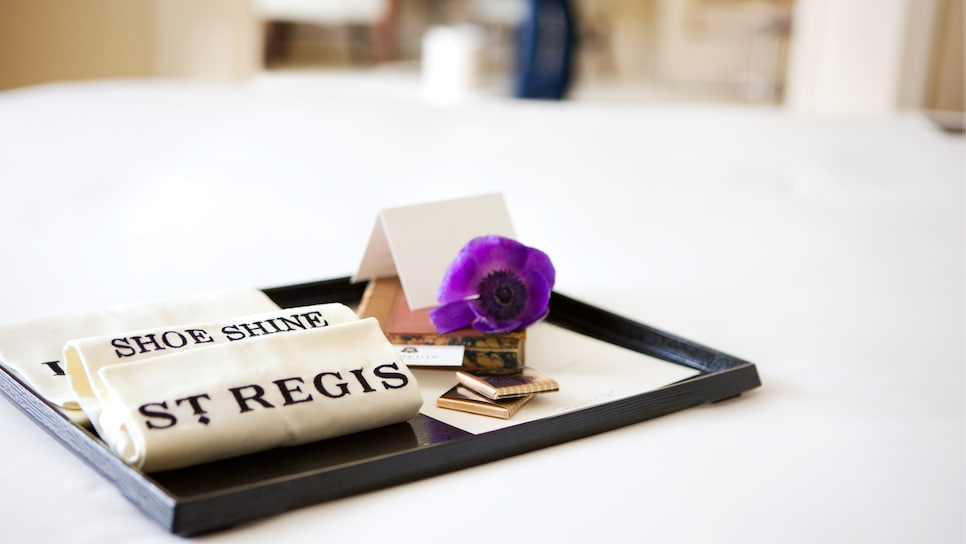 Personal butler service is a time-honored tradition at St. Regis resorts, and it dates back to 1904, when the hotel's founder, John Jacob Astor, implemented it at the St. Regis New York. Butler service for suite-level guests has been available at the St. Regis ever since; the brand is now global and includes a portfolio of some of the world's finest golf properties at St. Regis resorts in Princeville, Aspen, Bal Harbour, Punta Mita, Mallorca, Abu Dhabi and Puerto Rico. And for golfers, it means permission to forget about everything and just focus on your game.
The butler service at the St. Regis hotel is "all about the things you need, when you need them," says David Grocott, the director of guest services and head butler at the St. Regis Monarch Beach, in Dana Point, California.
Monarch Beach's coastal southern California locale is a long way from the small village outside of London where Grocott grew up (which coincidentally is where Hugh Bonneville, who plays the butler-dependent Lord Grantham on Downton Abbey, lives). "I've always been in hospitality and enjoyed taking care of people and providing service. It was a natural draw to serve under the elite title of personal butler."
Guests who book a butler suite receive five signature services: in-room beverage service, unpacking and packing, garment pressing, email butler and 24-hour telephone text—the latter two are available 24/7 on or off the property. The butler will tailor the in-room welcome amenities to the guest'. A golfer will receive a course guide to Monarch Beach Golf Links, a St. Regis golf towel, a sleeve of golf balls, tees and a ball repair tool (a spa guest in the same room would receive spa-focused treats). And butlers will customize the amenities around a birthday, anniversary or any special occasion.
"The style of communication with the guest has changed, but the mindset has stayed the same," says Grocott, who has been at the St. Regis for four years. With the new "e-butler" service, guests can text or e-mail at any time of day; this flexibility has "given people more comfort using the service and has added energy to the program," says Grocott. Recently, Grocott and his staff dispatched two e-butler guest requests within minutes. From the back nine of Monarch Beach, a guest asked the butler to put a bottle of Chardonnay he had in the room on ice so it would be chilled when his group got back to the suite. A group on a guys' golf trip got to the first tee and realized they had left their cigars in the room. One text later, the butler got the cigars, went to the course, hopped on a golf cart and caught up with the group on the third tee. What's more, says Grocott, "Should you turn up with no luggage—it happens—your butler will get your sizing and drive to the shopping mall and get clothes for you." So whether it's a last-minute reservation and transportation, a favorite nightcap or a unique preference—no request is too small or unattainable.
"St. Regis butlers must be a master of all areas and go through structured training in all of the hotel's departments," says Grocott. And they must pass a test to demonstrate their expertise in all the areas of service, including the hotel's signature shoeshine. "Our team takes great pride in polishing and finishing shoes to look like new," says Grocott. "The shoes are elegantly wrapped in crisp tissue paper with a St. Regis seal and presented on a silver tray."
When asked what he enjoys most about his job, Grocott says, "I enjoy giving people personalized service so seamless that it far exceeds expectations." In an era of DIY, it's a welcome tradition.